Humans of Harker: Gold medal, gold heart
Pelin Unsal uplifts herself and her students in gymnastics
A smile radiant with pride and exhilaration. A sigh of relief as a gold medal finds its way onto her neck. Pelin Unsal (12) cannot hide her satisfaction, finally witnessing her years of effort in gymnastics culminate in a gold medal at the state championship in 2017. But a new chapter of her journey in gymnastics has just begun.
At the tender age of 7, Pelin embarked on a gymnastics journey that would shape her into the accomplished athlete she is today. While training required sacrifice and effort, the satisfaction of seeing the fruits of her hard work gave her the ultimate reason to continue. The championship was a testament to her relentless dedication.
"It takes a lot of effort and muscle and training, and it was exhausting during practice, but that feeling the morning after, being sore everywhere, but also knowing you made so much progress — it was just the best feeling to me," Pelin said. "[The championship] motivated me to keep going, and I knew I wanted to sit with it."
Pelin's passion for gymnastics extended beyond her personal achievements. When an injury halted her own progress in gymnastics, she seized the opportunity to give back to her community, applying for a position at her former coach's gym at the beginning of junior year.
"I got a job as a gymnastics coach that I really enjoy," Pelin said. "When I'm coaching and I see a kid make progress on a skill, that makes me happy. And when you build a bond with little kids, it's really something different."
Pelin thrives in the role of a nurturing and supportive leader, both among her friends and at her job as a gymnastics coach. She takes great pride in her ability to guide and mentor those around her, much like a mother would.
"You can really build that strong relationship with [the kids], like what I had with my coach," Pelin said. "It's nice to be a mother."
Even after her recovery, Pelin continued to approach gymnastics not by competing herself but by supporting other gymnasts in their journeys.
"I didn't feel like I wanted to work or do anything because gymnastics was my whole life other than school," Pelin said. "Being able to find that passion again, even if I'm not the gymnast, even if I'm not the one that's competing. That lit that spark in me again, like I can just be on the other end."
Pelin's selfless spirit manifests itself in areas beyond the realm of gymnastics. As a tutor, she finds immense satisfaction in being able to positively impact others, much like the satisfaction she receives from coaching gymnastics.
"It's fulfilling to hear the feedback from the parents, whenever a parent reaches out saying, so-and-so is so happy about all the work you did today," Pelin said.
Indeed, her advisor and upper school history and Latin teacher Clifford Hull has observed this quality of Pelin since the start of ninth grade, when his advisory participated in the various team bonding activities of orientation day.
"[Pelin] was really concerned about everybody being included — she was looking around, she was empathetic," Hull said. "I remember there was a young person in the group that was not fitting in, and Pelin made a concerted effort to make sure that this person was included in the group activities."
Close friend Annmaria Antony (12) values Pelin's open and friendly attitude. Throughout the years, Pelin has served as a beacon of comfort for Annmaria and all of her friends.
"If you're ever upset or anything is ever going on, [Pelin is] always the first person you'll go to because she's just so open and friendly," Annmaria said. "She cares about you and she puts so much energy into making sure you feel good."
In addition to Pelin's warm demeanor towards everyone around her, her friends also discovered a quirk in Pelin's character: her music taste. Close friend Kara Kister (12) recalled her first reactions to Pelin's music.
"[Pelin] doesn't stick to the norm, which is nice because whenever we're in the car playing music, everyone always plays common music," Kara said. "I admire her for playing something different."
Annmaria values Pelin's open-minded attitude toward various fields, fueled by her internal curiosity, extending from music genres to academic subjects.
"This willingness to learn and curiosity about the world around her that really makes her unique compared to a lot of other people," Annmaria said. "That's really remarkable about her, that she has this drive to keep learning even when there isn't an extra material reward, like a good grade associated with it."
About the Contributor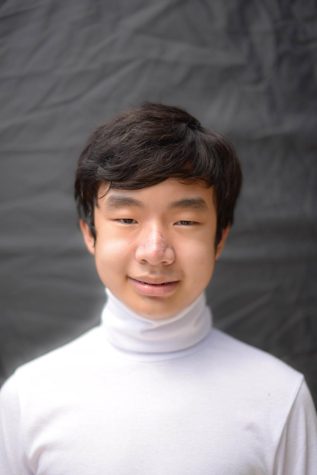 Anwen Hao, Assistant Multimedia Editor
Anwen Hao (10) is an assistant multimedia editor for Harker Aquila and the Winged Post, and this is his second year on staff. This year, Anwen hopes to...