Humans of Harker: Ardor for art
Sophia Shan destigmatizes mental health and fosters understanding through art
When Sophia Shan's (12) teacher at the Rhode Island School of Design (RISD) insisted that she find the "coolest" place to paint from observation this summer, she did just that. In the 90 degree heat and in an unfamiliar place, she walked an hour away from campus until she found the perfect spot — a shady sidewalk by a bus stop — where she sat and painted the surrounding architecture for five hours. 
Since the age of 4, Sophia has had a tenacity and passion for art. Her teachers sensed her artistic talent early on, as she was the only student who could successfully color inside the lines of elementary school coloring sheets. She has stuck with art ever since: from working on her Honors Directed Portfolio pieces to doodling in her notebooks to spending the entire day in her art studio, Sophia constantly expresses herself through her art. 
"I'm one of those people that makes as much as I can," Sophia said. "Since I'm [creating a] portfolio, I have to produce stuff. So even my school notebook has a ton of sketches in it because I constantly have to be thinking about it."
Sophia's teachers also recognized her perfectionism and persistence, traits which she embodies both in her art and in the classroom. Upper school mathematics teacher Caren Furtado, who taught Sophia in her junior year, took note of Sophia's enthusiasm for learning in class.
"I remember at a parent conference, Sophia said 'Please call on me to work [problems] out on the board because when I go up there, I feel even more motivated and determined to do things properly,'" Furtado said. "I don't think anyone had ever said that before. That was really a testament to her commitment and her courage."
Furtado pointed out that even her math homework is of top-notch quality. Sophia's perfectionism and attention to detail carry over into other aspects of her life, and she pushes herself to be the best in all that she does, including art. 
Creating something that doesn't necessarily exist motivates Sophia in her artistic pursuits. When she has a vision for a piece in her head, she wants to make it a reality and pursues the idea relentlessly until she's satisfied with the result.
"I always have this really specific thing that I want to make in my head, and if I can't make it, I get super frustrated," Sophia said. "I want it to look exactly how I envisioned it, but it almost never happens. So I have to keep doing it. It gets annoying, but once you get to where you think it looks good, it's really satisfying."
Although she has won prestigious awards for her pieces, Sophia feels the most accomplished seeing her art impact others. She recalls when her pieces were on display in Nichols, and she received an influx of emails from frosh students analyzing her art.
"The [emails] that I got from the [frosh] and just seeing other people get impacted by what I do [makes art worth it]," Sophia said. "It's cool to see how other people interpret your art and the message you're putting out."
Sophia's art often conveys the importance of stepping in another person's shoes, a theme which she concentrated on for her AP art portfolio last year. After finding out one of her close friends had dissociative identity disorder (DID), she became fascinated by abnormal psychology and now seeks to destigmatize mental health and encourage education and understanding through her artwork. 
Upper school art teacher Pilar Aguero-Esparza, who worked with Sophia last year in AP 2D Art and Design and this year in Honors Directed Portfolio, also commended Sophia for exploring the mind through her pieces.
"She was really working and trying to understand how you can visually represent states of mind," Aguero-Esparza said. "Creating something that's a visual to these phenomena or ideas is fascinating."
Through volunteering as a tutor outside of school, Sophia came to realize that you may not know what another person may be going through. After reaching out to a foster student who faced difficulties at home, she understood the importance of keeping an open mind and not judging others based on first impressions. 
Her profound empathy has left an impact within her own community as well. Close friend Aspen Shen (12) pointed out how he and his friends can always turn to Sophia when they need support.
"In the end, Sophia is a really nice and kind person who helps out when me or some of my other friends are struggling," Aspen said. "Whenever I'm feeling down or out of it, I can always look to her to cheer me up, just as a support pillar."
Whether it be expressed through her art or friendship, Sophia actively seeks to understand other people and their experiences. With her perseverance and attention to detail, she certainly succeeds in doing so.
"I live by 'Everybody does things for a reason,'" Sophia said. "Why I'm interested in psychology is that, no matter how out of it someone else might be acting, you don't know what's going on and you really can't judge how someone acts just off of your first impression."
About the Contributor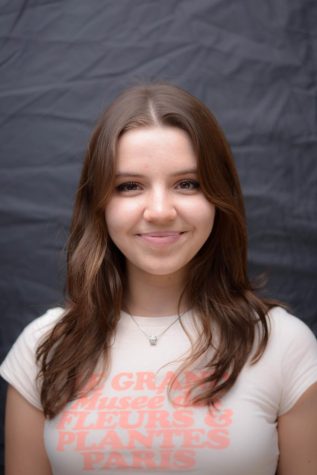 Ariana Goetting, Co-A&E and Lifestyle Editor
Ariana Goetting (11) is the co-arts & entertainment and lifestyle editor for Harker Aquila and the Winged Post, and this is her third year on staff....