Humans of Harker: The art of learning
Radha Mehta approaches learning and photography with creativity and responsibility
Radha Mehta (12) remembers the first time she picked up a camera in her junior year AP Studio Art class with nothing but a desire to capture the world around her in a versatile way. What she didn't realize then was that her newfound interest would sprout into a love for photography and inspire several future projects. 
Radha found her passion for photoshop and digital editing with photos. Upper school art teacher Joshua Martinez recognized her growth from sophomore year to senior year, especially in her ability to portray her ideas. In an activity last year, Martinez remembers how Radha experimented with representing chaos and violence by going outside during class and throwing rocks at a canvas.  
"I remember very distinctly the look on her face when she came back into the classroom with this really destroyed piece of canvas," Martinez said. "That experience, to me, stands out as potentially a breakthrough in the freedom of creativity that she now holds control over. Her fulfillment from that experience really seems to have grown into a love of making creative work."
Reflecting on her own artistic journey, Radha feels her perspective on her artwork flourished through the art classes she took, especially during junior year.
"Going into AP art, I had a much more open mind, and I definitely matured that year," Radha said. "I was learning more about myself and more about having an open mind to things and taking advantage of resources. I listened to [Mr. Martinez], I took his feedback into consideration and that's when I really grew as an artist."
Radha's growth also extends to other school-related topics, especially in terms of her organizational skills and habits. After struggling with allocating time to different activities as she entered high school, Radha read several books and took Coursera courses on the subject of learning and organization, including Learning How to Learn.
"Nobody really teaches us time management and how to learn," Radha said. "In freshman year, I struggled with that, but then, in sophomore year, we hired a time management coach. She taught me time management and how to prioritize, and then I took that and went on my own learning path." 
Close friend Annmaria Antony (12) acknowledges Radha's growth and perseverance throughout high school. Annmaria finds Radha's ability to overcome and adapt to certain situations central to her personality.
"If Radha faces an obstacle in her life, she'll think about it for a second, she'll think about how to get over it, and then she'll keep going," Annmaria said. "She doesn't get bogged down by problems that will be over people's heads for a really long period of time. Radha has had a very interesting high school experience, and she's had obstacles come at her, and she's rebounded with such versatility every single time."
Now, wanting to help others adapt to a new schedule, Radha uses her company Timecoach to help younger students with their time management by pairing them with experienced college students and having them meet for weekly check-ups.
"I think it was just me going through that freshman year and being like, 'wait, if I feel stressed, I'm sure there are a ton of other kids that are going through the same thing,'" Radha said. "I feel I should teach them. I feel that's an impact I can make that I'm genuinely passionate about."
Along with helping students in her own community, Radha reaches learners from across the world, through her work with the Calcutta Foundation, where she writes computer science and medicine curricula for underprivileged women in West Bengal. 
"I have to look into West Bengal's curriculum and what they usually do for all of their schools and find people who can teach for free," Radha said. "That's tough finding the specific courses and finding people who will teach the courses. There's one [course that is] nursing, but it's a doctor combined with a nurse because they need to be able to do both."
Close friend Grace Hoang (12) sees Radha's leadership extend to her daily life as well. As a friend, Grace admires how Radha initiates new friendships in any circumstance, especially in new and unfamiliar settings.
"No matter where we are, no matter who we're talking to, she'll talk to [strangers] first, and she'll be able to start that conversation," Grace said. "If we're nervous about going up to people to talk to them, she's the one that will go up to them and make that conversation."
Radha hopes to continue making a difference in the world, either through starting more learning-based programs for kids or telling a meaningful story through her photos. 
"I've always been really grateful for my education," Radha said. "I'm grateful to be able to learn and be able to help at least a small community. I've always been the kind of person who cannot leave without making a change. I want to focus on driving change and working on something that will help people, leaving the world better than you found it."
About the Contributor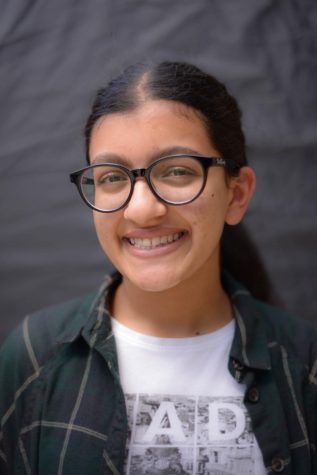 Sidak Sanghari, Humans of Harker Profiler
Sidak Sanghari (10) is a Humans of Harker profiler for Harker Aquila and the Winged Post, and this is her second year on staff. Sid's goals this year are...