Humans of Harker: It's all in the details
Michelle Dorfman explores the minutiae of biology and languages
Though biology and language courses are seemingly disparate disciplines, one based on STEM and the other on humanities, they actually share more similarities than what meets the eye. Both subjects require a close attention to detail, a deep focus on the content and a willingness to learn and comprehend small pieces of knowledge, like cell functions or conjugations. Michelle Dorfman (12) flourishes in this intersection between the two fields.
Michelle's interest in biology started from a young age, but a teacher from her middle school solidified her love for the subject by teaching her the mechanics of the human body in a way that fascinated her. Complicated parts of the body such as the heart intrigue her the most because of the complexity behind their function.
"It's so intricate and complex, and it all comes together so easily to form something that we take for granted," Michelle said. 
Beginning in the summer of her junior year, Michelle interned at Rouleau Orthodontics, caring for patients and helping run the business. Though Michelle admits she likes dentistry because of the structure of the job, more importantly, she views it as a way to channel both her interest in biology and love of working with children. 
"The most interesting part of working is the communication with the kids because a lot of them were really young, and they were just getting braces on," Michelle said. " There's a lot more that goes into orthodontics than just the braces part. It's calming the kids down and helping them understand that the pain is normal."
Despite the challenges of working with children, she enjoys helping her younger patients overcome their fears of being at the orthodontist's office and values how she can help them grow and develop as people.
"I feel like the fact that they're at the stage of life where they're still learning so much," Michelle said. "What you teach them could have a very significant impact on their life." 
With both the children she works with and her friends, Michelle communicates and connects effectively. Her conversational strength and general friendliness make her magnetic to be around, a quality which close friend Deeya Kumar (12) cherishes.
"She's a very good people person, and she's very good about making conversation and keeping people engaged," Deeya said. "She makes good impressions on people whenever she meets them."
Upper school mathematics teacher Caren Furtado, who taught Michelle in her junior year, witnessed her growth as she gained her confidence in calculus and praised her for her resilience and her positive presence in class.
"[Michelle's strength is] her tremendous confidence and energy," Furtado said. "When Michelle walks into the room, the energy of the room changes. Everything becomes better, and that really is so special."
Aside from biology, Michelle also applies her detail-oriented nature to various languages. She first learned Russian from her parents, English for use in the U.S., Spanish from her friend who moved from Colombia and American Sign Language (ASL) from volunteering at the California School for the Deaf. Using her linguistic skills, Michelle forms meaningful layers of understanding with others by speaking with them in their language.
"There is an unconscious bias sometimes against people who speak a different language from you," Michelle said. "Getting to know languages has helped to break down that bias and break down that barrier, and I get to know people further in a different way."
By communicating with people in their native tongue, Michelle forges deeper connections with others, and she hopes to enrich her experiences in the future by traveling the world, learning more languages along the way and putting into practice the languages she already knows.
"She has lots of aspirations, and she balances work and school and hanging out and social life with everything," close friend Indigo Lee (12) said. "She's very good at keeping everything under control. Her qualities are just incredible. She's a very kind individual."
From dentistry to dialects, conversation to conjugations, Michelle thrives when she is discovering minute, fascinating details. Her curiosity and drive make these pursuits compelling rather than burdensome or demanding.
"I enjoy the little things like memorizing the conjugations of a word or following a cell through its way of life," Michelle said. "I feel like a lot of people might find it challenging or boring, but I have fun."
About the Contributor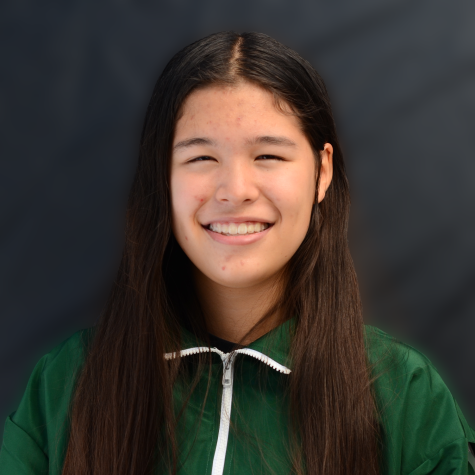 Margaret Cartee, Opinions Editor
Margaret Cartee (12) is the opinions editor for Harker Aquila and the Winged Post, and this is her third year on staff. This year, Margaret wants to write...