Davidson Fellows scholarship program celebrates upper school student's accomplishments
The Davidson Institute held its annual Davidson Fellows ceremony honoring the technical works of students, including Harker upper school student Arjun Barrett (12), at the Massachusetts Institute of Technology (MIT) campus on Sept. 9 and Sept. 10. 
The scholarship program awarded $10,000, $25,000 and $50,000 prizes to high-achieving students who have completed a significant piece of work in categories ranging from STEM to literature to music.
Davidson Institute Co-Founder Bob Davidson established the nonprofit Davidson Institute for Talent Development in 2000 with hopes to bring recognition and opportunities to gifted students who may be overlooked to make a positive difference in the world.
"We both mutually agreed that we would support a portion of the students and young people in the U.S. that were not being served because people generally thought, 'Oh, they're smart, they're going to be fine,'" Davidson said. 
Deemed one of the most prestigious undergraduate scholarships by Forbes, the institute aims to "recognize, nurture and support profoundly intelligent young people and to provide opportunities for them to develop their talents to make a positive difference." Winners of the Davidson Fellows have frequently included Harker students in the past, with alumni winners on record including Cynthia Chen ('20), Natasha Maniar ('19), Amy Jin ('18), Rajiv Movva ('18), Rishab Gargeya ('17), Vineet Kosaraju ('16) and Yi Sun ('06).
This year, the institute named Arjun a Davidson Fellow and awarded him a $10k scholarship for his project FFlate, an open-source software package that enables websites to process and manipulate ZIP archives, PDFs and other compressed file formats faster than ever before. 
He started the project the summer after his freshman year, inspired by the video game Geometry Dash. After three to four weeks, Arjun developed the initial version which he has been maintaining and updating for the past two years.
"I initially created this project to add support for a level format within Geometry Dash," Arjun said. "To do that I needed a library that would decompress data, but the existing alternatives were very slow and not very useful. So, I just created my own. And when I realized it was useful for more than just Geometry Dash, I made it open source."
With over 70 million downloads on GitHub, FFlate has been used by companies including NASA, Microsoft and Google. Hospitals and educational sites also use the software to access medical data and provide tutorials, increasing internet speed and accessibility for those in developing regions. Arjun reflects on his project with feelings of fulfillment seeing the effects it has had on different communities. 
"It's less about the fact that it's an award and more about the validation that [my project] is actually meaningful and has contributed in some small way to some field of technology," Arjun said. "And that's something that I really strive to do just in general. So that's kind of why I find it super rewarding."
Additional reporting by Arjun Barrett.
About the Contributor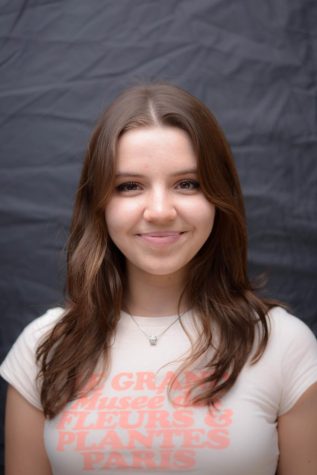 Ariana Goetting, Co-A&E and Lifestyle Editor
Ariana Goetting (11) is the co-arts & entertainment and lifestyle editor for Harker Aquila and the Winged Post, and this is her third year on staff....