Humans of Harker: From chorus to course
Anthony Zhao pushes himself to the next level through music
Anthony Zhao (12) recalls the joyful tune of "Deck the Halls" as Downbeat sang in front of Pier 31 for their annual holiday tour, the music flowing through the numbing air. Smiling brightly, he sang on. Streetgoers gathered from the crowded pier to watch the choir — decked in glittering dresses, purple shirts and yellow scarves — perform. As the final note resounded, the audience erupted in applause. 
Anthony first began singing at the age of six when his parents signed him up for Crystal Children's Choir. He continued to sing for the choir group Cantabile, before joining Harker and participating in Bel Canto and Camerata. In his junior year, he joined the upper school's show choir, Downbeat, and now serves as its tenor sectional head. 
"Singing is a catharsis for me," Anthony said. "When I sing, I'm able to bond with the people I sing with, and I'm able to forget about the daily stresses of everything. At school, I don't think I've felt more free than when I'm singing. It's the way I express myself: sing with friends and have fun."
Downbeat teacher and performing arts director Laura Lang-Ree vividly remembered Anthony's audition, as he left a memorable impression on her. She noted his eagerness to audition well upon their first meeting.
"I was so impressed with Anthony when he was auditioning for Downbeat because he chose to stay home," Lang-Ree said. "He was so invested and so careful to make sure he was [auditioning] correctly even through Zoom. Just completely enthusiastic and completely dedicated to what he was doing."
Through his years of vocal training, Anthony particularly noted his growth in his singing techniques. Entering high school, he found it difficult to express himself in front of others. Yet, as he grew more comfortable with singing, it became an outlet for him to trust himself more. 
"In general, singing has made me a better person," Anthony said. "Just this past year, singing has completely transformed me. I've personally noticed that I'm more confident in myself, and I've overcome my fear of meeting new people. Singing has just completely changed me for the better."
Developing his voice to the best of his abilities has proved a challenging process for Anthony. Reminiscing on his growth, he described persistence and consistent practice as keys to improvement. Anthony applies this mindset not only to singing, but also to everyday life, finding purpose in each day by striving toward progress, one step at a time. 
"I really like the motto 'even if it's a little bit, improve everyday,'" Anthony said. "Just always improve. Whether that's going out for a run, doing homework or strengthening myself, it doesn't matter."
This persistence often shows up in Anthony's personal relationships as well. Family friend Richard Zhang (12) appreciates how much Anthony values their friendship, noting the ways he keeps those around him connected.
"Anthony knows what you're going through and is the person who will always take the initiative to reach out to you," Richard said. "If we haven't talked in a while, he'll message me asking if we want to hang out sometime, or he'll go to my club's events. When he values you, he'll do a lot of things for you."
Kris Estrada (12), who Anthony met through Downbeat, sees Anthony as candid and caring. In addition, Kris appreciated how he can always count on Anthony to be direct and speak his mind, a quality he admires.
"Anthony is very outspoken — he's not afraid to let his voice be heard," Kris said. "If he thinks something needs to be changed or something needs to be handled differently, he's not afraid to stand up and voice his opinion. That's very admirable because, especially in a time right now, not just at Harker, but even in the country or in the world, we need more people who are not afraid to speak out."
In cross country as well, Anthony goes out of his way to reach out to others. Joining the upper school team in ninth grade, he has continued to run through all his years in high school and now supports those just starting out in the sport. 
"I like to help out people, especially during cross country," Anthony said. "Because I'm a senior, new people will be looking up to me. I've been a role model for them. Even though I'm faster than some of them, I try to stay behind and talk to them." 
Every step Anthony took has led him on a new and exciting path, full of new memories and new people. Singing has allowed him to explore the joys of performing, deepen his love for music and build his confidence. 
"The reason why I've persisted so long in singing is because it's just a release," Anthony said. "I can put everything aside for an hour or two. That's what's so magical about it. It creates a community as well, as I've met some of my closest friends through singing."
About the Contributor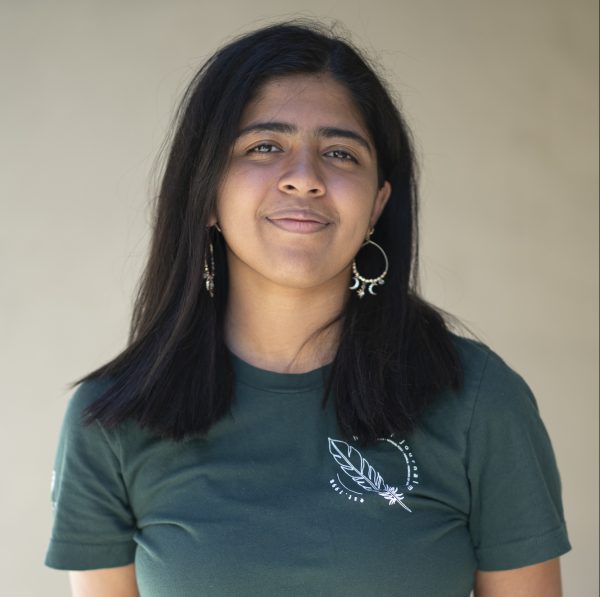 Vika Gautham, Co-Features Editor
Vika Gautham (11) is the co-features editor for Harker Aquila and the Winged Post, and this is her third year on staff. This year, Vika wishes to provide...