Humans of Harker: Deciphering the equations of life
Sally Zhu carries lessons from math and journalism forward to her peers
Imagine you're on a game show. You have three doors in front of you: behind two of them are goats, and behind the third is a car. The host tells you to choose a door, and you point to the first one. Then, he opens the second door and reveals a goat. He offers you the choice of switching to the third door. What do you do?
This question — though it stumped Sally Zhu (12) in middle school — introduced her to the world of math puzzles. She began her math journey in Harker middle school by signing up for math electives and participating in MathCounts, a national math competition for middle schoolers. When she entered high school, her involvement in math-related activities continued to expand: she now coaches the middle school MathCounts team and is co-president of Math Club. Outside of Harker, Sally also chose to pursue her interest in math through math research over the summer, in algebraic geometry and analysis.
"With math research, you really don't know if what you're doing is possible or how simple or how difficult it can be," Sally said. "That was completely new to me at first. It taught me a lot about doing small steps and being appreciative of smaller successes I had in my research."
Sally's work on her research project taught her more than just new mathematical concepts: the individual nature of the project helped her develop independence and self-reliance. Close friend Vasudha Subramanian (12) commends Sally for relentlessly pursuing her personal interests, regardless of her peers' opinions.
"Something I really admire about [Sally] is that she doesn't really care what anyone else thinks, and she's very independent," Vasudha said. "She always tries to push herself, improve herself, and do better."
In different camps and classes in the past, not only did Sally explore new avenues of math, she also found a group of friends and fellow mathematicians who share her love for problem solving. She holds these communities close to her heart, especially since she hasn't always experienced such a supportive group of like-minded peers. As the only girl on the MathCounts team in middle school, she recalls, it was often difficult to foster community and connection with her teammates.
"It was discouraging to not have people to talk to or feel alone," Sally said. "But it also made me want to keep trying and prove myself. In past years, I've been able to work with great mentors and other students, [and] that's really shaped me. Their guidance is something I want to be able to pass down."
Sally is no longer the same reserved and quiet middle schooler; after meeting fellow mathematicians in high school and gaining confidence in her mathematical skills, she began taking a more active role in the math community on campus. In her junior year, she started helping upper school mathematics teacher Bradley Stoll write his homework answer keys for classes she had previously taken. Stoll, who taught Sally in ninth and eleventh grade, noted her transformation into a skilled and capable mathematician over the past four years.
"[Sally] was kind of timid, and she was the only freshman in the class," Stoll said. "She was shy, but also super bright, and her work was very meticulous. Now, she's grown in so many ways, and she's certainly more outgoing, more confident, and volunteers all the time for different things."
Younger sister Tiffany Zhu (9) also admires how Sally translated her commitment to her academics, especially math, into benefitting her peers. Sally's positive attitude toward and support of others in the school community are something that Tiffany looks up to.
"[Sally] cares about her studies a lot," Tiffany said. "She's really into educating others, and she teaches a lot of math classes and programming classes, and that's really great to see. Anyone who knows her knows that she works for everything she's gotten, and it's really inspiring."
Over the years, Sally has applied her community-driven mindset to other areas, like journalism. After four years on the newspaper staff, she now leads the staff as the co-Editor-in-Chief of Harker Aquila. As she progressed on staff, she formed close relationships with many of her underclassmen staff members and aimed to help them develop their journalism skills.
"One of the successes [I've had] is being able to see the legacy of journalism," Sally said. "Especially the [editors-in-chief] that I worked with a lot last year, they're passing down all their expertise to me, and then hopefully the juniors and sophomores that I get to work with this year can take away something from me too."
Regardless of whether she's working in a STEM or humanities discipline, Sally's dedication to mentorship is unwavering. As she embarks on the final chapter of her Harker career, she hopes to leave a legacy of compassion and guidance on campus, reminding all students of the importance of helping and supporting each other.
"I want to be remembered as someone who wanted to help people and teach people," Sally said. "I feel like with both Math Club, where we're doing lecture series or mentorships, and in journalism, where I act as a leader for the new [frosh] or sophomores, I want to be remembered as someone who's always available to help to listen and someone they could lean on."
About the Contributor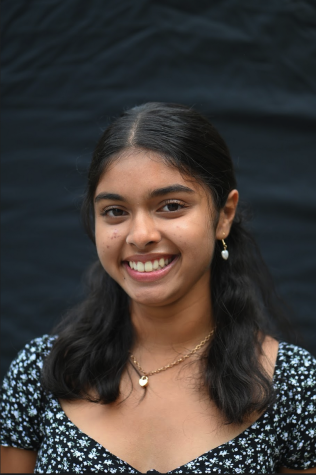 Lavanya Subramanian, TALON Co-Editor-in-Chief
Lavanya Subramanian (12) is the co-editor-in-chief of the TALON yearbook, and this is her fourth year on staff. This year, she looks forward to working...