Humans of Harker: Approaching the end zone
Ryan Jeffers builds momentum through football and exercising
The air stands still with anticipation. All eyes are focused on a lone football, sailing towards the golden-yellow goal posts. A second passes. Two. Three. And then the crowd bursts into celebration. Triumphant shouts thunder through the field, the team's roars echoing across the bleachers. It's cold, it's dark, it's 11 p.m. at night. But all of that pales in comparison to the magnitude of the occasion — the upper school varsity football team just won its 2021 season opener, by that one field goal no less. Ryan Jeffers (12) recalls this moment excitedly, a defining moment of his first year on the football team and what inspired his deep love for the sport. 
"I felt really ecstatic because that was my first game playing, and it's a new feeling to win," Ryan said. "You win in other sports and other instances in life, but that was a new feeling because of how physically demanding football was. I was mentally relieved, but also physically relieved."
Ryan has been playing sports since the age of six, but football was a new experience for him. From the intimate physicality of it to the reliance on well-planned strategy and flawless execution, every aspect of the game appealed to him. But nothing matched the community that Harker football offered. The camaraderie fostered by lengthy practices and late-night games has easily become his favorite part of the sport.
Through a communal love for football, Ryan has forged bonds with many of the other team members. During games, the team works as a cohesive unit, each attuned to their teammates' movements in search for a potential play. These connections transcend the sport, blossoming into close friendships off the field. Ryan cherishes these relationships, having made friends across all grades. 
Yet, Ryan has also faced challenges within his football years. After his second game on the team, he injured himself, resulting in him being unable to play for the remainder of the season. Younger brother Liam Jeffers (10) admired Ryan's tenacious spirit in the face of this setback.
"Doing what you love and then not being able to do that — that sucks," Liam said. "[Ryan] was really hurt about that, but even in injuries, he looks forward and talks about what he will be able to do once he's back."
During recovery, Ryan took a course in kinesiology, using the extra time on his hands to learn more about the inner workings of the human body. The insight gained from this course helped him in not only football, but also workouts, which he started during his sophomore year.
"The gym was a nice place to let stress out because I could be me and be quiet and focus," Ryan said. "I realized it's something I should do more often, get in the routine of, because it helped me [feel better] everyday."
While lifting in the weight room, Ryan met Abhi Namala (12), who became one of his closest friends. During their off seasons, they would frequently work out together, motivating each other through difficult exercises. Abhi commended Ryan on his ability to stay focused on the pursuits that matter most to him.
"I would say [Ryan] is very outgoing and chill," Abhi said. "Chill is the number one thing because he doesn't overthink a lot of things that people find problems with: grades, friends, relationships. He doesn't care about any of that; whatever happens, happens. It is what it is."
For Ryan, that nonchalant attitude allowed him to spend more time on his interests. Upper school mathematics teacher Caren Furtado, who taught him in his junior year, noticed his dedication, both in her class and in his love for sports.
"He's very determined: if he wants to do something and he puts his mind to it, there is no stopping him, and you can see that with his commitment to football," Furtado said. "Some time second semester he decided that that's something he really enjoyed and wanted to be good at, so he would go and work out two hours every day, and there was nothing coming in the way between him and that commitment."
Working tirelessly in pursuit of self-improvement, Ryan consistently trains, lifting weights almost every day. To him, there is a tranquility in the movement, a calm in the act of focusing entirely on a single task. At the gym, he can destress, completely centered in the rhythmic motions of exercise. And his effort shows.
"I like the simplicity with weightlifting," Ryan said. "If I go to the gym for a week, I'm going to get a certain amount of results. I stay consistent, keep building up. It's very predictable. I like to go in and destress while also making progress."
Seeing the tangible results of all his hours spent working out further motivates Ryan. Through consistently doing what he loves and reaping the rewards, Ryan observes a beautiful simplicity to his routine. Looking towards the future, he hopes to maintain this lifestyle, steadily improving through diligence and dedication. 
"I have some goals for a couple years down the road that'd be nice to break, and then if I did that, I'd be pretty happy," Ryan said. "Right now I'm on a constant pace. I'm happy I can keep following it."
About the Contributor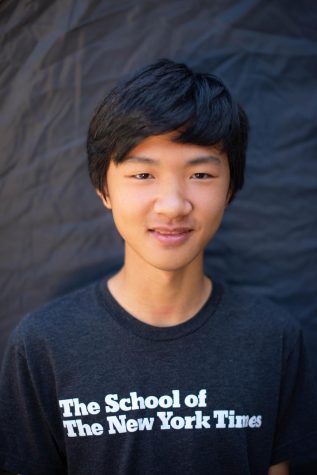 Jonathan Xue, Humans of Harker Profiler
Jonathan Xue (10) is a Humans of Harker profiler for Harker Aquila and the Winged Post, and this is his first year on staff. This year, Jonathan seeks...