Humans of Harker: Savant of stories
Irene Yuan offers her wisdom and reliability to her peers
When friends describe Irene Yuan ('22), some of the most common adjectives are "organized" and "dependable." From her color-coded Google Calendar to the scissors, tape and assorted stationery in her pencil pouch to the detailed rows of class notes in her iPad, it's not difficult to tell why.
"Whenever I have a question about school events or homework or anything, I'll go to her because she always knows what's happening because she's very on top of things, and she's a really great planner," close friend Erica Cai ('22) said. "If I need anything at all, I'll go and ask her. She's a 'mom friend' in our group."
Beyond providing guidance for her friends, Irene uses her organization and responsibility to dedicate time to her competition dance team at Dance Academy USA. She first joined in third grade and has performed with the team virtually every year since then, honing various styles including jazz, contemporary, tap, ballet and hip hop along the way. One aspect she appreciates about competing in particular is the ability to improve and sharpen a routine throughout a season from repetition and regular feedback.
"With performances, you perform one set, and after that weekend, you're done," Irene said. "But with competitions, you learn at the beginning of the year, you get better and then you go to competitions. You put yourself out there, and you get feedback, and you can continue evolving your craft and getting better every time."
Irene looks to her first time at Nationals as an experience that encapsulates the nerves and thrill surrounding dance competitions. At first, seeing other strong teams while backstage intimidated her, but beginning the routine — set to "Jailhouse Rock" by Elvis Presley with makeshift jailhouses as props dancers would enter — melted away her anxieties and allowed her to fully become part of the dance's storyline.
"The thing about being backstage is sometimes it messes with your head because you can see the routines that go before you, and you get intimidated when they're really good," Irene said. "I remember being so nervous and then going on stage and its being Nationals — we have done this routine at every competition and at recital — and being on stage and being like 'I know how to do this, and all I have to do now is tell the story of the routine and sell it.'"
Given her rich background in dance, Irene had been interested in choreographing since childhood, starting with Halloween traditions of her dance class creating a fun festive routine and simply choreographing on impulse to a beautiful song. Irene took Harker's choreography class remotely, an abridged version of the in-person experience. To overcome the obstacle of not being able to visualize dancers, Irene stitched videos of herself dancing to recreate formations. Even then, Irene loved the special moment when her final piece came together with classmates volunteering to try out her routine.
"The first time watching back [the recording] was like, 'I created that, like that is something I created,'" Irene said. "The especially difficult part about choreography is that you can choreograph on yourself, but when you're thinking of doing it in a routine with multiple people, you can't look in the mirror and simultaneously do both sections to see if they work together. Even with the [edited] visual, it's so different seeing everything come together."
For this year's Dance Production "Blast From the Past," Irene and Nikki Kapadia ('22) choreographed an eerie, powerful routine to "Castle" by Halsey, which took much collaboration and leadership from them both in choreographing creatively, teaching during rehearsals and figuring out logistics such as costumes and lighting. 
Class of 2022 dean and upper school English teacher Christopher Hurshman noted Irene's capabilities as a leader when she served on the Student Activities Board (SAB) in her junior year. When faced with the challenge of remote learning, Irene continued to dedicate time and energy to building class unity.
"Even when the commitment or focus of her peers on the council would rise and fall, Irene was consistently there doing work, carrying out her responsibilities, continually checking up on things, making sure they got done even when they weren't, strictly speaking, her job," Hurshman said. "It shows a lot of her character — that she's willing to do all of that in a way that doesn't necessarily draw attention to her."
Close friend Spencer Cha ('22) worked with Irene to organize Homecoming Rally lip syncs in their sophomore and senior years and appreciates her constant composure, even with the added obstacle of this year's event being its first rendition after over a year of remote learning.
"There was something about how we organized and got it together and how calm and collected and composed she was throughout that experience that really made it so much better," Spencer said. "It was the same with the lip sync that we had. The process felt very smooth with her in charge. She is a great leader."
In her downtime, Irene unmistakably loves to read, whether it's leafing through hardcovers, swiping through an ebook or listening to audiobooks. While she usually reads fantasy novels, her favorite books being the "Infernal Devices" trilogy by Cassandra Clare and "Six of Crows" by Leigh Bardugo, Irene values branching beyond popular picks and actively searching for stories that highlight diverse perspectives and experiences. To share this mission with other Harker students, she co-founded the Diversity, Equity and Inclusion (DEI) Book Club.
"I put a purpose to my reading because before it was for pleasure, and right now it still is for pleasure, but intentionally seeking out books that are by minority authors and seeing what they have to say is so special, and you get to see so many different perspectives," Irene said.
Irene continues to pursue her love for storytelling in journalism, where she becomes the teller of the story rather than the reader. While she enjoys writing articles, throughout high school, Irene has honed in on photography and multimedia, becoming Aquila Co-Managing Editor with a focus on multimedia.
"What makes visual storytelling so special is how much more nuanced it is," Irene said. "Obviously, with words, you can tell the story, but words, you read it and you imagine it," Irene said.
Reflecting on her time reporting for journalism, Irene cherishes the ability to immortalize and share moments, both mundane and extraordinary. She especially appreciates how her involvement in photography urged her to become more active in the Harker community, even becoming more engaged in topics she hadn't considered before.
"With writing, sure you have to go to the events, but you can do it at home at 11 p.m., but with photography, you have to be there," she said. "That's something that also helped me really get involved with my community because I had to be present at so many of these things. Before high school, I took absolutely zero interest in sports, but having to shoot these games, you have to gain an understanding of what's going on."
Irene's reflective tendencies don't go unnoticed by her friends. Erica values Irene's ability to consider many possibilities related to a topic and synthesize them to form a coherent opinion.
"Whenever she is faced with a dilemma or a conflict, she thinks very deeply about it and thinks about it from multiple perspectives," Erica said. "Whenever she comes to a conclusion about something, she has already thought about it very, very deeply. She also gives great advice because she thinks so deeply about these things."
Before a day filled with dancing, reading and sharing stories of her community, Irene revels in her daily ritual of seeing the sun rise, spilling pink into the sky and its golden rays onto the valley below her house. On the rare days where she wakes up later than she planned, she embraces it. Her goal to wake up early every morning embodies her motto that one can always try again the next day after setbacks.
"[The sunrise] inspires me: no matter how bad your day has been, it doesn't have to carry over to the next day and you can start fresh," she said. "No matter if you get off the habit for a day or a week, you can always come back to it. You make choices every day, and you can always make the choice to get back onto something that you have stopped."
About the Contributor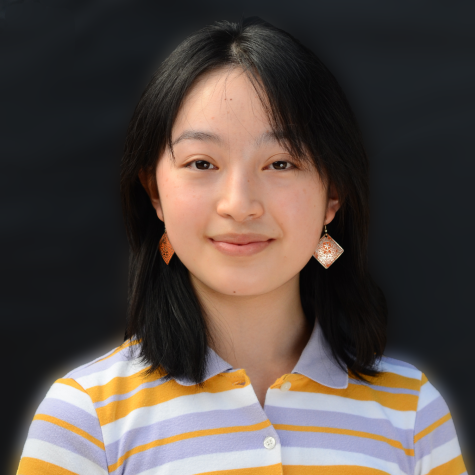 Arely Sun, Aquila Co-Managing Editor


Arely Sun (12) is the co-managing editor of Harker Aquila with focus on longform writing. This is her fourth year on staff, and she hopes to work with...