Humans of Harker: Revolutionizing and reinventing
Alex Liou finds drive in robotics and cross country
Machinery and mechanical tools cram against walls and pile up on work benches, gleaming under the dim lighting of the robotics lab. In the corner of the room, bright orange, yellow and blue wires form an intricate pattern across the base of the Robotics Team 1072's latest competition robot. Donning a pair of safety goggles, Alex Liou ('22) begins to assemble the structure, tweaking wires and complex parts.
Alex joined the robotics team in the summer before his freshman year, but his fascination with mechanical engineering began long before. For him, robotics served as a means of exploring that interest.
Alex was drawn towards the virtual design aspect of robotics in particular, appreciating how working with computer-aided design (CAD) opened up boundless possibilities. In his sophomore year, he served as a design lead for the robotics team, working with mentors and directors to hone his skills. Following in the footsteps of his mentors, he became the Director of Design the following year.
"Since I love designing things [in] CAD, the design process itself, the prototyping, iteration and testing in a virtual realm before we actually build it in the physical world is cool, because it's very powerful," Alex said. "You can build whatever you want in CAD."
Stepping into leadership, Alex quickly adopted two traits vital to robotics: perseverance and flexibility. During the competition season, which spans anywhere from six to ten weeks, Alex and the team go through a rigorous process of designing, prototyping, testing and revising. All of this work culminates in the annual competitions, where the team tests the ability of their robot against a given challenge, wielding strategy and mechanics to surpass various obstacles.
"Persistence and flexibility and resilience [are important in robotics]," Alex said. "Being able to take a failure in your prototype, for example, and solve the problems that arise when you counter them, you need to be able to iterate on that quickly. And it definitely takes a good amount of dedication because it's so much time and effort."
While he puts this time and effort into improving his own design skills, Alex also acknowledges the importance of teamwork in robotics. From working with others to prototype a robot to mentoring new robotics members, he engages with other team members on a regular basis.
"Everything in robotics is collaborative," Alex said. "Every sub team in the team is essential to building a robot. It's something we take for granted in robotics. You can't operate without teamwork."
Upper school computer science and physics teacher Dr. Eric Nelson, who also directs the robotics team, commented on Alex's ability to consistently show up and engage with other team members.
"Aside from his design skills, [Alex brings] a tremendous amount of personal engagement," Dr. Nelson said. "Every week, he gets up in front of a group and teaches them CAD designs and mechanical engineering elements. Just sitting there watching him teach is really enjoyable. He has been an integral part of [the team] as long as I can remember."
Alex looks to the world's best mechanical engineering for inspiration: military technology. Fascinated with its pure power and complexity, Alex dedicates much of his time to researching the engineering behind the technology. He hopes to pursue this interest through attending a Reserve Officers' Training Corps (ROTC) program in college and eventually serving the Air Force as a developmental engineer.
Although that path is still far ahead, Alex has already begun dabbling in the field, with much of his own work in robotics and design revolving around mechanical engineering. For example, he used CAD to 3D print an entirely custom Nerf sniper, a development from his hobby in middle school of remodeling the toy guns. Unlike his projects in middle school, though, this one was made completely from scratch — and held twice the power.
"Designing it was a challenge because parts kept breaking," Alex said. "I had to stress test it pretty thoroughly [and] go through many iterations of different parts. It's much more powerful than anything you find."
Close friend of seven years and fellow robotics team member Michael Tran ('22) fondly recalls the day Alex showed their friends the customized Nerf gun, testing it out on Michael in the backyard.
"He was so eager to show us and it was a testament to his character, to build this creation that was [so] effective," Michael said. "You see that he's driven to accomplish that, and so that really does encompass a lot of what he's about. That was something that we took joy in."
Alex's same drive and persistence also appear in cross country. He began the sport in elementary school, and his seven years of dedication to the team culminated in his role as captain in his senior year. Alex attributed his initial interest in the sport to his parents, who are both triathletes. Over time, he realized how the sport motivated him to push himself both physically and mentally.
"Cross country is a hard sport," Alex said. "I like it because it makes you stronger. It tests your mental fortitude, and it's satisfying when you improve or accomplish something that you were looking to achieve."
While Alex values cross country for its rigor and discipline, he also appreciates the team's sense of community, which manifests itself in small, everyday moments. From cheering each other on during races to weekly "Fun Fridays" with games like Capture the Flag and water balloon fights, these moments bring additional value to the team. Even during the pandemic when only six or seven members consistently showed up to practice, they found ways to enjoy each others' company through hosting an end-of-year party at the beach.
Aside from competition, Alex frequently goes on runs with family and friends as well. Close friend Zachary Clark ('22) appreciates the little moments they spend together pacing each other on long-distance runs.
"We'll go on these 10-kilometer runs or longer runs, and that's really nice," Zachary said. "[It] isn't a super specific memory, but it's our time spent together that's really enjoyable and fun."
As captain of the cross country team, Alex realizes that he may not be the fastest runner on the team. Instead, he commits to putting in as much effort as possible and focuses on the mental endurance aspect of the sport.
"I do like to try and improve my speed and my endurance," Alex said. "But as long as I'm pushing myself mentally and making myself stronger in that manner, then I'm satisfied."
Whether it be in robotics or cross country, Alex shows unconditional dedication and clear ambition for whatever subject he delves into. A tenacious and thoughtful leader, he guides himself and others towards compassion and success.
"[Alex] was always a really nice and respectful and kind person," Michael said. "But certainly, you could tell in high school, he carried himself in a way that exuded silent confidence: he knew what he was doing."
About the Contributor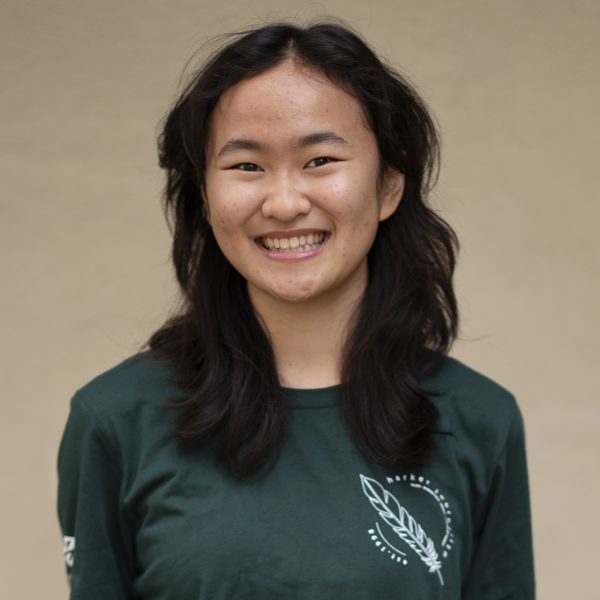 Selina Xu, Aquila Co-Managing Editor
Selina Xu (12) is a co-managing editor for Harker Aquila, and this is her fourth year on staff. This year, Selina hopes to hold engaging conversations...