Humans of Harker: Finding family
Andrea Thia leads with composure, bringing light to those around her
Rows of yellow envelopes and multicolored plastic containers line the surface of a table in a warehouse. Andrea Thia ('22) inspects the lids and bends down to gently place a purple sticker on each one, marking these tubs of slime as products of her very own business slimeecoffee under her parent company Dots 'N Stripes.
From a young age, long before starting slimeecoffee, Andrea found ways to conduct business or "hustle," as she put it, including trades and Sillybandz to salt and pepper packet sales in the elementary school lunch line.
When the slime trend took off in her eighth grade year, Andrea decided to participate in it by starting her own company. She began selling handmade batches of various slimes for her own profit while also looking for a meaningful cause to dedicate her business to. When a close family friend was diagnosed with autism, further research caused her to stumble upon the sensory therapy industry, which slimeecoffee's various products can be used for.
"Discovering this whole new world and this whole new purpose granted a completely different meaning to what I was doing," Andrea said. "Everything I've done up 'til this point with my business has been led by passion and purpose. The monetary benefits obviously apply, but it's not the focus."
Another aspect of running her business Andrea appreciates is using making and packaging orders as "family time," where her parents and sister pitch in. She recalls the all-nighters they pulled together and their help with the slime care instruction packets slimeecoffee provides with each order.
"For the past few years, I wouldn't have been able to come this far without them," she said. "It's cool that my family's always there to support me and that I get to see my family work together and get excited over this project."
Business and entrepreneurship teacher Michael Acheatel notes Andrea's knack for business, group-oriented mindset and leadership capabilities, which she displayed as a student in his Honors Entrepreneurship class and as Director of Marketing for Harker TEDx. To him, her guidance of TEDx leading up to this past year's event exemplified her composure and maturity. Despite various "fires" due to COVID-related concerns and speakers' canceling as well as Andrea's own workload due to college applications, she upheld her responsibilities and ensured the well-being of the group.
"Not only could I fully rely on her to handle her work, step up and handle everybody else's work, but what she did for me was helped me to realize it's all going to be okay, and we can have fun even though we're putting out fires and these disasters," Acheatel said. "Not only was she that voice for her peers but even for me as the adviser. That's her grace under pressure."
Andrea's tenacity and perseverance does not go unnoticed by her friends. Close friend Yejin Song ('22) has observed Andrea's drive in her work on slimeecoffee and in other projects as well as her humility despite her achievements.
"[Andrea] never gives up at anything; I've never seen her give up at anything," Yejin said. "When she sets her mind to something, she will go no matter how hard it is, no matter what struggles she faces along the way. She doesn't flaunt her energy, but behind the scenes, I know she does so much work."
Even in times of difficulty, Andrea prioritizes authenticity. After speech tournaments became virtual due to the pandemic, she missed the tournament experience and the interactions with her competitors and teammates. However, this transition to online tournaments taught her the importance of remaining true to herself in order to convey a message powerfully.
"What I realized from going online is that it's hard to fake authenticity," Andrea said. "It's hard to memorize every intonation and the way you speak, so when you're genuine, that's when people most appreciate and hear you. If speech and debate has taught me anything, it's that it's important to speak from your heart, and only then can you empathize with the people around you, and only then can people empathize with you."
Introspection and thoughtfulness toward others are some of Andrea's most notable traits in the eyes of upper school math teacher Bradley Stoll. This year, as a student in Stoll's Honors Discrete Mathematics class, she gifted him "Atlas of the Heart" by Brene Brown for his classroom library. Stoll found a page she dogeared particularly applicable to Andrea herself. It explains the need to compare versions of memories to acknowledge inconsistencies, celebrate the good and learn from mistakes.
"[Andrea] is always searching for her purpose or what is her reason for being here and having that attitude of reflecting on [her] past, like how I remember it might not be exactly how it was and helps me grow as a person," Stoll said. "She's open to different perspectives and growing as a person."
To unwind and reflect, Andrea enjoys golf, a sport she pursued after finding comfort in golfing with her family recreationally. During stressful times, golf provides her a welcome escape, somewhere where she can refocus on what she finds most important in life.
"Golf has always meant something special to me because it represents this unique time where you're away from your phone, you don't think about school and you forget about all these distractions," Andrea said. "You talk with whoever you're golfing with and you golf and you focus on one swing at a time."
Additionally, Andrea cherishes the tight community within the girls golf team. A tradition she fondly recalls is when team members line up at the edge of the green on hole nine and cheer each time someone finishes a putt to end the tournament on a high note, no matter the competitive results. This supportive energy as well as the ongoing mentorship of younger teammates fuels Andrea's love for the sport.
"One of the most rewarding parts about being on the team this year as one of the golf captains has been seeing the underclassmen figure their way out through the same exact things that the upperclassmen went through," Andrea said. "It's been so rewarding to guide this process to give them the resources and the advice I wish I had."
Andrea's attention to her figurative and literal families, as well as her reflective nature, translate into her investigation of her multicultural identity. With a Korean mother and an Indonesian father with Chinese ancestry, Andrea grappled with a definition of her heritage. Learning about the stories of previous generations in her family eventually allowed her to discover her identity and taught her about the importance of open, non-judgemental discussions surrounding culture.
"Coming to terms with my multicultural identity has been a journey, and it's definitely shaped me into the person I am today because I want to pay attention to not only my family stories but the stories of those around me," she said. "I now try to not make assumptions based off of what you see on the surface. It's important to create this open environment where people not only feel vulnerable enough to share their stories but they're encouraged enough to want to learn about the story of those around them."
About the Contributor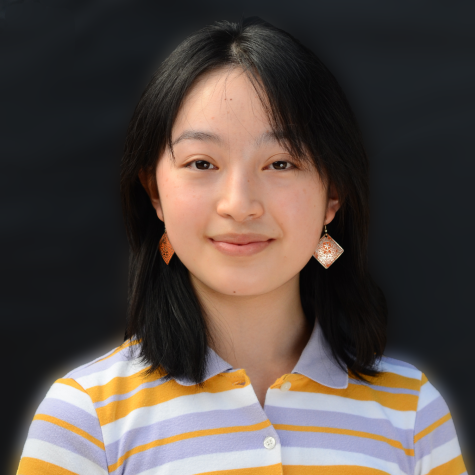 Arely Sun, Aquila Co-Managing Editor


Arely Sun (12) is the co-managing editor of Harker Aquila with focus on longform writing. This is her fourth year on staff, and she hopes to work with...