Humans of Harker: Chicken or egg
Charles Ding finds balance in life through basketball and friends
A blur of numbers flash by on a lit-up screen. Charles Ding ('22) rapidly peels a hard-boiled egg, as its shell falls into a trash can below. Huddled around him, a group of friends watches on as one records the occasion. As the last bit falls off the egg, another friend pauses the stopwatch and shouts out the time of two seconds. The crowd cheers at the momentous occasion, a record-fast peeling on an otherwise ordinary Monday morning.
With humble origins from a carton of Costco eggs, Charles's daily egg holds meaning beyond just a morning snack during the school day; this ritual has warranted a collection of videos from Charles's friends while also serving as a happy and carefree way to start each day together.
"Hopefully you aren't asking me a twisted version of 'what came first, the chicken or the egg,' in which case I would say the egg, but at school, I like to bring it as a snack during break, which apparently a lot of people find funny," Charles said. "I've made a lot of great memories with my egg … it's been this constant beacon of happiness for me throughout high school if we look beyond its simple origins to the happiness which it embodies."
Such seemingly small and overlooked moments in life to others bring much more meaning for Charles. The spontaneous moments and time spent together with his friends, who acknowledge and build off of his energetic and playful spirit, have helped him navigate and find consistency through a turbulent four years of high school.
"Most of the time in group settings, he'll be the one who's really loud and always making jokes," close friend Caden Lin ('22) said. "He's always there to use his humor to lighten up the mood, whether it's for you or for your friends, but at the point where something is really serious and when you actually need it, he'll always be the first one to talk to you privately or message you somehow to check in."
Even the pandemic could not constrain Charles's joyous energy. Online calls with his friends helped him overcome physical barriers and the separation from others, and discovering running gave him a way to slow down and think about life.
"Running gives me time to explore my own thoughts and release all of my stress through physical activity," Charles said. "During the pandemic, I began running with a few of my friends, who were the main reason why [quarantine] wasn't so harsh on me. Since I was able to have this community of friends to talk with, it was great to support and still maintain a sense of connection to the outside world."
Those connections include the countless friends he's made playing basketball, a sport he started in fourth grade and has continued playing through high school.
"I started playing basketball because I thought it was a fun activity and a great form of exercise, or at least that's what my mom told me when she signed me up initially," Charles said. "As I gradually played more and got a taste of the camaraderie and team atmosphere, I've grown to realize that it's so much more."
The hours playing Amateur Athletic Union (AAU) as a middle schooler naturally led Charles to Harker's high school basketball team. For Charles, it wasn't practicing at 6:30 a.m. on countless school days before the season started or being named captain in his senior year or qualifying for the Central Coast Section (CCS) playoffs that stood out the most about his high school experience.
"What's really special about Harker is the teammates themselves," Charles said. "Everyone is so different, but always so open. It's such an inclusive community where everyone supports one another. There's a big emphasis on brotherhood, not only among the players but also with [the coaches]."
Teammate Kevin Zhang (11) affirms the tight-knit bond that the team has with each other and the example that Charles sets for the team.
"Even though [Charles] is a senior, he doesn't feel so distant from us underclassmen," Kevin said. "Often in the bus rides before the games and even when we're waiting for the games, he'd be working and making the best of his time. Something funny I remember from this year was that he would ask the other team's players for the wifi password at away games."
Playing such a big role in his life, basketball holds a special place in Charles's heart, even when he eventually moves on from the sport.
"The spirit of basketball will be with me wherever I am along my journey, no matter what crazy things I end up doing," Charles said. "My biggest takeaway out of everything is simply having that second family, learning to be more vocal and then applying all those lessons away from the court."
Off the court, those lessons included teaching younger children through Math and Coding, a partnership that Charles organized with local libraries to set up courses in STEM related fields. Over the pandemic, the team transitioned into online Zoom classes while having to rework many of their in-person projects.
"When I was growing up as a kid, I had a lot of great mentors that helped inspire me to go into the STEM field and explore my passions," Charles said. "When I was teaching these kids, I was in a sense taking the role of my mentors, and being able to witness this childlike curiosity and joy is great. Not only do I get to teach them, a lot of times, their fresh mindset and approach is always able to give me more energy."
His energy radiates among his friends in the everyday activities they spend together, from pickup basketball games to movie trips and online voice calls.
"Charles always finds a way to brighten the day with his fun-loving humor, but also as a friend, he's there for you when you need him," Kevin Wang ('22), friend since middle school, said. "Some favorite memories with him include playing basketball in the [auxiliary] gym and frisbee on the field."
That balance between helping others and learning from them inspires him and is something that has not gone unnoticed by his friends, who jokingly deem him "Philosopher Ding."
"There's a fine line in the duality of thought between not thinking too much and constantly thinking," Charles said. "It's always good to have confidence in your own abilities, but being open to everything that people are saying and approaching things with an open mind is great toward not only understanding other people's perspectives but also honing in on my own knowledge."
About the Contributor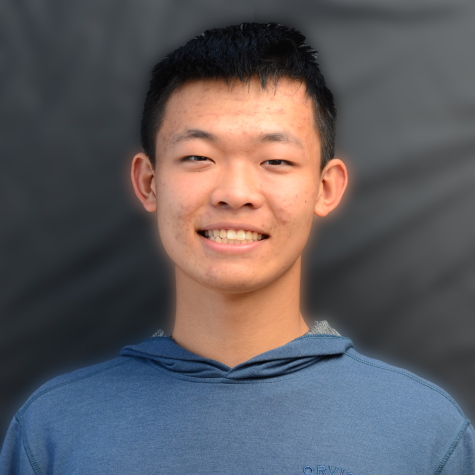 Mark Hu, Winged Post Managing Editor
Mark Hu (12) is the managing editor of The Winged Post. This is his fourth year on staff, and he previously served as the STEM editor and a staff reporter....