Humans of Harker: The vitality of art
Arianna Weaver connects with her culture through various means of art
Holding her paintbrush aloft, Arianna Weaver ('22) blends a streak of pink onto the dark indigo background of her latest painting, a depiction of a set of human lungs. The organs glow in warm yellows and reds, crisscrossed by tiny dark veins. A sense of vitality yet vulnerability perfuses the painting, shadowy twilight tones mingling with vibrant sunrise hues.
A health ordeal in her childhood stirred Arianna to create the painting, pushing her to consider how such a powerfully vital human organ — the lungs — could simultaneously be fragile. A form of catharsis for her, painting serves as an outlet for Arianna to channel her emotions.
"When I'm stressed, I like to splatter paint on a canvas or scrape it around, and it's stress relieving," Arianna said. "Especially when I have a lot of work to do, and I can't focus, I do that to relax, and it helps me focus on my work more."
In addition to painting, Arianna also explores other artistic mediums, such as cake decoration or cooking. She finds that these different forms of art help connect her to her cultural heritage. As a person who identifies as mixed-race with both Puerto Rican and white ancestry, Arianna finds ways to connect with her cultural roots through culinary traditions.
"I grew up in a biracial family, so there's two different parenting styles and elements of culture," Arianna said. "In a lot of cultures, food is important, but there's specific recipes that are unique to Puerto Rican culture. I've learned from my mom different [cooking] techniques that are unique to our culture."
Arianna has also connected to her father's culinary history through the various desserts that she makes, especially pastries that incorporate chocolate. Arianna has shared these recipes with her friends, delighting in baking with her friends as a way to bond.
Recently, Arianna and her friend Elizabeth Fabel (12) baked bird-shaped bread together. Elizabeth appreciates how Arianna's personality shines through in the activities they do together.
"When I first met [Arianna], it was a little intimidating [because] I was a more quiet person, and she's more outgoing, but as time has gone on, I've gotten to know her better," Elizabeth said. "She's very compassionate and has a really good ability to empathize and understand."
Arianna finds it important to always be a person who listens to others and to support those whom she cares about.
"I try to be there for my friends when they're going through something," Arianna said. "For every person, [there's] a different way that you can be there for them. Sometimes, you've got to listen to someone and talk to them. It changes [for every person], but I try to be there when I can."
Close friend Saanvi Arora (12) appreciates the way Arianna checks in on her and her other friends. She also reflected on Arianna's outgoing personality.
"She's really lively and funny — a presence no matter where she is — and she isn't afraid to voice her opinions on things," Saanvi said. "She's also a really supportive person. She's really caring."
Arianna has channeled her outgoing nature into the performing arts as well. In sixth grade, Arianna decided to join the Harker middle school play and loved performing ever since.
"You get to play around with characters and pretend to be someone different," Arianna said. "I have fun playing around making all these different decisions [in] playing my character. Performing in front of people is always nerve wracking, but then it's gratifying as well to see people laugh at your jokes. So it's fun getting to explore this character and make character decisions."
Being socially outgoing doesn't immediately translate to complete ease onstage, but over time, Arianna found more confidence in her performances. Arianna finds that sometimes, confidence builds as a show develops and she settles into her characters.
"When the show first starts, you feel like your stomach has butterflies," Arianna said. "And when you go on stage, you feel like you might mess up your words. But then, you get more confident as the show progresses, and especially the next few nights, it's a lot easier. Every time you start a show it's the same — you feel very nervous but then you grow into it."
In the future, Arianna hopes to continue tapping into her love for the arts to find new opportunities. Her love for many different mediums of art has spurred her to look to design as a possible future where she can explore and utilize her creativity. For Arianna, art has become not only a means of emotional expression and a source of cultural pride but also a way to connect with the world and make an impact.
"Design has the power of communication, and the psychology behind that is really cool," Arianna said. "I like to see things visually, and I really like designing things that fit into aesthetics. The way different compositions can change messages — that would be something really cool to study and work with in the future."
About the Contributor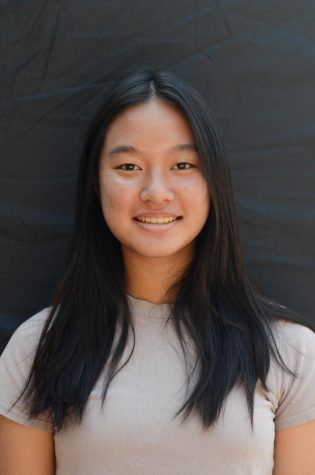 Michelle Wei, Humans of Harker Co-Managing Editor
Michelle Wei (11) is a co-managing editor for Humans of Harker, and this is her third year on staff. Through her writing, she hopes to explore topics in...