Humans of Harker: Live and let live
Sinaya Joshi forges her own path, fearlessly trying new activities
Laughter fills the girls locker room as Sinaya Joshi (12) converses with her water polo teammates. Describing stories from her day, the bright smile never leaves her face. Looking toward her younger teammates, she smiles fondly, remembering her first time on the team in freshman year.
Sinaya began playing water polo in the beginning of freshman year. Having been a competitive swimmer since the age of 3, Sinaya hoped to venture into a new sport.
"I decided to play water polo especially because I want to try a team sport," Sinaya said. "Also, water polo is in the fall season of high school. Because I was new to Harker in freshman year, I wanted to meet new people and make friendships early on."
Having now spent four years playing water polo, Sinaya appreciates the smaller size of the team compared to swimming and enjoys the resulting unity.
"Water polo [is] consistently one of the smallest teams," Sinaya said. "Therefore, everyone is very close both in the pool and outside as well. We like to support each other outside of the pool. We go to fall plays to support each other and we find time outside of school to spend time together, such as through hiking."
Starting a new sport in freshman year forced Sinaya to overcome the initial barrier of being new to both Harker and to the sport.
"The biggest challenge was getting used to the team and learning a new sport all at once," Sinaya said. "I also was new, so I needed to get used to the school environment as well. Since I had swam my entire life, I was good on that end. Learning a new sport is always a challenge though, because you have to get deep into the sport and learn the rules and plays."
Even with these challenges, Sinaya feels that the unified team, especially the upperclassmen, helped her find her place on the water polo team.
"My freshman year, the seniors and juniors would teach me and the other freshmen how to play," Sinaya said. "Although I was new to the sport and I did not know any of the rules, I only felt the struggle for a few weeks. At the end of the first weeks of playing, I felt comfortable with the sport because of the support from the upperclassmen."
Remembering the upperclassmen's help during her freshman year, Sinaya values reliability in both her personal and athletic life. She hopes to be the trustworthy senior for the younger members of the team.
"Reliability is important to me in both my friendships and in water polo," Sinaya said. "I was new and I did not know anything so being able to rely on other people to teach me was crucial. As I became an upperclassman, it became important for me to be able to rely on the underclassmen to listen to what I was saying. During games, it's important that we can rely on each other to do what they are supposed to do."
With all of the team's achievements, Sinaya feels the most important lessons she has received from her four years on the water polo have helped her grow as a leader in her community.
"[I've learned about] being able to rely on others, connect with a lot of different people and then be able to support them in return," Sinaya said. "When you start something new, you want to take the advice of others and be able to trust them. As you grow older, you should get into being a role model and helping others around you."
Outside of reliability, Sinaya prides herself on her willingness to try new things. She enjoys finding new passions, even if they come with some struggle.
"I would describe myself as outgoing and risk-taking in a positive way," Sinaya said. "People often might say that I act before I think … but I have found that living this way has made me very open to trying new things and generally going out of my comfort zone. I like meeting new people and trying new activities."
She lives by the motto she inherited from her father: live and let live. Sinaya follows this motto in all aspects of her life as she does not like comparing herself to others.
"Part of the reason why I am always open to trying new things, such as trying water polo, is because I am okay with not being good at [something] as long as I know that I am able to get better," Sinaya said. "I like to put myself out there and see what I can do. When I really like things, I will continue to work at them even if I know that I am not the best person there."
This mindset allows Sinaya to achieve goals important to her — such as completing Computer Architecture in junior year — regardless of how others may view those goals. Her perseverance through the course emphasizes her openness to try new things and her willingness to struggle through obstacles when she enjoys the activity.
"[At first,] I was very confused and I did not remember any physics, which was needed for the class," Sinaya said. "I felt like I was at the bottom, and I was one of four girls in [a] male-dominated class. I was able to actually finish the labs, which was an accomplishment to me even though it might be just the bare minimum. I put a lot of time and effort into figuring out how to make the circuits because I had never done it before."
Close friend Angela Gao (12) feels that Sinaya's charisma and extrovertedness help her to always lighten the mood of any conversation.
"Sinaya is incredibly charismatic," Angela said. "Whenever she tells a story, she somehow manages to make it so funny that some of our friends start tearing up from laughing so hard. Even with people she doesn't know that well, she's able to immediately strike up a conversation. She's a mood-maker or the glue of our group."
Close friend Megha Salvi (12) believes Sinaya has grown greatly from being more timid in freshman year to now being extremely outgoing.
"My first impression of [Sinaya] was that she was very quiet and timid, [but] over the past four years, I have learned that she is actually very outspoken and very passionate about everything she says," Megha said. "Sinaya is extremely extroverted and ambitious. There is never a boring moment when hanging out with her."
As she graduates, Sinaya hopes to be remembered for her openness to trying new activities and encourages the people around her to follow her motto as well.
"What my friends know about me is that I handle stress well and I'm always open to doing new things," Sinaya said. "That's something that I want to tell even the underclassmen on the water polo team. I always try to encourage them to go out and do what they want. Live and let live. Do your own thing and don't compare yourself to other people."
About the Contributor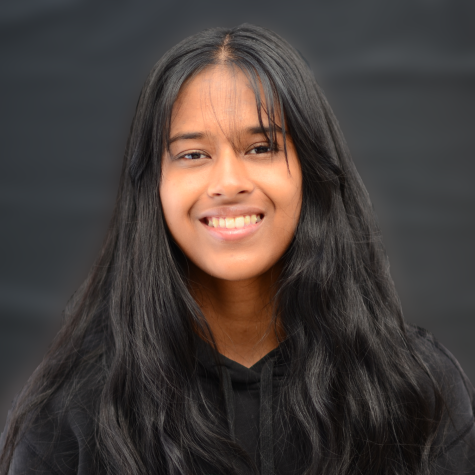 Ritika Rajamani, TALON Business Manager and PDA Editor
Ritika Rajamani (12) is the Business Manager of the TALON Yearbook, and this is her fourth year on staff. This year she hopes to connect with our seniors...