Humans of Harker: A storyteller's craft
Emily Tan shares meaning with the community through the pages of the Winged Post
As the sun sets outside the journalism room, rows and rows of newspaper page drafts slowly materialize onto the wall as the staff frantically prepares to send the paper into production. Emily Tan (12) moves expertly through the chaos, toggling a page file on the computer, touching up an illustration, or pointing out a design solution to a section editor. As co-editor-in-chief, Emily oversees the dynamic, bustling newsroom as the paper slowly comes together, pitching in to each step of the creation of the Winged Post.
After joining the journalism program as a reporter in her freshman year, Emily found a place where she could grow and learn while branching out to the community. From pitching initial ideas to reaching out for interviews, Emily dedicated herself to the goal of the program: honing the craft of storytelling.
"​​​​There are so many people that you don't ever interact with or ever think about, but every single person has so much behind what they show to other people," Emily said. "Journalism is a great way of getting behind that portion of ourselves that we always present to the outside world."
As she moved through the program, Emily started to find that the features section was where she belonged: a place where she could experiment with creative design and writing to share meaningful stories. The pages of the paper became a canvas — one that could transform from a digital file into a real newspaper in the hands of the community.
"I remember our first issue; it was so surreal, seeing our online PDF version turning into a tangible paper product," Emily said. "There's a sense of euphoria whenever the paper comes out — whenever you see other people looking at the paper, flipping through the pages."
The newsroom's fast pace called for many late nights and hours of work per page, but Emily faced the challenges of each issue head-on. From curating snacks for production night to finding the best lo-fi music, Emily brought a cheerful, yet determined spirit to the entire staff.
"She's really good at helping me and the staff remember that we're people, that we can take a minute for fun," upper school director of journalism Ellen Austin said. "She perseveres no matter what and cares so deeply about people."
Flipping through the pages of the Winged Post, Emily's beautiful illustrations and striking editorial cartoons take the spotlight in their layouts. For Emily, journalism helped reignite the spark for art that she had felt since a young age.
"Most of my art journey has been self-taught," Emily said. "But through high school, I found a reason to do art. First it was for journalism to tell stories, but now it's turned more into self expression — doing art for the joy of it. That's something I treasure now, doing something purely for the enjoyment of it."
Emily has gravitated towards the realm of digital art, from drawing on the iPad to designing graphics. The flexible nature of digital artwork allows Emily the freedom to continually refine each piece until she feels it matches her personal vision.
"A lot of it was me at my desk, looking up things online, looking at tutorials," Emily said. "So digital art is a good medium for me to keep changing things and modifying them to be more aligned to what I'm feeling, more aligned to what I envisioned them to be."
From quick studies to more polished digital paintings, Emily found herself exploring a wide array of different artistic approaches. The learning process was filled with experimentation and hands-on discovery, and she continues to gain experience from each new project.
"With art, you're constantly learning, right?" Emily said. "There are so many things out there to learn. And you can never completely master a single medium. It's impossible to ever fully learn it, but that's what makes it so interesting."
Emily also works to bring joy to other people, whether through her artwork or her actions. Close friend Elvis Han (12) admires her compassion and her ability to put others before herself.
"On the outside, Emily gives off a very warm and approachable personality," Elvis said. "I respect her a lot for it because she knows that she's pushing herself out of her comfort zone to help other people."
Friend Emily Zhou (12), who served as a DECA mentor and DECA event partner with Emily in high school, values the friendship they've shared since sixth grade. Beyond just being an incredible leader and mentor, Emily is always there as a thoughtful and caring friend.
"Whenever you're feeling down, she's always there to listen to you, but she always empathizes with you as well," Emily Zhou (12) said. "Overall, she's someone who you know you can always go talk to but also rely on to lift your spirits up. She's someone you know you won't ever forget in your lifetime, a friend that you know you'll always want forever."
About the Contributor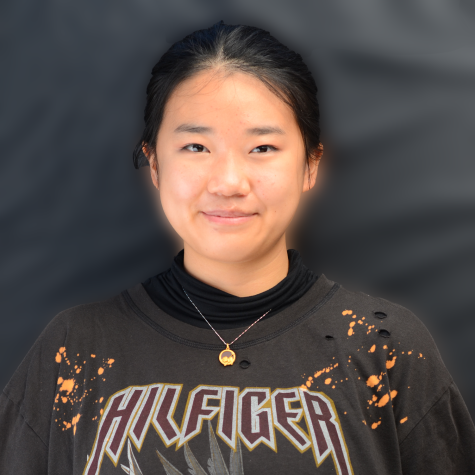 Michelle Liu, Winged Post Co-Editor-in-Chief
Michelle Liu (12) is the co-editor-in-chief of The Winged Post. She joined the journalism program in her sophomore year as a reporter and became the Winged...