Humans of Harker: A driving force
Lucy Ge advocates for social change through journalism and volunteering
The gray wheels of a cream white penny board lightly roll along the smooth pavement. Rays of sunlight dance as they reflect through the swaying leaves, casting a blanket of golden light on the world below. Lucy Ge (12) stands in the center of this scene, smiling cheerfully as she glides along on the penny board, which, along with walks around the neighborhood with her mother, has become a way for Lucy to relax and unwind.
When Lucy and her mom return home from a walk, a familiar face greets them. Their domestic shorthair calico cat, Peaches, whom Lucy affectionately calls Bunny, waits for them on the windowsill. After Lucy first adopted Peaches in the summer of 2021, she was incredibly shy and would hide in a small crevice of Lucy's closet. Now, Peaches has grown out of her shell and often expresses affection.
"[Peaches is] a source of incredible happiness and joy, seeing her every day when I get home," Lucy said. "She makes biscuits in her sleep. She has her favorite blanket that she likes to sleep on in the room I study, and all these little things she does makes me really happy."
Peaches' small yet precious actions has had a monumental impact on Lucy, and she describes adopting Peaches as a "formative part of [her life]." Similarly, Lucy's friends note that the small ways Lucy cares for them have had a significant impact on them. Close friend Ann Ryan (12) notes Lucy's ability to truly listen to her and cheer her up whenever she needs it, citing a memory they experienced together in middle school.
"We were sitting in the front loading zone and complaining about our days because I never really had tests before, but she came from BASIS," Ann said. "So she listened to me complaining, and I listened to her complain, and we were chilling. And then she took a piece of grass and knotted it up and said it's a rose, and then she gave it to me, and a card. That was really sweet."
Her friends also appreciate the dedication and kindness with which she approaches all that she does in addition to her friendships.
"She's someone that really cares about other people," close friend April Sun (12) said. "She gives 110% to not just work but also to her relationships with other people. [She's a] very dedicated, warm-hearted person.
Lucy's dedication also shines through her involvement in the journalism program at Harker, which she has been a part of since her freshman year as a reporter. Her progression from reporter to assistant news editor, then to news editor and now co-managing editor of Harker Aquila, highlights both the energy she devotes to the program and the joy she receives from reporting on events that hold significance for the upper school community. She appreciates the tight knit journalism community and the connections she has formed through the program.
"Journalism's like its own little bubble," Lucy said. "It's really cool to be in this space with everyone and do this kind of work with everyone because journalism bonds you together in a way that other things might not, like being in classes with someone else. It's not the same thing as working with them on a page or working with them to achieve a story idea. I like being part of something bigger than myself, and it's like a little family here."
News reporting can include a variety of skill sets, such as writing, photography and design, but an intrinsic aspect of being a journalist includes interviewing sources, both locally and nationally, to learn more about their perspectives and write a truthful and objective first draft of history.
"Talking to teachers and … getting their views in a new light outside of the classroom is rewarding for me," Lucy said. "Talking to people outside the classroom as well, like talking to professors and experts, people in the political sphere, it's been rewarding to learn their unique perspectives and tell their stories."
The lessons Lucy has learned from journalism, as well as her dedication to serving and giving back to the community, also translates to her love for politics, another forum through which she drives social change both on a local and national level.
Having interned at the New York grassroots campaign Tedra Cobb for Congress and worked as a design manager for California High Schoolers for Biden in the summer of 2020, Lucy cites the political environment and the potential to foster change in society as the factors that continue to draw Lucy into the field.
"There's this incredible energy among people in the political sphere, among youth especially," Lucy said. "It's been inspiring to be around people who are so passionate about making the world a better place or seeing improvements that we can have as a nation."
While political involvement allows for community participation and service, Lucy also enjoys a more direct way of giving back to the community and contributing to positive social change through Key Club, an international organization focused on service and volunteering with various high school chapters. As president of Key Club at Harker, Lucy intertwines the two main characteristics of Key Club, service and fun, through spearheading club activities like toiletries drives for homeless shelters and letter-writing events. Lucy values these activities because of the direct impact that her actions have on the community.
The club has been featured in the Mercury News, and Lucy gave a speech on behalf of Key Club after receiving an award from the city of Cupertino titled "Cupertino Recognizes Extra Steps Taken."
"I was really nervous talking, and I think I gave the world's worst speech," Lucy said. "But I felt really good at the end of it because … I didn't feel self conscious. Even though I didn't deliver the best speech I could have, I still felt proud of myself for taking it on, and it was something I couldn't have imagined myself doing a year or two prior."
Journalism and community involvement have also taught Lucy about the importance of the simple yet significant act of listening to others, a value that her friends appreciate about her.
"I value listening a lot," Lucy said. "Listening is talked about, but it's not talked about enough, like good listening [and] actually listening to people around you. Journalism gave me the mindset of a listener."
Close friend Arianna Weaver (12) appreciates Lucy's dependability. Going forward, Arianna knows that Lucy will maintain her kindness and strength regardless of where she goes.
"When you're in an environment with new people, I've definitely felt this before, but you feel pressure to change and fit in because no one's learned to accept you for who you are yet," Arianna Weaver (12) said. "You've got to make sure not to lose yourself and what you stand for especially, and [Lucy] will do great with that."
While activities like journalism and Key Club have helped Lucy become more outspoken and confident, Lucy values the impact that she can have on the community and on the world more than anything else.
"Community involvement is a huge part of what I do now," Lucy said. "It did help me become more outspoken, but more than that, what it's done for me is made me feel fulfilled. Seeing the tangible things I can do in my community and seeing the effects that I can have is so incredible to me. Knowing that I can mentor reporters or host a toiletries drive for homeless shelters, it makes me feel really fulfilled."
About the Contributor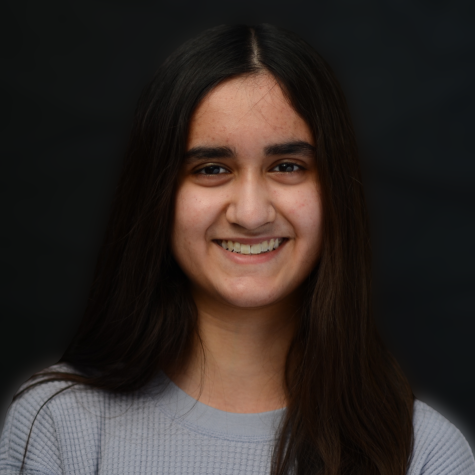 Isha Moorjani, News Editor
Isha Moorjani (11) is the news editor of Harker Aquila and The Winged Post, and this is her third year on staff. She is excited to design the news section...