Humans of Harker: A stroke of brilliance
Arvin Nidadavolu brightens his surroundings through humor and friendship
Brilliant, golden sunlight shimmers on Davis Field. Arvin Nidavdavolu (12) lines up his iron for a shot towards the white Harker logo. After a few practice swings, he steadies the club and places it just beside the golf ball. Lifting the handle up to his shoulders, Arvin concentrates on the ball. In a blur of speed, he swings, sending the ball soaring into the sky. As the whip-like crack of ball against club reverberates in the air, Arvin smiles. The ball lands neatly on the eye of the Harker eagle. Arvin has just completed this precise trickshot on his first try.
Arvin first learned to golf when he was 8 years old. He has found the experience incredibly rewarding and has enjoyed playing the sport for nearly 10 years. Although he occasionally plays competitively and is on the acclaimed Harker golf team, Arvin prefers to play more casual games with his friends and family.
"I play with my dad for money; we bet on every round we play," Arvin said. "That's my main source of income as a teenager. But it's also a very fun atmosphere to be in because it's not a head-to-head competition so it's really hard to make enemies in golf, you can really only make friends."
Though Arvin is best known for his aptitude for golf, he has found just as much joy through his time at Harker. Having attended Harker since kindergarten, Arvin discovered many of his passions through his experiences at the school.
"From a young age, being at Harker is a[n] experience where you get to see future versions of yourself as you grow up," Arvin said. "When I was in elementary school, some high schoolers would come to play in our gym, [and] it was interesting to see one person playing league basketball, another [getting] a research grant. It's been a crucial part of my childhood to be here because I was able to … explore all these different interests that I had over the years, and then finally settle on things that were interesting."
Through his love for the school, Arvin quickly realized his love for supporting his community. As a member of the Student Activities Board (SAB), he has worked passionately to spread school spirit and happiness each day.
"Spirit is one area of my life that I have been enjoying recently, because this is the first year I've been on SAB," Arvin said. "It's very exciting to provide something for a group of people and make them enjoy a specific activity that you helped contribute to. At the end of the day, in all the different areas of what I do, putting a smile on someone's face is the main benefit."
Similarly, Arvin has enjoyed working as a volunteer to support local organizations dedicated to humanitarian causes. Most recently, Arvin combined the computer science skills he gained as a student at Harker with his passion for helping others when he volunteered to build a complex website for Janyaa, a nonprofit that educates underprivileged students.
"I'm proud of building this website," Arvin said. "It was fun to do, and it was surprising to an extent that I could actually do that, and I could connect it to a database of data and information from users in Texas. Doing that with my own hands was pretty cool. But it was easy for me to put in effort because I actually found it interesting."
Indeed, Arvin believes he's found enjoyment and success both as a golfer and as an active member of his communities due to his passionate, focused personality.
"One of my strengths is if I find something interesting or captivating, it's very hard to pull me out of it," Arvin said. "If something sticks, I go at it with maximum effort. For instance, golf is something that not a lot of people stick with for a long time because it can be very disheartening at first, but it captivated me at a young age so that I never really dropped it. And within Harker … I haven't taken a course that isn't something that I was truly into. I … give it all 110 percent."
Of course, Arvin has had many supporters in his journey of discovering his passions and goals at Harker. Seniors Sujith Pakala and Sasvath Ramachandran, two of Arvin's closest friends, vividly remember their first impressions of Arvin in third grade.
"I still remember the first time I met Arvin," Sujith said. "It was at Raging Waters. I remember him getting out of the car with shades on, and I was like, 'This guy's kind of cool.'"
Arvin has remained a sensitive, caring friend for 10 years. He regularly checks in with Sujith, Sasvath and his other friends to share their joys and support them through struggles in their busy lives. Sasvath can remember many occasions on which he was surprised by how much effort Arvin put into being a supportive friend.
"Most recently, I told him I'm doing Synopsys and I have it on March 10," Sasvath said. "On the day of the fair I'd forgotten I told him that, but then he asked me, 'Hey, are you ready for Synopsys?' And I was baffled that he remembered. That's another thing that's very distinct about Arvin: he cares enough to remember and he makes an effort to do so, which I think is one very important aspect of how good of a friend he is."
Sujith is grateful to Arvin for bringing out the best in him and for making every situation hilarious. He fondly remembers the many ways their friend group has spent time together over the years.
"The best times that we hang out are when we cook or try to bake," Sujith said. "We're all super amateur, none of us actually cook or bake. But it's really fun to get together and actually make something."
Arvin's incredible sense of humor is the key to his amiable personality. He can bring laughter to any situation with hilarious jokes and quips.
"He's one of the funniest people I know," Sujith said. "He has an unconventional form of humor, so it's really fun to interact with him. He always brings up your mood and brightens your day."
As Arvin's adviser and math teacher, Dr. Victor Adler also frequently sees Arvin's passion both inside and outside the realm of academics.
"[Arvin] was energetic as a sophomore, and still is somebody who, thankfully for our advisory, likes to socialize and participate," Dr. Adler said. "He's always been that way, and that's why he's a student officer this year as well. He is honest, sincere, friendly and positive."
As Arvin moves from the Harker campus to college and beyond, he hopes his upbeat attitude, kindness and friendliness will remain with the school.
"It's not like there's a large amount of benefit to me in my activities," Arvin said. "But one of the best things about what I do is the benefit to others. In an environment where it can be really stressful sometimes, it's good to get a smile or two."
About the Contributor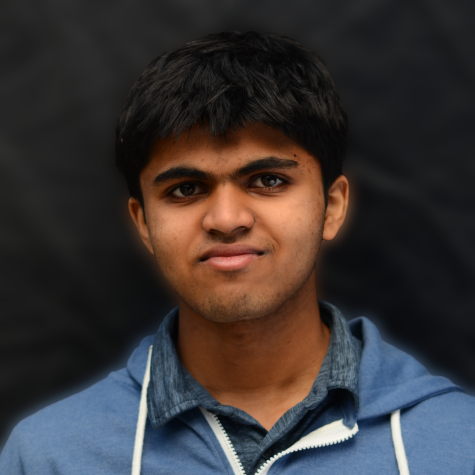 Arjun Barrett, Asst. STEM Editor
Arjun Barrett (11) is the assistant STEM editor of Harker Aquila and the Winged Post. In his second year on staff, he plans to dive deep into various topics...