Humans of Harker: Born for birding
Vayun Tiwari helps strengthen his community through his enthusiasm for birds
Vayun Tiwari (12) remembers peering through a camera's viewfinder, entering a new, comforting world on a boat in the New River of Belize. As the morning light of the sun shines on a young Vayun, something catches his eye. A Northern Jacana's distinctive vibrant yellow crown strikes an unsuspecting pose as it curiously peers into a water lily. Framing the shot, Vayun fires the shutter button. Meticulously examined for being novel and evoking emotion, a panel of expert photographers and bird-loving judges for the National Audubon Society's Youth Annual Photo Award in 2020 view the image. Vayun would win the Youth 2020 Audobon Award for his keen eye for birds.
For Vayun, birds are a natural part of his life. From his first word to his favorite hobby to how his parents met, his love for the flying feathered creatures is always something he remembers. At a young age, Vayun's parents, avid birders, introduced him to their love for birds. Birding is the hobby of watching birds, usually with equipment like binoculars or telescopes
"I've been birding ever since I could walk," Vayun said. "My first word was chidiya, which means bird [in] Hindi."
As he got older, Vayun became captivated by cameras. Eventually, he would combine these two interests, forming his fascination with bird photography.
"I got started into bird photography specifically [when I] went on a family trip in the Everglades when I was 11," Vayun said. "I remember it was really hot, and I had nothing to do. So, I asked my dad if he could give me a spare camera, and he did."
As Vayun spent more time improving his photography, his photographs served as a creative outlet that allowed him to express an artistic side. Vayun's exploration into bird photography and his love for nature serve as a welcome divergence from subjects like physics and chemistry, as he finds a relaxing uncertainty when spending time in nature.
"Bird photography is being able to view the world through a natural lens and how I am able to break away from the systematic stuff that we've always learned at school," Vayun said.
Vayun's talent for photography and love for birding led him to win the Audubon Youth Award in 2020 when he was a rising junior. Before the award, Vayun used to feel uneasy about sharing his passion for birding, hiding his talent in middle school. With the award, Vayun received recognition for his skills, being featured on a Cal-Hi Sports video about his talent. Eventually, Vayun was offered to travel to the East Coast to meet with other like-minded and young peers that also shared his interest in birding. With these opportunities and recognition, Vayun felt that birding was finally something he did not have to be ashamed of.
"Winning the award and going to Maine made me realize that [birding] is going to be a big part of my life," Vayun said. "Those two things opened my eyes and doors to a lot of things. I was able to go on state television and I had to own up to my birding identity at that point. I couldn't hide it."
Despite the thrill of finding new bird species and capturing them in a photograph, Vayun's love for birding also introduced him to the negative effects humans have on birds' habitats. As a result, Vayun actively raises money for conservation, making calendars featuring his best bird photos of the year and selling them to the San Francisco Bay Bird Observatory, a local non-profit aimed at bird conservation.
"I'm very passionate about conservation issues," Vayun said. "Some of my future goals are to design more sustainable energy systems so that I don't see the issues that I do when I'm birding, like trucks going to deforest something or habitat being destroyed by deforestation."
Vayun's empathy demonstrated by protecting the birds he photographs also translates to the people in his community. Close friend Deven Shah (12) credits Vayun with being a great friend in times of need, something he appreciated during their junior year. Deven noted Vayun's willingness to help him or his friends.
"I could FaceTime him any time and he would pick up and he would talk to me for an hour or two," Deven said. "And it was really nice that he dropped everything he was doing and helped me out."
In the classroom, Vayun's chemistry fascination was formed by his sophomore chemistry teacher Dr. Casey Brown. Vayun finds chemistry intuitive and reasonable, making it an enjoyable subject that also challenges him. Looking into the future, there is one clear goal for Vayun. Using his knowledge of the natural world and chemistry, Vayun hopes to better improve topical issues with sustainability.
"As a chemical engineer, my overarching goal is to be more sustainable and to protect our world so I can show my kids the same things my dad did to me," Vayun said.
About the Contributor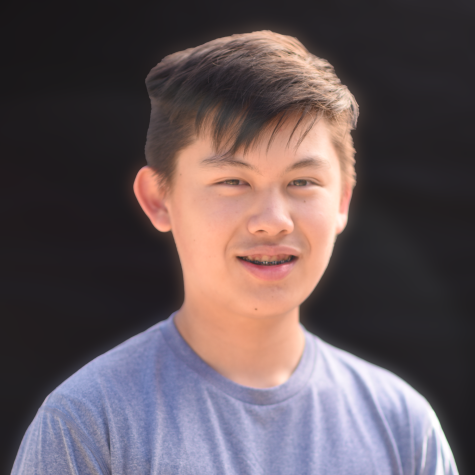 Brandon Zau, Reporter
Brandon Zau (10) is a reporter for Harker Aquila, and this is his second year on staff. In his free time, Brandon enjoys talking to friends and family,...