Humans of Harker: A trip around the world
Shrey Khater forms memories through connections
Most people take decades to finish traveling around the world. Many high school students identify only one place as their home. But Shrey Khater (12) has spent his entire life traveling, having lived in Bangladesh, Indonesia and now the United States. He has visited over thirty countries, from Nepal to New Zealand, and has toured countless historical landmarks, attended multiple international schools and volunteered at various villages. These experiences may not be fully evident through Shrey's casual and easygoing disposition, but he has a multitude of stories to tell about the different lenses through which he has viewed the world.
Initially, Shrey and his family explored the world like typical travelers, often only speeding through tourist attractions, but as they grew more comfortable with traveling, they actively engaged with the places they visited.
"As we got more experience [with traveling], we learned that the way to get the most meaning out of visiting different places and traveling to different cultures is that you have to talk to the people there," Shrey said. "That's the only way that you'll truly understand how a place works and understand what the different quirks and the different customs of a place are."
Like many travelers, Shrey encountered difficulties while moving from place to place. Aside from frequently switching schools, each new country that he visited entailed having to overcome a new language barrier. Over time, he realized that he could form connections to a place and the people there, regardless of language.
"There are a lot of other ways to [communicate with people], maybe not through language, but through something as simple as going to get food somewhere and then seeing what people are getting, and gesturing about what is the best food," Shrey said. "The only way to do it is to make yourself uncomfortable or push yourself to talk to people even with a language barrier and communicate with them in some way to form some connection with them."
Shrey's experiences in unfamiliar situations fostered his ability to make conversation that manifest in his interactions with his friends. Close friend Ayan Nath (12), who bonded with Shrey in their freshman year over shared love for the soccer video game FIFA, admires Shrey's friendliness and willingness to try new things. Although Ayan first thought of Shrey as reserved, he grew to admire Shrey's openness after many conversations together.
"I learn a lot from Shrey, whether it be about football positions or politics or Indonesia," Ayan said. "It's very rare to see someone that mature at a teenage age. His ability to try many things [is also one of his biggest strengths]. Even if he's not good at them per se he'll keep doing them [for fun]. He doesn't care that much about what other people think about him. By doing that, he encourages me and some of our other friends to do the same."
This maturity came from Shrey's exposure to different perspectives at a young age. Visiting and volunteering at local villages made Shrey appreciate the quality of his own life, but he later realized that he wanted to make palpable change in his broader community.
"We lived in really close proximity to communities struggling to make ends meet," Shrey said. "I could have never envisioned myself living in those conditions. [My school worked] with a lot of these kids from local communities … to teach us that there should be nothing stopping you from becoming friends with these people. You should always try to empathize with other people because you have a lot more in common [than you think]."
With his desire to help others, Shrey makes an impact in all types of communities around him. For instance, his passion for engineering, which appealed to him due to its collaborative nature, led him to organize an international virtual conference last year along with a friend from India in which students worldwide engineered solutions to environmental problems. The variety of developed solutions impressed Shrey, who remains in touch with some of the attendees to this day.
"[The conference] enabled kids who have never met before to work together and share their different knowledge," Shrey said. "The solutions they made [were] drawn from expertise and knowledge and different backgrounds of kids that they come from. It was cool seeing high schoolers that have never met each other come together for two days to form solutions and create bonds."
Upper school tennis coach John Fruttero, whom Shrey met in eighth grade before coming to Harker, watched Shrey grow into a hard-working leader. Now the co-captain of the boys tennis team, Shrey not only "leads by example" but also spends time coaching each of his younger teammates individually, according to Fruttero. Additionally, Fruttero distinctly remembers a match against a strong, overconfident rival team who were "trying to get under [Shrey's] skin." Maintaining his sportsmanship, Shrey led his teammates to play a close match, a moment where "David stood up to Goliath."
"After a match, we have a custom on our team where everybody talks about three things that they learned during that match, and [Shrey] spoke unbelievably eloquently about how important it was for everybody to stand up for themselves and for their teammates," Fruttero said. "During such a challenging situation, he was to be applauded for how he inspired his teammates, and created a teaching moment that I live for."
Among his friends, Shrey acts as a quiet leader and someone who makes the most of every moment. Close friend Bobby Wang (12) remembers following Shrey around and being drawn to his approachable personality when they were both new to Harker in their freshman year. Even four years later, Bobby finds Shrey easy to talk to and appreciates his ability to shape memories out of ordinary moments.
"The main [memories] that stand out to me with him are those moments in school, like walking across the hallway or sitting at the lunch table, that you might expect to be mundane," Bobby said. "Shrey brings excitement to those moments. A couple weeks ago, we were sitting at a table during lunch and talking about something random that day. I don't remember what we were talking about, but I remember that moment."
Stemming from the plethora of perspectives through which he has seen the world by traveling around it for most of his life, Shrey finds happiness in creating meaningful memories for others.
"In general, the world can benefit from people caring more about what others value and prioritizing that as well," Shrey said. "Sometimes, when you adjust your own habits or the activities you do to match someone else's needs or what someone else finds meaningful, the experience of making someone else feel valued becomes meaningful to you as well."
About the Contributor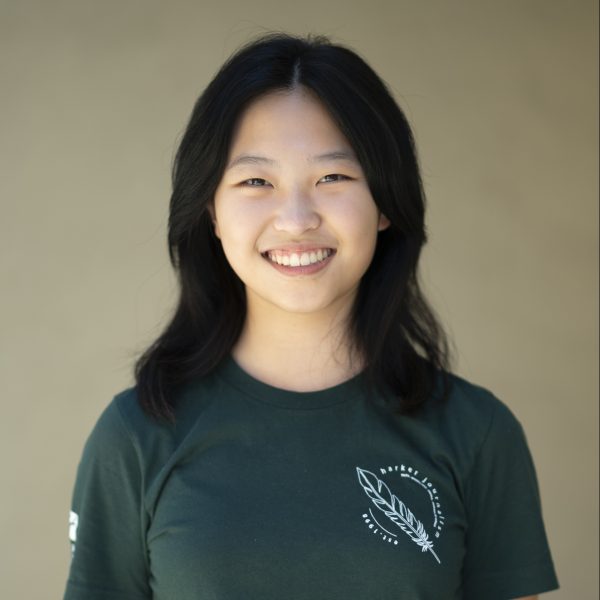 Desiree Luo, Aquila Co-Managing Editor
Desiree Luo (12) is a co-managing editor for Harker Aquila, and this is her fourth year on staff. This year, Desiree hopes to interview new sources and...