Humans of Harker: Seeking discomfort
Andrew Chen flourishes in a spectrum of environments
Eyes darting back and forth across the basketball court as he observes the opposing offense, Andrew Chen (12) quickly notices an opportunity to make a defensive play. As the Eastside College Prep ball handler backs down with a dribble in the post and loses sight of him, he makes a well-timed swipe at the exposed ball and pokes it loose. Then, he hustles swiftly to the ball, securing it before anyone else comes close and initiating a fast break for his team.
A long-standing foundation in athletics allowed Andrew to build up to his current level of sports success. Starting out by playing club basketball and swimming in middle school, as his previous school did not offer sports, Andrew then greatly expanded his athletic outlook upon entering Harker.
When Andrew first came to Harker as a freshman, he was initially shy, but over time, he began connecting with more people in his grade through friendships he made in the sports he played.
"I'm a pretty quiet kid," Andrew said. "I was pretty shy at first and didn't really talk to teammates, but then bonding over the game and then talking more and doing all these sports made me new friends. I've sort of built a reputation for being good at a bunch of sports."
Harker varsity basketball assistant coach and mentor Eric Lee, who has known and coached Andrew since sixth grade, remembers Andrew's athletic talent as a middle schooler and reflects on Andrew's growth as both an athlete and member of the Harker community.
"My first impression of Andrew was, he might be the best athlete I've ever seen as a sixth grader, at that young of an age, and he was super fast and super quick," Lee said. "He was new to Harker as a ninth grader, but he's really grown in social aspects. Athletics I was never going to be worried about, but he's grown a lot and made a lot of friends."
Stepping into his freshman year, Andrew decided to experiment with playing a variety of new sports, including track and field and water polo. The sport which he immediately excelled in was water polo.
"I never played polo before playing [that year, so] I was nervous," Andrew said. "I was learning the whole thing. I feel like I got lucky because we didn't have anyone who was a goalie for JV. I was like, 'Oh, I'm kind of tall and long.' So I tried being a goalie. I was lucky that I was naturally good at it, and I got more confidence from there."
During his freshman season, Andrew displayed talent in both basketball and water polo, which led to him being called up to varsity mid-season in both sports. In fact, the most memorable sports match he has played in was his freshman year of water polo when he nearly held the opposing team scoreless for the entire game, but his shutout game was denied by his teammate's own goal.
"​​I kept the team to zero for almost the whole game," Andrew said. "And the one goal that went in was [the one where] one of my teammates blocked it and it bounced the other way. So it went to the wrong side. That was the one goal they made."
As for his freshman season of varsity basketball, Lee recalls Andrew's team-player mentality when asked to help the varsity team, and a particular game against Pacific Bay impressed head coach Butch Keller.
"He probably had 10 steals in one game while pressing," Lee said. "Right then and there, Coach Keller decided he would like Andrew to come up to the varsity team. We needed help, we needed bodies. So we went to ask Andrew if he would be willing to do that because we're not going to tell him he has to come up to varsity. And Andrew, without hesitation, was ready and willing to do whatever it took to help the program."
Despite his affinity toward sports, Andrew found it difficult to achieve the balance and dedication required to be a student athlete at Harker.
"Freshman year, it definitely was … rough because I was not used to it," Andrew said. "Then it got better, because I figured, 'I have sports, so I have to do work and actually be productive.' Having coaches who knew that I was a beginner, who supported me and fixed my mistakes instead of yelling at me, really made the process a lot better."
Off the hardwood, Andrew has also grown into his own and gained confidence in himself. When Andrew first came to Harker in the ninth grade, his shyness was something that his friends noticed as soon as they met him. Now, he feels far more comfortable around his good friends.
"My first impression of him is he was really quiet," close friend Daniel Wu (12) said, recalling his first encounter with Andrew during freshman orientation. "But now he's a lot more talkative. He's cracking jokes, saying things rather than being in the background, which I'm really happy about. He's very chill about a lot of things. And sometimes I'm a little uptight. So he's definitely made me more chill in a good way, like less overthinking and more going with the flow."
Close friend Elvis Han (12), who knows Andrew through school volleyball and basketball, values Andrew's caring attitude towards his friends.
"If I were to describe him as an animal, I'd probably describe him as a panda," Elvis said. "He seems very gentle on the outside, very lovable. He has a more mellow personality, but he's also very protective of his friends. He will defend like a panda does if [someone] does come into his territory."
Close friend Gianna "Gigi" Chan (12) admires Andrew's listening skills and ability to be there for his companions.
"He always knows what to say," Gigi said. "Even if he doesn't really understand the situation, I always know that I can talk to him about really personal things, because he's such a great listener. He's really patient with me and really supportive."
In addition to everything Andrew does in the pool or on the court, he aspires to become an educator as well. Since the eighth grade, he has been teaching younger children how to swim at his swim club, and would like to teach biology in the future.
"There was one specific kid that I taught in summer [who] was scared of the water — he didn't know how to swim at all," Andrew said. "Then, after a few weeks, I got him to swim freestyle by himself. And his parents loved me and he also had a lot of fun swimming. Seeing the progress of people I teach makes me happy, knowing that I made an impact on someone."
In spite of the dedication and effort he puts into the sports he plays and his numerous aspirations outside of athletics, Andrew remains humble about his work ethic. He credits sports for providing an outlet to dispel feelings of discouragement, and for allowing him to simply enjoy himself.
"Off the field, I'm very lazy," Andrew said. "And you think, 'Why would I do sports if I'm so lazy?' I did them because it's fun, it's a lot of self-motivation."
About the Contributor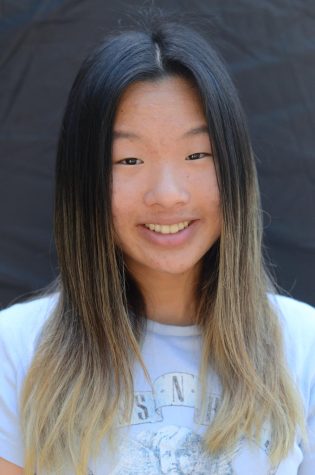 Tiffany Chang, Humans of Harker Editor-in-Chief
Tiffany Chang (12) is the editor-in-chief of Humans of Harker, and this is her fourth year on staff. She's looking forward to telling the story of the...