Humans of Harker: Leaping beyond the stage
Nikki Kapadia discovers her self-identity through dance
Nikki Kapadia (12) reminisces leading Harker Dance Company (HDC) through its pre-show tradition; giving the team a pep-talk and shaking out their nerves together. Then, she takes a deep breath and steps on stage in her bright pink tasseled dress to open the dance show with her team for her last upper school dance production.
Ironically, Nikki started dancing in kindergarten because it was what all her friends were doing. However, she soon found that she loved the feeling of being on stage and was the happiest while dancing, so she stuck with it. She then danced her way through elementary and middle school before entering high school, where she would truly challenge and shatter her limitations.
"Initially, I was not the best at dancing but I practiced and I practiced," Nikki said. "I broke my ankle, and I still continued to practice. I think that practice doesn't make perfect but instead of wasting your time and sitting there wishing that you were better, stretch[ing] a little bit more, five minutes can change the way you perform the next day. I've learned to believe in myself and, if I look awkward one day, it's okay: I'll try again tomorrow."
Now, Nikki is captain of HDC, but the path there was anything but easy. While supportive, the environment that dance creates is slightly competitive, and it often discouraged Nikki as an aspiring dancer.
"One difficult thing is that you're all supposed to look the same on stage, and it's tough because there are always going to be people that are more flexible than you or have been training for longer," Nikki said. "When you perform in front of so many people, there are so many different opinions … so many people feel you don't deserve to be on Team, as if they've ever gained that right to judge you no matter how hard you work."
Nikki's philosophy of taking things day by day and her perseverance have helped her recover from a big ankle injury in her sophomore year. Close friend Anoushka Khatri (12) notices how Nikki came back from her injury stronger and more prepared than ever.
"She worked so hard to get back to where she was in terms of flexibility and danceability, and then she grew even more after that," Anoushka said. "Seeing how much work she put in was really inspiring."
Nikki's recovery and initiation as captain of HDC served as a validation of all the hours of practice and dedication she poured into her art; it was the moment when she realized what all of her hard work had prepared her for.
"After being the underdog freshman year, and then after injuring my ankle sophomore year, and then Zoom junior year, [becoming captain] was the moment where I was like, 'I made it,' and everything has been worth it," Nikki said. "I was the proudest of myself at that moment."
Furthermore, Nikki's ability to communicate, organize, sympathize and lead has resonated with close friends, team members and upper school dance teacher Karl Kuehn, the coach of HDC. Close friend and fellow HDC member Syna Gogte (12) admires Nikki's ability to lead the group of dancers.
"She's a very good captain because she helps us perform to our best potential," Syna said. "She sends emails the night before to remind us [of] everything we need to bring. She's always willing to respond to our questions in the group chat no matter what we need or when we need it: she's always there for us."
Dance has been a way for Nikki not only to grow as a performer or athlete but also as a person, helping shape the way she views the world. It gives her a platform to express herself and her feelings without considering how other people would judge her. This year, Nikki was a student choreographer in addition to being part of six dances in the dance production. Lifelong friend Kavita Murthy (12) reflects on her accomplishments and her growth.
"[Nikki] became a lot less dependent on other people's validation," Kavita said. "When we're getting older, we feel like we have to have other people accept us for who we are, but she does whatever she wants, and she does it to the fullest potential. A good example of that is dance. Even though dance isn't a super popular thing here, she's never let that stop her from wanting to pursue it."
Nikki's perseverance and hard work have helped her achieve her passions, aspirations and goals, whether it be within or outside of dance. She didn't allow an injury keep her from dancing, and she didn't let other people's opinions keep her from growing. She took everything day by day and in stride.
"Tomorrow is always a new day," Nikki said. "When it comes to school or dance, there are always going to be difficult days … remembering that you can wake up tomorrow and try again is always important: just because you make one mistake doesn't mean that life is over."
About the Contributor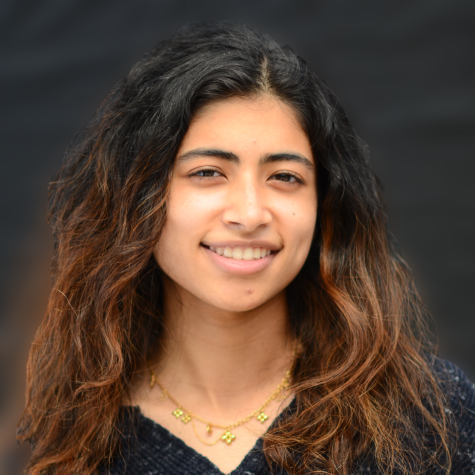 Anika Mani, TALON Co-Editor-in-Chief
Anika Mani (12) is the co-editor-in-chief of the TALON Yearbook, and this is her third year on staff. She enjoys traveling the world, trying out new restaurants...