Humans of Harker: Together in harmony
Angela Gao listens and mediates through conducting
Wrists lifted, fingers resting lightly on the black and white keys, Angela Gao (12) seemingly breathes life into the sheet music as the first notes of "Pathétique" by Beethoven — one of her many favorite pieces — rings out into the still air. A sense of anticipation hangs for a drawn-out moment before Angela eases into the rest of the piece.
In elementary school, practicing piano was just another chore for Angela. However, in middle school as daily life became more busy, piano evolved into an activity Angela performed for enjoyment to escape her growing workload.
"My mom would have to push me into practicing every single day," Angela said. "Then once middle school came, it became an escape for me. At school most of the time you have to maintain an energy level, so at home I get all my stress out through piano so that I can be happier at school."
When Angela plays piano, her mind wanders, creating a storyline from the notes and tones separate from reality.
"I like [piano] because you can tell a story through it — it's more of an unconventional way of telling a story, versus painting or writing," Angela said. "When I play, I imagine a scene in my head and try to transfer that. There are certain pieces I get very specific images of, like [when I play] this one Chopin piece, I see a dog chasing its tail."
While Angela plays piano as a personal hobby, her musicality extends into her community as she sings for her local choir Cantabile. After joining the choir in fifth grade, Angela stayed with the group to develop her vocal skills as a soprano, and Cantabile soon became a second family for her. Starting this year, Angela took on the role of student conductor, becoming familiar with each singer's vocal quality to best bring her singer's voices together as a group.
"Some people have darker, [deeper] voices, some people have brighter, [lighter] voices, and some people have more nasally voices," Angela said. "When you blend [their voices], you have to help everyone adjust a little bit so it doesn't sound weird. The lesson I learned is finding the middle ground."
At times, finding the middle ground between members in her group proved difficult, but that challenge is what draws Angela to conducting. She has developed the skill of adjusting each person's unique voice to work together in harmony.
"The really magical thing about choir is that you have to blend your voices together," Angela said. "You have to listen to yourself, but it's not a solo activity. You can't be like, 'I'm going to sing the best and be better than everyone.' It's more of a community activity, so you have to listen to other people."
Angela connects the mediating she has practiced as a student conductor with a life perspective. She recognizes the importance of listening to others to effectively see the whole picture.
"You have to listen to others' opinions to actually have a full view," Angela said. "I'm pretty good at connecting or mediating. If two of my friends are having problems, I become a therapist. I would say I'm a good listener because of what my conductor told me to do with helping everyone blend their voices together."
Close friend Erica Cai (12) observes this quality in Angela, emphasizing her ability to listen and be attentive, although more subtle, as her strongest qualities in addition to her upbeat energy.
"I would describe Angela as a really good listener," Erica said. "Most people's first impression [of her] is very bubbly and energetic, [and] that definitely holds true. She always tries to make the atmosphere very comfortable and welcoming."
Upper school English teacher Christopher Hurshman, who taught Angela multiple times — from a summer book club, to sophomore year English class, to her senior year Literature into Film course, noticed the way Angela has grown while maintaining her cheerful spirit.
"She seemed in a way that's endearing, sheltered and unsure of what the world is like," Hurshman said. "She's become more sensitive to the realities of other people's lives over the course of the time that I've known her, but she hasn't lost her innocent enthusiasm."
Close friend Ritika Rajamani (12) appreciates how easy Angela is to talk to. In all their interactions, Ritika highlights Angela's cheerful and optimistic nature, which she recalls has been unchanging since they met in the sixth grade.
"It's nice to be around someone who's always cheery and hopeful about everything," Ritika said. "Not everyone is like that. It's very rare to see someone who can always see the good in people and see the good in things, no matter what."
As to where Angela's hopeful character developed from, she gives credit to her piano teacher and now role model who has taught her since fifth grade. Along with teaching proper piano technique, Angela's piano teacher also taught her many life lessons over the years, such as continuing to play despite making mistakes.
"It's more about how if you make a mistake, how you deal with it," Angela said. "Piano definitely taught me resilience, and it gave me a different perspective towards my failures, both in piano performances and in general. If I mess up, instead of giving myself a pity party, I instead try to think about how that can help me, how I can improve in the future."
About the Contributor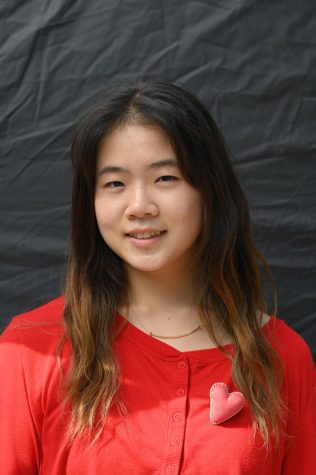 Jessica Tang, Photo Editor
Jessica Tang (12) is the photo editor for Harker Aquila, and this is her third year on staff. This year, Jessica looks forward to using new equipment to...