Humans of Harker: From palette to canvas
Shinjan Ghosh takes art to another level, exploring makeup and fashion
Makeup brushes lay across a picnic blanket. Her chain necklace glistens in the light. With a smile as radiant as the sun's reflection in the mirror, Shinjan Ghosh (12) delicately applies bright, pigmented eyeshadow across her face.
Shinjan has always loved art. Before she developed an affinity for makeup and fashion, she expressed her interest in art through design as an editor-in-chief of the TALON yearbook.
"[Art] has been constant since middle school, and that interest transferred into journalism pretty easily," Shinjan said. "With the illustrations and the design, it [is] a good place for me to express myself creatively."
Around the same time Shinjan started to pursue art in middle school, she also developed a passion for fashion. Her interest in fashion stemmed from a personal experience with a medical condition. When Shinjan was in sixth grade, she was diagnosed with severe scoliosis. As part of her treatment, Shinjan wore a back brace for two years.
"More than [the back brace] being physically uncomfortable, it led to a lot of insecurities for me," Shinjan said. "I focused on buying clothes that would cover up my brace as much as possible because I didn't want people to see it or know that I had a medical condition. I was super secretive about it because it made me feel different than everyone else, and that was something that I struggled with a lot."
Right before her freshman year, Shinjan stopped having to wear the brace. She remained interested in fashion, taking inspiration from the internet and experimenting with new outfits later during the coronavirus pandemic.
"I started watching a lot more fashion content on YouTube, like thrift hauls and videos," Shinjan said. "I saw [them] as more of something I could take inspiration from for my own outfits. I started discovering a lot of different styles in quarantine, and then was more comfortable expressing myself through the way that I dressed when we came back to school."
For Shinjan, expressing herself through fashion ultimately gave her confidence. She started to focus on the clothes themselves rather than her brace.
"The biggest change was that I realized that it didn't matter whether or not I had a back brace, but I was so concerned with whether or not people could see it and keeping my medical conditions secretive that I didn't try anything out of my comfort zone," Shinjan said. "I was able to become more confident because I cared less what people thought about me."
Shinjan remained grateful for her close friends, who stuck with her throughout both middle and high school. Her friends supported her when she felt overwhelmed, and helped her step outside of her comfort zone.
"I've been fortunate enough to have been surrounded by a very supportive group of friends," Shinjan said. "It was really something that helped when I struggled with insecurities or stress from school work. I was able to learn a lot from the people that I surround myself with because I surround myself with people that I enjoyed being around and that I looked up to, and it helped me improve as a person as well."
Close friend Melody Luo (12) met Shinjan freshman year and they bonded instantly. She commented on how she could always rely on Shinjan and could talk to her about anything.
"Shinjan has always been a really authentic person," Melody said. "When you talk to her, she genuinely listens, and that's a really admirable trait. She's always willing to listen through and help out and she's very, very patient."
Esha Gohil (12) also noted Shinjan's lovable personality. Having known each other since the start of high school, Esha feels that Shinjan positively impacted her high school experience.
"Shinjan's energy brings you up," Esha said. "She's a very bubbly person, and being around her improves your day. She never has anything bad to say, and she always has a positive mindset."
In addition to when she's with friends, Shinjan spreads her positivity throughout the classroom. Upper school English teacher Brigid Miller, who taught Shinjan for two years, noted her energy even early in the morning.
"Shinjan always seems affable — even at 8 a.m. in the morning last year, on Zoom, I'd always get a smile and a bubbly 'hello,'" Miller said. "[In the future, I'd advise her to] not lose that positivity and affability."
Shinjan's positivity translates to her creative nature. Along with fashion, she also began to experiment with makeup starting in middle school. Starting with eye makeup, Shinjan branched out into other areas of makeup.
"Around the time that graphic eyeliner was getting popular, I decided to learn how to do eyeliner on my own, and that expanded into trying different makeup looks," Shinjan said. "That was really interesting to me because I found that a lot of my skills from previous art classes applied in that area."
Whether on social media or in a TV show, Shinjan finds inspiration for makeup looks in a variety of places. The makeup looks not only give her confidence, but also allow her to form a creative space.
"Learning how to do makeup really helped me gain confidence, because I saw a different side of myself — I saw my own beauty," Shinjan said. "Your face is like a very interesting canvas. It's something that you know better than anyone else, so it's very fun to experiment with how you can make yourself look different."
In the end, Shinjan enjoys pursuing fashion and makeup not only for herself, but for others.
"Especially for most women, makeup and fashion are a very big part of our lives because there are a lot of expectations for women to look a certain way," Shinjan said. "Finding that balance of something that you feel comfortable and confident in is very empowering, and I really want to help people find that."
About the Contributor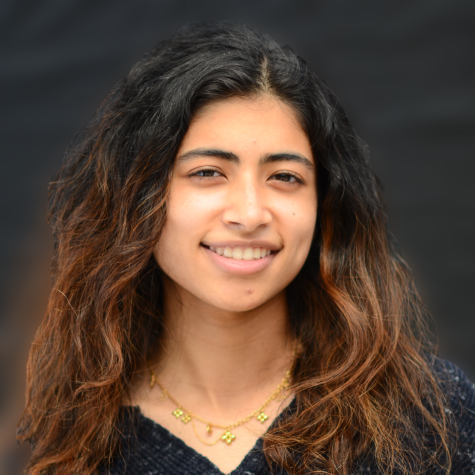 Anika Mani, TALON Co-Editor-in-Chief
Anika Mani (12) is the co-editor-in-chief of the TALON Yearbook, and this is her third year on staff. She enjoys traveling the world, trying out new restaurants...