Humans of Harker: Striking a balance
Tina Xu explores her interests and redefines her values
Those who do not know Tina Xu (12) well can usually recognize the name from its frequent appearance in Eagle Update highlights. If not that, Tina's unique effortless style, both in character and in fashion, turns heads in the hallways. But beyond what most know as the nonchalant co-captain of the varsity girls golf team is an outgoing personality enjoying the freedom of exploring her likes and dislikes.
Throughout her high school experience, Tina dedicated her time to golf and has always enjoyed its team aspect. Yet, after reevaluating her plans for the future, she shifted her focus from athletics to academics in her sophomore year. Tina wanted to discover and dedicate herself to an activity that she could find wholehearted joy in.
"I always thought I would be a college recruit, but I realized that playing golf competitively was just not my thing," Tina said. "It was a really difficult decision to make, but in the end, I sacrificed golf for academics and committed to that choice without ever turning back or regretting it."
Reallocating her time gave Tina the opportunity to take on more challenging courses. Along Tina's journey of finding an activity that resonated with her, she rose to leadership positions in a diverse set of extracurriculars including Book Bank, Future Problem Solvers and golf coaching. Over the years, Tina found her passion in collecting data and presenting reports at Rice University as well as engaging in research projects on micro and macro invertebrates at Glacier National Park.
"I decided to be more indulgent and start with what I already know, such as golf, then from there I branched out to research internships that brought me to civil and environmental science and engineering," Tina said. "I figured out that lab experience and [environmental engineering] is really what I like."
In addition to remaining true to herself academically, Tina extends her initiative to her relationships as well. Friend of four years Cady Chen (12) admires Tina's profound sense of self and finds that it amplifies her easygoing, approachable personality.
"Tina isn't influenced by what other people say or think about her," Cady said. "She focuses on what she wants to do and achieve and works toward her goals instead of worrying about others' opinion of her. I appreciate the fact that she's not willing to sacrifice herself just to please others."
Another aspect of Tina's life that reflects her autonomy is her relationship with her mother, who often travels for golf. Because Tina's father is in China and her brother is away at college, Tina manages the house alone.
"The relationship I have with my mom is more similar to a [friend-to-friend] relationship, and it's a big part of my life," Tina said. "She trusts me, and I want her to have fun, so she's able to leave me alone at home for months at a time without having to worry. I really enjoy the responsibility and freedom of cooking, cleaning, doing laundry and driving for myself."
During winter break, Tina decided to work at Paris Baguette in downtown Mountain View because both the work experience and financial independence appealed to her.
"The people I meet are so different from the bubble that Harker is," Tina said. "Most of my coworkers are around college-age. There's actual diversity there — colleges talk about embracing diversity, but the workplace is actually diverse, from the customers you meet to the people you work with. I think it taught me more about people."
Upper school French teacher Agnès Pommier, who taught Tina for two years, knows the compassion Tina holds for the people around her. Pommier cherishes Tina as someone who takes the initiative when it comes to checking in with her friends. She received emails from Tina wishing her well on Mother's Day and on Christmas Day.
"It was so touching to me," Pommier said. "I didn't even have her as my student that year. It says a lot about who she is. [Tina is] very kind, thoughtful and attentive to others and I hope she will carry this on for the rest of her life."
Tina's open, friendly demeanor molds well with others, attracting fast friends. Claire Chen (11) golfs with Tina on the varsity girls golf team and vividly remembers the first time they interacted.
"I was shadowing the high school and she was jumping up and down and screaming hi to me by name because she heard I was joining the golf team," Claire said. "She's definitely still as loving as the first time I met her. She has this carefree mentality and plays [golf] with no stress."
In her interactions with others, Tina's honest perspective and wry humor makes every conversation engaging and memorable. Close friend April Sun (12) appreciates the seemingly endless generosity Tina has when helping her friends, and finds that when around Tina, school stress and worries balance out.
"She's someone who shines a light into other people's worlds," April said. "Whenever I'm around her, I naturally relax. Her ability to connect to others and make those around her happy is a very valuable and rare characteristic that makes her a central figure in many people's lives."
About the Contributor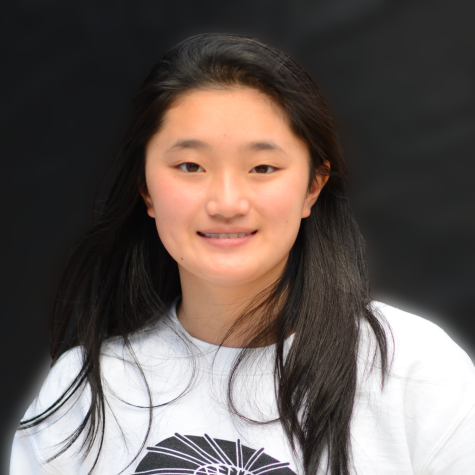 Katie Wang, TALON Photo Editor
Katie Wang (12) is the photo editor of the TALON Yearbook, and this is her fourth year on staff. This year, Katie looks forward to photographing with new...