So you want to be a . . . comedian?
Crystal Lambert shares jokes and cheer with audience
When Crystal Lambert performed comedy for the first time nearly two years ago, she had to push herself into following through on delivering her set. She felt dread at first, wondering, "Why do I think I'm funny?" and panicked when she faced a tech malfunction, but eventually found an inner calm as she began to perform her jokes.
"I broke the microphone — it was one of those old fashioned ones [from] the 1920s, and the cord just fell out of it," she said. "I remember being terrified. I remember trying to figure out if people were laughing or not. [Then] things [went] blank; you transform into another world where time no longer exists. I got people to laugh and then I felt invincible. Because if you can get there and do that, it's proof you can't die from embarrassment."
While most comedians have an intrinsic pull to comedy, Lambert identified herself as an outlier. She wasn't always interested in stand-up. Yet with encouragement from friends and deep dives into the black hole of Youtube comedy, Lambert was surprised to find herself guessing and commenting on the punchlines of other comedians. In a spur-of-the-moment decision, she decided to give it a try.
After only a few thrilling nights performing in early 2020, the coronavirus pandemic spurred a nationwide lockdown, and Lambert was stuck at home with no audience and no one to perform to at first. She seized this time alone as an opportunity to refine her process for writing jokes.
"I always keep something to write with," Lambert said. "Whether it's my phone, a notebook [or] scraps of paper, I get inspiration from everywhere in anywhere, anything that seems funny. Even if it's not actually a joke, I start writing everything down."
Lambert has relaxed her approach to crafting her repertoire of comedic material, organized into show-length sections called "sets," basing them on trial and error rather than a strict set of expectations. Once she's written a sizable amount of new material, she tests the jokes at an open mic in front of a smaller, more casual audience and edits depending on the audience's reception.
"You try to gauge if it was easy for you to say, if it was easy for you to remember, if people laughed, how they reacted to it," she said. "Sometimes people laugh at places you're not expecting them to. Sometimes nobody laughs at your punchline at all."
"
Comedy allows people to interact with things that make them uncomfortable. It puts up a lens between it where they feel like they can participate in this conversation without being argumentative."
— Crystal Lambert, comedian
Lambert's current day job is in the fast-paced technology industry, so she's used to adapting to changes at warp speed, such as adjusting to a work environment with a majority of men. With both STEM and stand-up comedy being male-dominated fields, Lambert has grown to accept and face the mental challenges that come with what she loves to do, taking comfort in seeing other women in the otherwise intimidating dark bars.
"When I do see other women, [there's] an immediate sense of companionship, like we're in this together," she said. "At the same time, with [comedy] being male-dominated, it's just a fact. I think the most annoying part is sometimes male comics think that you're only getting booked for shows because you're a female comic. And as the minority, I take what I can get. That stage time, if they're only booking me because I'm a woman, is still stage time."
Lambert writes jokes  that question the unusual in her status quo and everyday life. In particular, she often discusses her privilege as a white person and how she works to maintain her mental health.
"I'm seeing a therapist, and I try all my jokes out on her,"  she joked in one set at Google in May 2020. "And she said I'm doing a great job, so I can check that box."
She reflected on the power of such jokes to make her experiences of going to therapy and beyond seem normal, even mundane, all the better to remove the stigma of discussing her mental health.
"Being a white woman is both awesome and horrible," she said. "Those are the realities I live in. So I like to talk about them. Not everything is all bad. Not everything is all good. There's always something funny. Life is ridiculous. Mental health is real."
In that same set, she continued to discuss her privilege and how she meets her physical and psychological needs, sharing a story of how she once took a black market version of Adderall, with chaotic results.
"The part of this that is me getting my life together is that I now have prescription Adderall," she said in the set. "Because I'm a white lady and I can get prescribed whatever drugs I want, legally."
When Lambert tackles these subjects,  she takes extra care with her wording and delivery. In writing topical jokes with a mindful and sensitive touch, she hopes her audience will respond in kind.
"I don't like things that are just raunchy or [have] shock value. I really like to make people think," she said. "Comedy allows people to interact with things that make them uncomfortable. It puts up a lens between it where they feel like they can participate in this conversation without being argumentative. Because, it's all just a joke, right?"
Remembering how she had to overcome both self-doubt and a broken microphone at her first set, Lambert credited her willingness to take a chance on her beloved hobby as the reason she has grown so much as a performer.
"In some sense, you have to care — as a comedian, you have to care [about] your jokes and if people find them funny," Lambert said. "But also, if it's something you want to do, you shouldn't let anything stop you from doing it, and you're never going to know if you like it until you try. So just start writing jokes. If you're up there, you're already winning. The hardest part is going up there and just saying it."
About the Contributors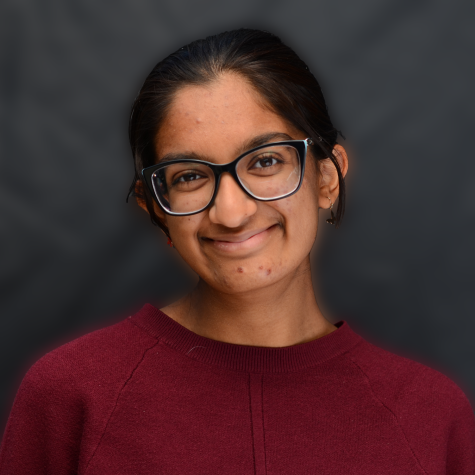 Trisha Iyer, Reporter
Trisha Iyer (10) is a reporter for Harker Aquila, and this is her second year on staff. In the articles she writes this year, she hopes to hone her photography...
Alena Suleiman, Co-A&E and Lifestyle Editor
Alena Suleiman (11) is the co-arts & entertainment and lifestyle editor for Harker Aquila and the Winged Post, and this is her third year on staff....