Humans of Harker: De-beats and debates
Arnav Dani finds his own rhythm in creating music
Immersed in his computer, Arnav Dani (12) rearranges and layers melodies from a variety of instruments on top of a vocal sample, his newest song in the process of gestation. He then focuses on the drums and bass line, creating a reassuring undertone to the track. As he clicks play, a relaxed melody with a clear bass beat permeates the room, and Arnav smiles with satisfaction.
Arnav is one-half of the band "holyrico," a well-recognized name within the Harker community. But despite his talent in music, Arnav's roots come from debate: the people there are what keep him grounded.
"The biggest thing that has kept me in debate [is] the people," Arnav said. "Almost all my friends today have come from sixth, seventh and eighth grade through that debate team. Some of them don't do debate today, some of them do, but I think that overall, the team culture is pretty good."
Arnav first met close friend Akhilesh Chegu (12) at a birthday party in fourth grade, but debate was the driving force that brought the two closer through weekly practice and competitions. Akhilesh recalls his favorite memory with Arnav being one evening at a tournament they spent discussing their different perspectives, where he learned to appreciate Arnav's approachability.
"When tournaments were in person, we often ended up being roommates several times, [like] in one of the most recent debate tournaments we went to before COVID," Akhilesh said. "After we'd done some practice, we tossed a paper football around and talked, and that opened us to each other's viewpoints on different things."
Along with the friendships and memories he created in debate, Arnav appreciated the general life lessons that he learned through experiencing success, failure and everything in between during matches.
"Debate taught me a lot of things about persistence, the value of consistency and hard work since you can't cram for a debate tournament [at] the last second," Arnav said. "It also helped me learn about how to handle the randomness that comes with defeat and how there is actual luck involved, and also learning you can't be perfect at everything you do."
Years later after meeting Akhilesh, Arnav crossed paths with close friend Ayan Nath (12) in eighth grade biology class, where the two discovered they shared a passion for creating music. What started as entertaining parodies and animations for biology presentations gave way to something far larger two years later when lockdown began.
"Once quarantine hit, we were both bored out of our minds," Ayan said. "So I asked him one day to send a beat that he made that I remember he showed me a while ago. I did some singing over it and we liked the end product. So we decided, 'Let's try to make some more songs.'"
The duo has come a long way from the original quarantine prototype, having composed and released two original albums on four different streaming platforms another two years later under the name "holyrico." In them, Arnav makes a conscious effort to direct the songs towards genres popular to his specific Bay Area audience.
"We've released two albums," Arnav said. "We did one last summer, one this summer. It's all types of genres: pop, hip hop, R & B — common genres that people listen to today, which is the goal because our audience is here."
Arnav's perceptiveness to his audience lends well to the actual process of his creating music as well. Ayan notes Arnav's application of computer science skills in saving the music he creates on his software's limited trial.
"[Arnav]'s really good at utilizing the resources he has," Ayan said. "The first place where this shows is when [he's] making music. Through his programming experience, he was able to find workarounds to make sure that he can have access to his older stuff after the application he uses [FL Studio] closes. That also comes to more fun things. You'll give him pesto sauce, bread and chicken and he'll make a fire sandwich."
Resourcefulness while making limited-ingredients sandwiches aside, Arnav's peers also appreciate his ever-present quick and witty sense of humor which developed further in high school with knowledge.
"He's a very funny person," Akhilesh said. "If you're in the middle of a conversation, he'll come up with something tacky or something hilarious, like puns or something which lightens the mood of the whole group. Initially, I noticed him more for being a funny guy, but I think throughout high school especially, he's developed [an] intellectual side [to] that."
Along with his humor, Arnav also further developed confidence throughout high school, as noted by his advisor and upper school history teacher Mark Janda.
"Now as a senior, he is more confident," Janda said. "He seems more sure of his voice. In his freshman and sophomore year, he was more likely to stand back, observe and problem-solve, [but] now he's more likely to jump in."
Arnav's voice is now loud and clear, especially in his music. He finds happiness in being original and taking liberties with experimentation, without being bound by society's expectations of the definition of music.
"To me, [creating music] is freedom to do what I want," Arnav said. "Because I used to play, of course, like everyone else, [music] from the 1700s. It was almost like you weren't playing what you wanted to play, and even if you played it with your own touch, someone's telling you that you're wrong. So now, I do what I want to do, and I control every step from beginning to end."
About the Contributor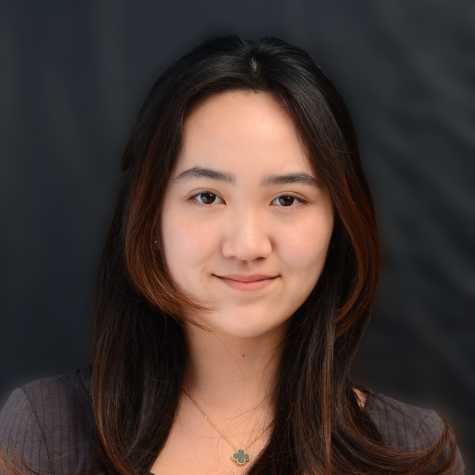 Alena Suleiman, Reporter
Alena Suleiman (10) is a reporter for Harker Aquila, and this is her second year on staff. She especially loves feature writing and hopes to write in-depth...