Humans of Harker: Expanding new horizons
William Zhao motivates and encourages others through his interactions
Leaning attentively over a navy blue desk as he listens to a Science Bowl question, William Zhao (12) grasps his pen in his right hand with intent, ready to start writing at any moment, and holds his buzzer in his left, thumb poised on the bright red button.
William first discovered Science Bowl in middle school as a part of an outreach program where high school Science Bowl members can mentor middle schoolers. When William was in middle school, participating in Science Bowl, with the help of his older mentors, encouraged him to continue pursuing science, specifically earth science, which he specializes in now. As a high schooler himself, William gives back to the team by coaching middle school Science Bowl players.
Although Science Bowl has both individual and group aspects to it, William particularly enjoys the unique cooperative facets that make his experience in Science Bowl special.
"I enjoy the collaboration because other contests I take part in are individual," William said. "So what really stands out for me about Science Bowl is the camaraderie we have as part of a team. Because in all the other competitions … It's really about bettering yourself. But in Science Bowl, you're representing your team."
Although he eventually gained experience and skill, when William first joined Science Bowl as a freshman, he found it difficult to adjust to the faster pace of the upper school's program.
"The challenge that you face is it's hard to find your voice at the table, a little bit," William said. "Because of course, when I was there as a freshman, I was dealing with seniors; it's hard for you to speak up sometimes. It's hard to find your identity."
By establishing himself in the niche of earth science and astronomy, William navigated his way through Science Bowl as an underclassman. Outside of Science Bowl, William has not had trouble vocalizing his ideas, and he savors the act of conversation, often stimulating thought-provoking conversations and offering his own unique perspectives, which close friend Harsh Deep (12) appreciates about him.
"He's super fun, but also super intellectual, and we have really good conversations with him; he has really insightful ideas," Harsh said.
William's insight also lends itself useful to topics outside the realm of STEM, but growing up in Silicon Valley, he had to choose to look beyond the tech-based norm in order to learn more about opportunities in the humanities, like the Near Mitra scholarship program which William is a part of.
"Because you have so many role models around you who are doing STEM, those sorts of discussions [with my friends] were one of the primary reasons why I decided to actually pursue some humanities, because I realized that the world is not just limited to science and engineering, that there are other things that are worthwhile to do," William said.
Upper school history teacher and William's Near Mitra scholarship mentor Byron Stevens has noticed William's attention to detail and keen understanding of history, which has helped him think critically about political and historical topics.
"He likes to consider multiple angles the whole time, which is a great thing in history," Stevens said. "Even though he is oftentimes interested in mainstream political history and developments, he is very interested in getting to the truth of the matter and understanding what really happened and why."
Close friend Rishab Parthasarathy (12) echoes Stevens' observations about William, praising him for his critical thinking skills and wide perspective on matters including STEM and history.
"He's continually refined himself into a really deep thinker, and he's always constantly impressed me with how many words he has to say on not only science but I think equally valuably about history, about these other fields that lend as much credence to our world as fields you might think of as modern sciences," Rishab said.
Despite his academic success in STEM competitions, William finds ordinary interactions with his friends as some of his most memorable moments.
"[My favorite moments] in some sense are those general feelings of conversation," William said. "They open your mind just as much as those competitions where you're really studying or working hard … In every facet of your life, you're trying to find ways to broaden your way of thinking."
Through his interactions, William encourages others, whether it is his Science Bowl mentees or friends, and enjoys conversation as a means to expand his own perspectives as well. He hopes that by coaching others, he can inspire those around him to learn more about what they find joy in and help a new generation of scientists develop.
"The world never has enough scientists or programmers," William said. "Ultimately, programmers and scientists are changing the world right now and making it a better place. I'd love to be able to contribute to that; in some sense, that's also making the world a better place because you're teaching others what they're going to want to do in the future."
About the Contributor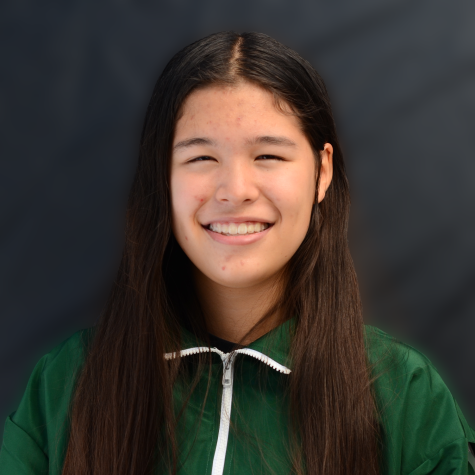 Margaret Cartee, Opinions Editor
Margaret Cartee (12) is the opinions editor for Harker Aquila and the Winged Post, and this is her third year on staff. This year, Margaret wants to write...