Humans of Harker: Taking center and back stage
Saumi Mehta shines with empathy and exuberance
She walks onto the stage with elegance and aplomb, dressed in a shimmering magenta dress sprinkled with specks of gold. Her hair is tied into a graceful knot, and earrings dangle next to her expressive features. As she begins to speak as Leonata, a character in Shakespeare's play "Much Ado About Nothing," all the eyes in the theater follow the spotlight towards her. An audience member might just believe that she stepped out of 16th century Italy. But for Saumi Mehta (12), this performance is just another showing of the fall play in Patil Theater, and Leonata is just one of the many characters that she brings to life on stage.
"[Leonata] has so many different characteristics, so it is difficult to understand what goes through her mind at a particular moment in the play," Saumi said. "One of my greatest challenges [as an actress] is unpacking the character and figuring out [their] different emotions so that you're not monotonous the whole time."
Saumi, who cites Indian culture as an important influence on her values and interests, was first exposed to performing at an early age with Bollywood dance, an activity which she continues to this day. Later, the "Harry Potter" movies and Disney channel shows played a strong role in Saumi's childhood and fostered her acting aspirations. Not only did she enjoy watching the actors, but she was fascinated with other aspects of the films, such as the cinematography and special effects. She first tried her hand at acting in Harker's fifth grade play "Pinocchio" and has participated in productions ever since, continuing to audition for roles despite not always landing her desired ones.
"I like to challenge myself when it comes to acting, so I don't want to do something that I've already done before," Saumi said. "My goal when it comes to acting is trying to do new things, so if I'm practicing a monologue, and I practice it for a long time, I would try and figure out another way to do that monologue or another approach to it."
Inspired by her experience acting in Shyl Lamba's ('20) Student Directed Showcase (SDS) two years ago, Saumi directed her first play, "Governing Alice," as one of the four SDS directors this past semester. She crafted multi-dimensional characters to make the play more relatable to viewers.
"I [didn't] want [the characters] to be serious the whole time because a character is like a real human being," Saumi said. "We all have our own emotions. Particularly for the English teacher, who's a jerk in the play, I looked for somebody who can play [someone] who's really mean, but you see a soft side of him in the play, so I wanted whoever got that role to go through the play and figure out themselves, 'Does this person have a soft side to them?'"
Upper school performing arts director Laura Lang-Ree remembers meeting Saumi, who was then a "very excitable and enthusiastic freshman," and talking to her about performing arts early on. Over the course of four years, Lang-Ree watched Saumi grow from a learner to a leader.
"I walked into the room to observe her [during an audition], and I saw the most joyful face," Lang-Ree said. "But what was so cool [was that] her leadership in front of the group that she was auditioning was so powerful, [and] she had complete control of the room."
For years, acting has served as an outlet for Saumi, providing her with both thrill and comfort. Her infectious energy shines even as she sits at a table in the orchard, describing the feeling of being onstage.
"On stage, I have so much more adrenaline," Saumi said. "I feel like a whole different version of myself because obviously there are people in the audience, but I don't really worry about anything else when it comes to acting. Also, being on stage with other people feels so [exciting] because you've had this rehearsal experience, and then it's time to put it on the main stage and show everybody, and you're like, 'Oh my gosh, it's happening.'"
While Saumi enjoys every minute she spends onstage, her favorite acting memories consist of time spent with her fellow cast members offstage, including playing paintball and holding sleepovers after rehearsals. Close friend and fellow SDS director Josh Field (12) admires Saumi's dedication as well as her liveliness and humor.
"She's a very hardworking person, but she also has the 'work hard, play hard' mentality that I really appreciate," Josh said. "With SDS, she's been great with making sure we're having fun and staying on track at the same time. All of us directors are somewhat energetic people, so when we were trying to get work done, like sending out an email or making a callback list, Saumi [made] sure that we had fun [but always circled] back to the topic at hand."
Saumi's love for performing extends offstage into martial arts studios, where wushu, a form of Chinese martial arts, gives her a sense of solace much like the comfort that acting provides. Although she disliked wushu when she first started it and even begged her mom to let her quit, she learned to appreciate not only the physical aspects of the sport but also the cooperative environment that it fostered. Ultimately, her admiration for her coaches, which grew year after year, inspired her to coach younger students, similar to how she directs younger actors.
"When I was younger, I looked up to my coaches so much," Saumi said. "I [wanted] to be like [them] when I grew up, not [as] a martial arts instructor, but as a person. We not only learn martial arts, but we learn life skills. Each class has different skills of coordination, balance, teamwork, techniques and focus … Now, being [a] role model [to kids] makes me feel so happy."
Empathy defines Saumi as a leader and friend. Close friend Liza Shchegrov (12), who bonded with Saumi in jazz band during freshman year, appreciates Saumi's support, which showed through frequent conversations during quarantine.
"[With Saumi,] I've learned that it's really good to have a supportive friend that holds you accountable for what you do," Liza said. "It's really nice that we can trust each other to hold ourselves up to each other's standards."
Whether she is performing onstage or coaching students in wushu, Saumi puts her heart into everything she does and everyone she interacts with, hoping to spread that energy to those around her.
"The biggest thing [that I value in others] is kindness," Saumi said. "If we had a world of kind people, our world would be such a nicer place. The golden rule is important — treat others the way you want to be treated. But [we] also need to understand that sometimes, people act out of anger. People have things going on in their own lives that they don't talk about. [We] all deserve to be respected the same way and all need to respect other people in the same way."
About the Contributor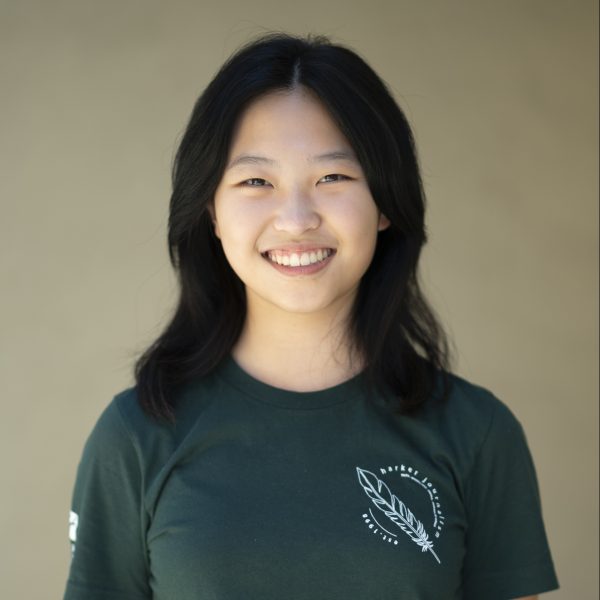 Desiree Luo, Aquila Co-Managing Editor
Desiree Luo (12) is a co-managing editor for Harker Aquila, and this is her fourth year on staff. This year, Desiree hopes to interview new sources and...