Humans of Harker: For the record
Harshil Garg helps others through a historical lens
Standing at the front of the class, Harshil Garg (12) gives a detailed crash course on the pre-Columbian Americas to a room of attentive juniors. Having researched the material in great depth, he answers the students' questions with ease. After a successful presentation, Harshil follows up with each of the attendees to ensure they are ready for their upcoming test before preparing for his next crash course, for which he spends dozens of hours creating an informative online guide and crafting an engaging presentation.
While Harshil is known for his passion for history, he began with an interest in STEM. Starting in elementary school, he would regularly participate in national math and science competitions from the North South Foundation.
Harshil's strong work ethic made him feel right at home when he enrolled at Harker in his freshman year. He continued to focus his efforts purely on STEM as an underclassman until he discovered his love for history through his sophomore year world history class.
"I realized in the summer of my sophomore year that I'm not the STEM kid I thought I was," Harshil said. "I actually have a deeper inner passion for history. That was a really definitive moment for me."
While he was initially hesitant to pursue history in what he felt was a STEM-centric environment at Harker, Harshil quickly found his place in a supportive community.
"Initially, I thought I would be isolated, but then I was so happy to see a large community of students who were actually willing to embrace my passion for history," Harshil said. "They really appreciated the fact that I'm sharing my passion with them, and that's what made Harker feel like home for me."
Harshil continued to develop his passion for the humanities throughout junior year, even finding the opportunity to help edit the fourth edition of history textbook "Voyages in World History."
"Last summer, I was emailing history professors looking for an internship, and I initially thought that I might be writing my own research paper," Harshil said. "But I was very surprised when one professor replied and said that she's actually the author of a world history textbook, and she wants me to help her revise the textbook. Actually being able to help write a history textbook is a really cool achievement I would never have imagined was possible."
Although Harshil is taking four humanities courses and only one STEM course in his senior year, he still incorporates his background in computer science and mathematics into his extracurricular pursuits. Harshil transformed his love for history into Nalanda Guides, a website containing concise review material for Advanced Placement (AP) history courses that Harshil developed from scratch. He also hosts monthly history crash courses for AP U.S. History students, where he explains various concepts of each historical period in detail.
"It's really good review," friend and crash course attendee Carol Wininger (11) said. "He's friends with everyone even outside his review sessions, and he makes sure to reach out to them."
Harshil has found many like-minded students at Harker, and he's been able to foster friendships with them through his interest in the humanities.
Friend Lucas Chen (12), who has known Harshil for over three years, appreciates Harshil's self-confidence in pursuing his curiosities without inhibitions. When they first met in their freshman year classes, Harshil and Lucas mainly discussed their coursework, but starting in sophomore year and especially during the lockdown, the two grew closer as Harshil began reaching out to Lucas for advice on building his website. Lucas appreciates how much time and effort Harshil spends to help his community.
"Within Harker, which is a pretty STEM-focused community, he spends a lot of time nurturing and developing his passion for history," Lucas said. "Whether it be in his classes, volunteering activities or website, creating something of such quality takes a lot of work. He's willing to put in a lot of time to help other people. With his crash courses, he'll spend hours preparing for them and hosting them. Sometimes he's willing to call people one-on-one to help as well."
Just as Harshil aims to help his peers academically with his crash courses, he also hopes to give back to his community by volunteering at the North South Foundation, where he once participated in STEM competitions. Middle school math department chair and North South Foundation San José chapter director Vandana Kadam had been acquainted with Harshil when he participated at the contests in elementary school, but got to know him better once he began volunteering at her chapter in high school.
"He was driven to excel in the competitions that he was taking part in, but when I started dealing with him in high school as a volunteer, the basic characteristic, in a way, was still the same," Kadam said. "He was a dedicated student before, now he was a dedicated volunteer, and he wanted to do [his] best and give it his 100%."
Kadam was surprised to see how readily Harshil took on new responsibilities at the chapter. Despite the logistical difficulties the online competitions entailed, Harshil worked diligently as the assistant chapter director to ensure everything ran smoothly. Later, when Kadam was unable to coordinate one of the competitions, Harshil took on the challenge of managing nearly everything on his own.
"I was actually traveling, but I was supposed to start the competition," Kadam said. "I transferred control to him, and I was in touch with him along the way as I was driving back. I didn't have to worry about the competition happening properly because I knew he was there. That is the kind of confidence he gives to somebody."
Harshil's academic prowess, leadership and passion for helping others continue to fuel his determination toward fulfilling his one major goal of pursuing his own interests, even if it means swimming against the current.
"At the end of the day, I believe that life is not about making a lot of money or getting a good job," Harshil said. "It's about finding your true passion, sharing it and following it in a way that makes you happy. You don't have to be like everyone else. If you be who you want to be, you will be successful, and there will always be a community willing to embrace you."
About the Contributor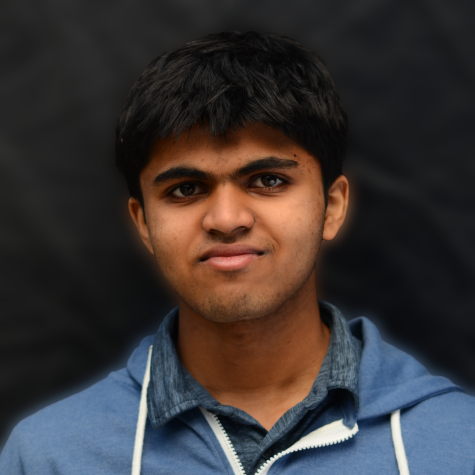 Arjun Barrett, Aquila and Winged Post Managing Editor
Arjun Barrett (12) is the managing editor of Harker Aquila and the Winged Post. In his third year on staff, he plans to dive deep into various topics and...