Humans of Harker: A kick into the future
Megha Salvi fosters a cycle of trust and accountability through soccer
You may know Megha Salvi (12) for her iconic red soccer jersey or the bright smile that adorns her face around campus, but once her feet hit the soccer field, a look of determination replaces the wide grin. Powering through each play, she feels the adrenaline rush of training in the sport she loves. As her practice nears its end, the beaming smile once again adorns Megha's face as she looks around the field, content with her performance.
Megha began playing soccer at the age of 7, and her love and determination for the sport has expanded greatly since then. Originally, her grandfather's fascination with soccer influenced her love for the sport.
"I have played soccer for a really long time now," Megha said. "My grandfather was totally into it and that's the only reason I got into the sport. Once I started playing, I realized I loved the aggression in the sport. It is a way to get my energy and aggression out."
Over the ten years she has played soccer, Megha feels that the team sport has taught her numerous important lessons, especially trust and accountability.
"Soccer is a team sport, so it requires collaboration and trust," Megha said. "You have to trust your teammates on the field. There's also accountability, [with] taking responsibility for whatever mistakes happen while playing and moving on. You have to stay in the moment. You can't dwell on whatever mistakes you made earlier in the game."
Megha feels these important skills she has gained motivates the way she lives her life. She specifically believes in the importance of trusting others and herself.
"Trust is something I find really important in my life," Megha said. "I trust other people to do the right thing, trust myself to do the right thing, and have people trust me to do the right thing. That threeway cycle is hard though, as early on I made some mistakes, but that is also where accountability comes in."
In addition to playing on Harker's varsity girls soccer team throughout high school, Megha has played for the De Anza Force Soccer club for six years. On the U19/18 Girls Elite Clubs National League (ECNL) team, she plays under club coach Lloyd Grist. He has noticed this growth of accountability and leadership in Megha over the past couple of years.
"Her character and her desire to have more impact has grown," Grist said. "As the coach, [what's important] is having people like Megha who are comfortable holding other people accountable. From a soccer perspective, it's pretty logical that she would improve as a player because she listens so well. The alignment with her character and her ability to be accountable and hold others accountable has been a massive growth for her over the last two years."
Megha's growth as a player and her determination to improve translates into numerous accomplishments she prides herself in. In 2017, Megha made it onto the Academy team. She had previously played at lower levels, and finally making the Academy team filled her with immense satisfaction. In 2019, Megha was titled midfielder of the year, which she feels has summed up her hard work athletically.
Ultimately, Megha's goal has been to play at the collegiate level. The many accomplishments she has achieved over her ten-year career culminated in her recruitment to play Division 3 soccer at Johns Hopkins University, a milestone she prides herself in the most.
Despite her success now, Megha faced numerous difficulties in her journey. She overcame a ligament sprain in her ankle in the beginning of January in 2021. The injury took her off the field for more than a month, making her worried upon her return to the field.
"It's hard because my confidence was lower when I started playing again," Megha said. "I was constantly worried about re-injuring my ankle. It was hard because I always took out whatever I needed on the field. I emotionally released myself there so it was hard having that taken away. It was hard not playing in general."
Because of the importance of soccer to her, specifically due to the connection with her grandfather, Megha continues to strive toward success despite the obstacles she encounters.
"I enjoy [soccer]," Megha said. "People do things because they enjoy them. You don't do it because there's a reason why you enjoy it. When [my grandfather] died in 2016, I felt like [my playing soccer] was worth it. It was dedicated to him that I keep playing and achieve high things in soccer."
While she loves the thrill of soccer and playing together with a team, Megha also values calmness and independence, which she enjoys through baking. Inspired by the cooking shows she watched of celebrity chefs Bobby Flay, Rachael Ray and Anne Burrell, she began baking in freshman year, and since then, she has perfected many recipes, such as eclairs.
"[Baking] is a way to express my creativity," Megha said. "I make pastries, then I realize what was wrong with it and go back to fix the recipes. I experiment with those same recipes over and over. It is really satisfying to eat the goods I baked myself."
Megha tries to maintain a balance in her life, leveling the aggression of soccer through spending time in a calmer environment when baking. Close friend Sinaya Joshi (12) also notices this balance in other aspects of Megha's life.
"She's very passionate about the things that she likes," Sinaya said. "She's compassionate, and she has a very good balance … of being able to comfort others while also expressing how she feels. She matches the energy of the people around. She changes her energy based on the people she is around."
Friend Angela Gao (12) believes that though Megha might appear quiet and shy, she is a loving friend to those around her.
"People often think Megha is very stoic and reserved, but the more you get to know her, she is actually a big softie and she is extremely caring," Angela said. "When I first met Megha, I thought she was very serious but as I got to know her and got closer to her, I realized she is serious about the things she cares about but in other aspects, she is really fun-loving."
Ultimately, Megha hopes to leave a legacy as someone who others could depend on. She finds that she enjoys the feeling of being dependable, something she believes has stemmed from playing a team sport.
"I hope people remember me for being someone they could count on to be there," Megha said. "I like to be accessible to everyone. It stems from being on a team. A team is only as strong as its weakest link. Everyone on the team works together and you need to be able to trust and rely on the others. That has translated into my social life. I like to be there for everyone around me."
About the Contributor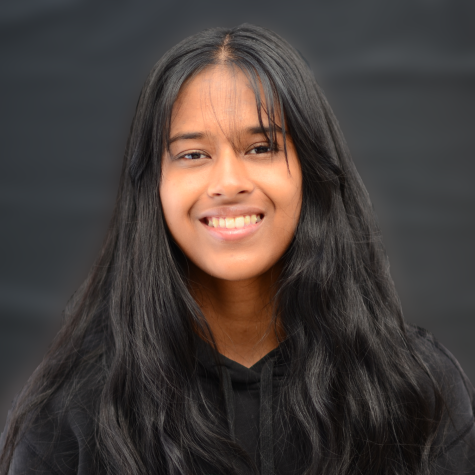 Ritika Rajamani, TALON Business Manager and PDA Editor
Ritika Rajamani (12) is the Business Manager of the TALON Yearbook, and this is her fourth year on staff. This year she hopes to connect with our seniors...