Humans of Harker: A change of pace
Emma Cabral-Gurleroglu strives to break out of her rhythm and comfort zone
Most freshmen and sophomores are sound asleep at 5 a.m., but when Emma Cabral-Gurleroglu (12) was a sophomore, she would be wide awake, arriving at City Team, a homeless shelter in San Jose, in the early hours of the morning. She would sign herself in and head straight to the kitchen, putting on gloves, a hair net and an apron before joining in with a group of adults in preparing breakfast for the homeless. Over the next three hours, Emma would work methodically, cutting strawberries into fourths, taking grapes off their vines and cracking eggs into a bowl.
Emma first began volunteering to fulfill her volunteer requirements, chopping fruit and vegetables for three hours in the morning before school started and preparing and serving dinner to homeless people for five hours in the evening.
"At first, I was like, 'Oh, I can do eight hours a day, I'll be done in a couple days,'" Emma said. "But it was fun, and I liked when you get into a rhythm of chopping. I really liked the sensation of completion and the feeling of satisfaction of being done with all of the trays of fruit."
Because the repetitious ritual of preparing the food resonated with Emma, a pattern that echoes throughout her life, Emma began spending more hours of her day at the shelter. Gradually, the homeless people as well as other volunteers at the shelter started to recognize her as a frequent volunteer.
"It was very rewarding to see a community accept you," Emma said. "I always liked seeing the recurring people, and when a guest would come back a couple of nights in a row, they'd be like, 'Oh, I saw you yesterday,' or 'Oh, she served me dessert yesterday.' The little connections, even though we never got to know each other that well, [were] nice."
As Emma continued to serve at the shelter every week, she started to transition out of her comfort zone, becoming more sociable with fellow volunteers.
"When I first started coming, I was pretty shy, so I never wanted to talk to any of the other volunteers," Emma said. "But a lot of the volunteers were adults, so if we were standing next to each other, they would start a conversation. At first, it was very awkward for me, but having to make small talk with people made me more conversational."
Emma's dedication to volunteering parallels her kindness and diligence, as often noted by her friends.
"She's very sweet and kind-hearted," close friend Gabriella Gary (12), who has known Emma since kindergarten, said. "She's always there for you, like the 'mom friend.'"
From long hours of volunteering to smaller, everyday chores such as baking or skincare, Emma basks in the safety of routine. She credits her penchant for stability to previously having moved to a different house each year, finding comfort in the yearly routine. Yet, when the pandemic hit in her sophomore year, Emma found herself grounded in her home, no longer able to spend eight hours a day serving at the homeless shelter or even to leave her house.
"Because things had stopped moving so much around me, I was able to settle in to one place more than I have been able to in the past," Emma said. "That was the inciting incident that led me to want to deviate from my norm a little bit more and start doing different things."
At the start of quarantine, Emma struggled to embrace the change and often felt that she was not accomplishing enough each day. Emma reflects that as she began to take time off for herself, she grew happier, more satisfied and more relaxed.
"Even small things, like being [in] a different change of scenery while I was doing homework, [were] very refreshing," Emma said. "I was a little bit complacent in my routine, so being able to switch it up sometimes made me happier."
Close friend Brooklyn Cicero (12), who has known Emma since kindergarten, recognizes Emma's growth from a reserved friend to a more sociable person throughout high school.
"Freshman-year Emma was a lot more shy, especially in classes," Brooklyn said. "She got a lot more confidence over the years, whether that's with her fashion sense, her ability to talk in front of classes or even her humor."
Yet, after Emma had adjusted to her new environment in quarantine, she felt anxious about returning to school at the start of her senior year. For Emma, leaving the comforts of her room and backyard for school in-person proved "nerve-wracking" and "exhausting."
"When we came back in-person, what I was most nervous about was having to do different things, having to exist as I had before the pandemic," Emma said. "Instead of trying to cling on to my routine during the pandemic, I was like, 'I can't live like this for the rest of my life.' That's when I started to try and change things a little bit, [and] that made me proud of myself: being able to recognize that and [change] my mindset."
As Emma acknowledges her growth through continuing to adapt to her environment, she also recognizes her close friends as a constant throughout high school. Close friend Ainsley Millard (12), who has been friends with Emma since kindergarten, recounts taking biology with Emma over Zoom in their junior year, when she and Emma would wear a different hat each day they had a lab, initiating a tradition within their whole biology class. She appreciates Emma's unique sense of humor and kind-hearted nature.
"[Emma's] still really sweet, but now, she's a lot more funny," Ainsley said. "I remember not really understanding her sense of humor in lower school, but I've definitely grown into her a lot more."
Upper school chemistry teacher Andrew Irvine, who taught Emma in her sophomore year, observed her affability and the camaraderie between Emma and her friends, both inside and outside of the classroom.
"One of [Emma's] strengths is social intelligence — social connection and the value of friendship and kindness," Irvine said. "She certainly can give me some slack and be sarcastic, which is her fun-loving attitude, but at the same time, if I had a lab, and a student needed a partner who was compatible and nice and created a comforting, supporting connection, I would put them with Emma."
At the end of the day, Emma values living in the moment, especially when spending time outdoors and with her friends.
"Something that I come back to a lot is experiencing the present, because I have a tendency to always want to know what's coming next," Emma said. "I want to slow things down for myself because time feels like it's passing so quickly. Being able to enjoy one day at a time, instead of in anticipation of the future, is a calming way to experience your days."
Additional reporting by Maggie Yan.
About the Contributor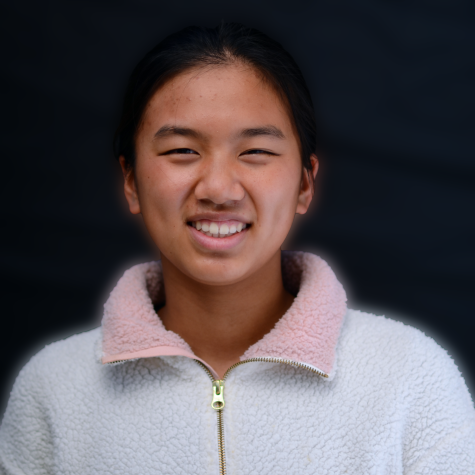 Olivia Xu, Reporter
Olivia Xu (10) is a reporter for Harker Aquila, and this is her second year on staff. Through journalism, she enjoys learning about and telling people's...