Annual Student Directed Showcase production entertains audience amidst COVID-19 pandemic
Despite adjustments due to the pandemic, four student-directed plays delight audiences with charm and intrigue
Where can you learn about all of American history and grow inspired by a basketball team's hunt for new players in one sitting? Or enter a fictitious world of shunned "lefties" and sympathize with a student's loss of her brother, all in just two and a half hours? Well, the Student Directed Showcases (SDS) this year brought all that and more with four plays of laughter, sorrow and captivation — all acted out and directed by students. 
The four one-act SDS plays took place in the Patil Theater at the Rothschild Performing Arts Center on Jan. 7 and Jan. 8.  Tickets for the show cost $15 for adults and $8 for students and seniors. In accordance with COVID-19 regulations, the cast wore masks on stage and the audience had socially distanced seating, resulting in a smaller audience than usual. Additionally, viewers could also watch the show through a free livestream, according to an email sent by the Office of Communication. 
The student directors announced the cast list on Oct. 16 after the auditions in mid-October and staged readings in the first week of October. Rehearsals within plays began on Nov. 8, and all casts convened at Vasona Park on Dec. 17 for team building activities. Tech week, where the directors discuss with cast and crew about stage placement and lighting or sound effects, took place the week before the performances. 
The production consisted of four 30-minute acts: "Squad Goals" written by Don Zolidis; "Removing the Glove" written by Clarence Khey Coo; "Governing Alice" written by C. Denby Swanson; and "The Complete History of America (abridged)" written by Reed Martin, Austin Tichenor and Adam Long. Student directors Richie Amarillas (12), Ysabel Chen (12), Josh Field (12) and Saumi Mehta (12) directed these plays, respectively.
The four student directors take a class for SDS, where they work through the process of choosing a play. After, they read through and edit the selected scripts as they decide how to set up the performance. Student director Ysabel made numerous director choices for her play, including setting up all three scenes on the stage at once to avoid set movement, in a play that conveys an allegory of the prejudices against the LGBTQ+ community in today's society. 
"We just rehearsed at my house, in the living room, so to see [the play] actually come to life on stage with the lighting and sound was just incredible," Ysabel said. "It was also really interesting to see what the audience would laugh at and what they wouldn't laugh at, and also to see whether that allegory and the message actually passed over to them."
Tech crew member, stage manager Karina Chen (11), led the other tech crew with cues about lighting and sound, marking up the script and overseeing the group. Karina started technical theater in freshman year, and participated through most of tech week prior to the show as the cast and directors rehearsed on stage. 
"One thing I like about being stage manager is being able to watch the whole thing come together," Karina said. " When I'm doing it, I see all the sound cues, I see all the light cues, I overwatch everything. So being able to watch the whole entire complex process is very enjoyable to watch. It's very tiring, but enjoyable."
First up, the cast of "Squad Goals" took the stage, with Coach Morrison, played by senior Allen Boyce, and Coach Weebly, played by sophomore Selina Xu, scolding their basketball team after a devastating loss. Morrison decides to expand the team, and the rest of the play follows the coaches' peculiar choices with tryouts and evaluations, until they find the perfect match for the next season, closing with a final "Closed eyes, tight buttocks, can't lose!" 
Next up: "Removing the Glove," a play that takes place in a world where left-handedness is treated as a stigma, even as a disease. Main character Will, played by Jacob Fernandez (11), must deal with the secret of his left-handedness, surrounded by negativity, until at last he decides to reveal the secret, or "remove the glove." Some parts of his world fall apart, while some parts remain strong through the revelation—until Will reveals that he's a Pisces.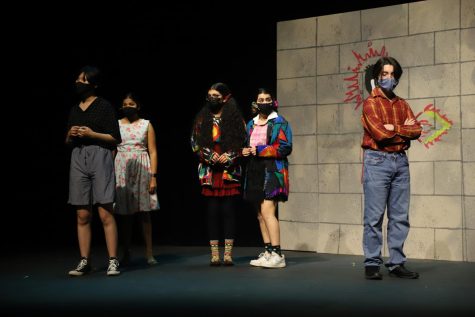 Following came "Governing Alice," about a student Alice, played by junior Lucy Feng, and the death of her brother Ethan, played by junior Richard Zhang. Alice, a characteristically bad student, is often compared to Ethan, the school's star student, who dies suddenly, allegedly having tried to rob a store. Alice and the other characters of the play struggle with reconciling Ethan's death, with the play wrapping up as other students recite Alice's "story" from the play, and "It went like this!"
Finally, the show ends with "The Complete History of America (Abridged)," as three narrators Reed, Adam and Austin, played by Ishaan Parate (12), Aastha Mangla (11) and Alice Tao (10) progress the show from Amerigo Vespucci and colonial America all the way to World War II, with comedic recounting and even live audience questions and a visit from Donald Trump, played by junior Zubin Khera. The narrators recite American history backwards to end off the show, and "they all lived happily ever more." 
Richie recognizes the difficulties with performing in front of an audience of around 150 people compared to the usual 400, so he is especially proud of the cast for still putting on a great performance, according to Richie. During the process, Richie transitioned from taking part in productions as a student to becoming a director who learned how to balance between being a student and being a director.
"A big part of it is leadership and balancing fun and seriousness," Richie said. "Just being able to find the fine line between being serious and getting things done as well as making the process fun and a good learning experience so that there's not too much pressure on the kids. I had to figure out what my role was because I didn't want to seem like a teacher directing them, but I also didn't want them to think I was one of them."
Director of Learning, Innovation and Design Diane Main has watched a majority of SDS productions since coming to Harker, including this year's Jan. 7 performance. Main greatly enjoyed the comedy and watching students perform..
"There are four student directors every year who really have to take and make the show their own [and] it has so many moving parts to it that are so important and showcase the experience that our conservatory kids get to have," Main said. "It's a very valuable experience and not something that you would find in most places."
A previous version of this article incorrectly referred to the performance of the play "Governing Alice" as a "Shakespeare reenactment" in a photo caption. The caption has been updated on Jan. 23, 2022, to reflect the correction of this error.