Humans of Harker: Pedal to the metal
Kaden Kapadia cycles over obstacles to explore new pathways
A pink glow blankets the horizon, filling the blue sky with a lively glow. As the shimmering sun sinks below the clouds, a figure emerges from below, gliding effortlessly onto the precipice overlooking the city of Cupertino. Kaden Kapadia (12) pauses at the top of the hill and takes in the sunset, calmly adjusting his feet on the pedals. Ready to move once more, he shifts his weight and pushes forward, accelerating back down the hill before disappearing into the distance in the blink of an eye.   
Kaden developed the smooth motion with which he bikes through months of rides, engaging in the once tiring activity to release stress and rejuvenate himself. He started biking over quarantine, and eventually worked up to traversing the Highway 9 hill with ease. 
"When I first started biking, I wasn't very good and didn't have much endurance," Kaden said. "The first ride I did, after three miles my legs were dead. By the end of summer, I was able to hike up Highway 9. It's essentially 15 miles of straight up hill with short breaks. The rest of the day, I didn't feel lethargic. In fact, I felt more energized."
Biking to strengthen his bonds with his friends, Kaden opens up to those around him, growing closer to them with each mile. Throughout the year, Kaden has embarked on many rides with Dhruv Saoji (12), his friend since lower school.
"Sometimes Kaden might be serious or quiet, but when he's on his bike, you see a different side of him," Dhruv said. "When we're biking, he really lets himself loose and enjoys the nature and people around him."
The mistakes Kaden made while biking, from pushing himself too hard to not pacing himself, became lessons that he applies in his everyday life. Kaden knows that there is no shame in asking for help, and he passes this message on to the kids he teaches in his programming tutoring sessions.
"[My tutee] was very hesitant to participate and answer questions," Kaden said. "The most important thing I taught him is that no one will judge him if he asks a 'silly' question," Kaden said. "You might as well ask all the questions you can, because I'm here to help. I really don't care how 'bad' a question is because I've definitely asked worse questions."
Kaden first became interested in computer science in his junior year after taking AP Computer Science. He loves using computational models to explore new ways in which he can address issues in real life.
"In my junior and senior years, I started taking courses that were more computer science based because I believe computer science gives you the best opportunity to examine real world problems and create solutions for those problems," Kaden said.  
Captivated by the constructive nature of programming, he went on to take data structures and compilers, two advanced topics courses, even learning Python on his own. Kaden analyzes individual problems methodically and doesn't hesitate to search outside the box for answers.
"In terms of problem solving, Kaden is very composed. Over the past two years, I don't think I've ever seen Kaden flustered," Bodhi Saha (12), fellow computer science enthusiast, said. "He approaches problems creatively and tries to find unique solutions to any obstacles that stand in his way. The fact that he's actually teaching Python to younger kids now really shows his growth and part of his personality in helping people."
Displaying his kind and good-natured personality, Kaden looks out for others' interests and will help those in need. He always treats his teachers and fellow students with respect, striving to leave a positive impact on the people he interacts with. 
"[Kaden's] open to hear anybody's perspective," upper school statistics teacher Dr. Bune Bloomquist said. "He's very gentle and genuinely loves everybody. He always does his best to learn. I see his growth in his discussions and analytic abilities, and he's a lot more confident now."
Whether in biking or coding, Kaden pushes through the challenges he faces with determination. Looking forward, Kaden will continue to find his own path and pursue his interests unapologetically.
"Do what you want to do and explore what you want to explore," Kaden said. "Don't feel the pressure to fit others' expectations. If you have an interest in something, pursue it. You don't need anybody to teach you how to do it. Go after it yourself."
About the Contributor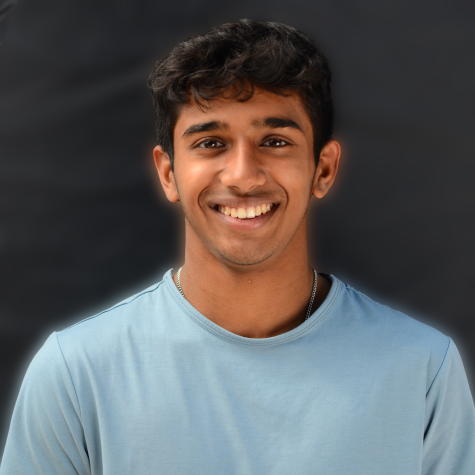 Muthu Panchanatham, Opinions Editor
Muthu Panchanatham (12) is the opinion editor of Harker Aquila and The Winged Post, and this is his fourth year on staff. This year, he is excited to cover...