Humans of Harker: A dog's best friend
Ysabel Chen fosters her love for dogs through her business Lucky Paw
Shaking a bowl of treats in her right hand, Ysabel Chen (12) beckons her dogs, Blaze, Tommy and Almond, across her backyard. Immediately, three blurs of white fur rush towards her, eagerly jumping on her as they reach for the treats. She giggles and asks them to sit before starting to feed them. Settling down on the grass to play with them, her eyes sparkle. "Good boys," she says with a smile.
Blaze, Tommy and Almond, who are involved in every part of Ysabel's life, are all rescue dogs. After her golden retriever passed away when she was in second grade, Ysabel decided to take initiative and research how to adopt a new dog.
"I'm an only [child], so I wanted another friend," she said. "I started looking online for a dog to rescue or buy. Buying isn't always necessarily the best for the dog and for the society as a whole. Then I found Petfinder, which is the biggest database of adoptable pets."
From Petfinder, she was introduced to the organization she currently volunteers at, One Planet Rescue, which specializes in working with injured dogs and cats. Close friend Arely Sun (12) remembers how Ysabel was able to apply her work with rescue dogs into her personal life by helping a stray dog she found herself.
"Last year, there was a dog outside of her yard, and I remember she was texting us about it and telling us about the journey of bringing the dogs to the shelter and adopting one of them," Arely said. "I thought it was really interesting how she was able to use her love for adoption in a real life situation."
While working with rescues at One Planet Rescue, Ysabel became increasingly interested in the adoption business. After joining the Incubator 1 course in her junior year, she found the means to create her own business, Lucky Paw, that focuses on making it easier for people to adopt dogs.
"I remember being interested and attracted to the idea that I could create something that I didn't see anywhere else," she said. "I didn't see anything [that] made adoption easier for the people who are trying to adopt [pets], so that was the idea I was going forward [with] and that I wanted to develop."
Now in Incubator 2, Ysabel works closely with her classmates to fully develop her business. She notes how she especially enjoys collaborating with her all-girls class.
"In the real world, there aren't too many female CEOs," she said. "So that's really nice, because we all work together, in the sense that we all give each other advice or talk to each other during class and help each other out with different resources. That's the best part, in that it's all cooperation."
Over her experience working with not only her own three rescue dogs but also around 15 others that she has fostered, Ysabel found the transformation of the dogs, both physically and emotionally, to be the most inspiring and amazing part of what she does.
"When you first see them, they're terrified," Ysabel said. "They don't want you to pet them and they also physically look bad. A lot of them had ticks and skin diseases. [If you] compare [that] with two months later, after they found a home, [you can] see the change in their personalities."
Arely credits part of Ysabel's success working with rescue dogs to her innate selflessness. Observing Ysabel's involvement with rescue dogs over the past few years, Arely admires Ysabel's dedication and compassion to the animals.
"A lot of the stuff she does is out of kindness," Arely said. "She's super passionate about adoption, because there are so many dogs out there that need homes, and she's doing so much to help in that aspect. She's always up to offer help."
Additionally, Ysabel's work volunteering with One Planet Rescue and expanding Lucky Paw introduced her to several other individuals who share her passion for adoption and rescue dogs. From them, she realizes she learned valuable lessons and grew to be more persevering in her endeavors.
"One woman who founded the first shelter that I went out to was super passionate about [working with dogs,]" Ysabel said. "It's really inspiring, [since] I've had a few up and downs in regards to talking with shelters, because a lot of them don't have enough time or volunteers, [so I've learned] resilience."
Along with her strong connection with dogs in her community, Ysabel also enjoys her bond with peers in the theater community. Although she was only introduced to acting at the beginning of high school, she quickly came to appreciate the art, especially through Harker's annual Student Directed Showcases (SDS). As a freshman, she found the opportunity to work with upperclassmen in a different setting rewarding and beneficial.
"The student directors are amazing because they're your friends as well [as your directors]," she said. "Through that, you build a stronger bond, because everyone's the same age. When you're in ninth grade, you don't know anyone, [so] coming to the high school and building bonds with those people was amazing."
After three years of performing in SDS shows, Ysabel was selected to be an SDS director herself. During the casting process, watching her vision for the show come to life through her peers' acting led her to acknowledge how valuable and talented the theater community is.
"[It] was really cool how you see a person, and it clicks, like this person fits this character," she said. "Also, some people surprise you. A few seniors showed up this year that I don't think have done performing arts before, and they were amazing. It's the little things like that [that I enjoy]."
Along with working with her cast for SDS, Ysabel also finds collaboration with her fellow directors very beneficial. Not only does she grow from their acting advice, but she also comments on how she values the friendships she has developed with them.
"Because it's such a small class, we constantly text each other asking for advice, and every time we see each other on campus, we give each other fist bumps, high fives [and] hugs," she said.
Josh Field (12), one of the other SDS directors, admires Ysabel's organization throughout their time acting together, whether that be for previous theater productions or this year's SDS shows.
"She's super organized," he said. "I don't know how she does it, but for all of 'Les Mis[erables]' and even for SDS, she's always on top of her stuff and knows what should be getting done when other people don't, and that's something I very much appreciate."
Similarly, adviser Samuel Lepler finds Ysabel's leadership qualities extremely admirable, complimenting her positivity and reliability.
"[Ysabel is] the kind of person that's going to participate positively in whatever's happening," he said. "She's that quiet leader, not the one that jumps up in front of the room and jumps around physically, but will quietly lead from behind, and it's very impressive."
Overall, whether she's on stage acting with her castmates or at home expanding her business, Ysabel's drive and selflessness shine through and allow her to foster a positive community around her.
About the Contributor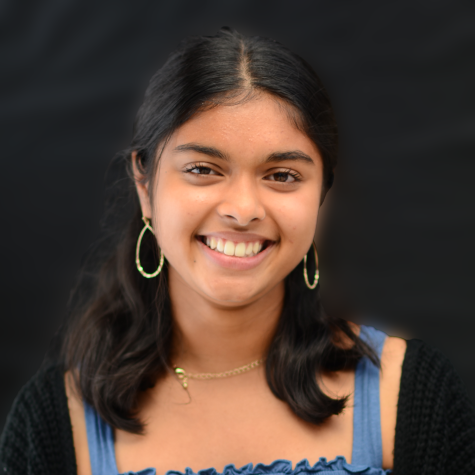 Lavanya Subramanian, TALON Student Life Editor
Lavanya Subramanian (11) is the student life editor of the TALON Yearbook, and this is her third year on staff. This year, she looks forward to capturing...