Humans of Harker: Putt-ing in the effort
As a golf player, Sophie Zhang-Murphy perseveres and prevails
Sophie Zhang-Murphy (12) remembers the numerous times she and her family drove to a driving range to play golf when she was 6 years old. At the time, she aimed to simply hit the ball with her golf club, incentivized by the enticing prize of picking the dinner menu later in the day. These casual yet competitive outings with family pushed Sophie to embark on her own golfing journey.
Twelve years later, Sophie ranks 46th in the American Junior Golf Association's (AJGA) girl's category, practices at Palo Alto daily and plays in tournaments every month. Her mother is her most avid supporter as she attends a majority of Sophie's practices. Sophie's mother also played the sport and instigated the weekend golf games. Although Sophie's family is her main source of inspiration, her friends also play a role in encouraging her to continue pursuing her golfing aspirations.
"Even if you play the same golf course, it feels different every time," Sophie said. "It gets pretty boring when you practice by yourself, but when I see all my friends that I compete with, it puts me into the competition mood."
Sophie appreciates golf's illuminating the significance of both dedication and a strong work ethic, her enthusiasm for the activity making time seem to fly by in an instant.
"[Golf] has taught me how to overcome challenges and how to perform under pressure, but when you've played for an hour or an hour and a half, and you get out of the moment, you're like, 'Huh?' because it feels like it goes by in just a moment," Sophie said.
To fellow golf player Ryan Zhang (10), Sophie acts as a role model with her athletic aptitude and amiability. He recalls enjoying her company on golf courses as they play the sport and joke around, which further solidified their friendship.
"As I started to get to know her, I saw her other side, which is more friendly and playful," Ryan said. "She looked like she knew what she was doing all the time, and she still is always able to find motivation. She knows what to do and how to do it well."
Outside the athletic world, Sophie shapes an exciting and safe environment for her friends who appreciate her humor and ability to read the room.
"She's very sarcastic, but it takes a certain kind of person to understand her humor," close friend Trinity Chan (12) said. "She's also caring because whenever I'm sad or anything, she knows that it's not a good time to joke, so she's very observant in that way too."
Trinity admires Sophie's character growth during her friendship as she became more assertive and decisive.
"She's become more resilient and more strong as she can now say 'No' to other people," Trinity said. "When I first met her, she would give in a lot when [people] were pushing her around, but now she sticks up for herself."
The pandemic and remote learning created a challenging obstacle for Sophie to overcome as a student, since classes such as math proved difficult to learn over Zoom. She lost confidence in her ability to succeed academically and athletically at the same time that pressure for her to compete well rose.
"Golf is pretty challenging [and] it's always an uphill climb," Sophie said. "Freshman year, I wasn't playing very well, and I was overwhelmed with school. Then I started practicing more and working harder, and by sophomore year, I was better."
Sophie's friends recognize her efforts and struggles with living up to her coach, parent and peer's expectations both at school and in golf.
"There was a lot of pressure put on her to play well," Trinity said. "Freshman year was really important for her to get recruited to college for golf, and she had certain expectations from her parents and her coaches to play well."
With rigorous training and the help of friends such as Ryan, who provided moral support and assisted her in classes they had together, Sophie gradually rose again as an adept player in her sophomore year. Close friend Camilla Lindh (12) admires how Sophie learned to balance the academic world with her golf life during high school.
"I'm very amazed by how she's able to manage school and golf at the same time," Camilla said. "Now she doesn't seem to be daunted by those two tasks, and she is very successful in her golf career."
As a seasoned golf player, Sophie plays at multiple tournaments every year, yet her most prominent moment in her career occurred at a tournament last year in Los Angeles in which she maintained a consistent streak of accomplishments.
"My win last year I was really proud of because it was the first time I went bogey-free for 47 holes," Sophie said. "I played really well the first day, and I was happy that I could also play well the second day and be able to go through the pressure."
Despite rising pressure and stress, Sophie overcame challenges and simultaneously succeeded in both her golf and academic life. Her amiable personality and humor continues to create enjoyable experiences and memories for her friends and family.
About the Contributor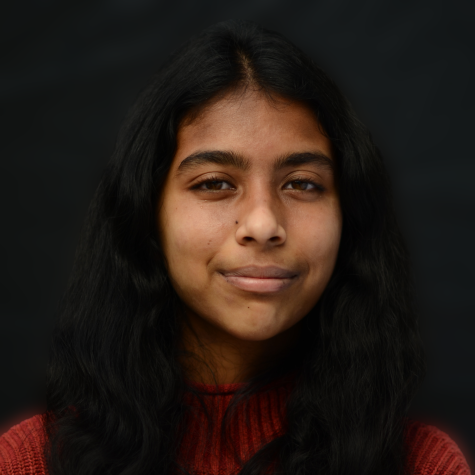 Kinnera Mulam, Reporter
Kinnera Mulam (10) is a reporter for Harker Aquila, and this is her second year on staff. This year, she hopes to write more about new projects and developments...