Humans of Harker: Leaving a blank space
From Taylor Swift to future patients, Trinity Chan knows how to listen
Whenever she has a free seventh period, Trinity Chan (12) heads over to a Spanish-tiled building surrounded by green trees in Cupertino: the dentist's office. Don't worry about her teeth, though — she does not intend to lie prone on the teal seat of a dental engine. Trinity describes her routine once she arrives: she slips past the curtain cordoning off the patient area, grabs a face shield and slips on a lab coat labeled with the name of the dental office. After suiting up, she spends the next few hours observing the work of Dr. J.J. Salehieh, the specialist she's been shadowing since her sophomore year.
Once, a patient came in complaining of an ache in jaw, and Trinity noted that while the X-rays, which showed a healthy mouth, offered no solutions, the doctor kept listening to the patient's experiences until he realized that the pain stemmed from a misalignment in the teeth. The doctor's patience and active listening struck Trinity.
"Patients were talking about doctors who had lacked empathy in the health care system, how doctors would dismiss them," she said. "As a future dentist, I don't want to dismiss pain and say, 'Oh, it's something in your head,' even if there's nothing clinical to be seen."
Early in freshman year, she decided on her goal to become a dentist after a lifetime of a curiosity toward teeth, though she briefly doubted the viability of her career choice.
"When I was younger, I found teeth really fascinating; I enjoyed collecting my baby teeth, and as I grew up, it grew into more of a curiosity," she said. "In sophomore year, I faced a challenge to wonder if this was something I created in my head. [Shadowing] did solidify that idea that, 'Yeah, this is what I want to do in the future.' I was able to make sure the job was something I could do on a daily basis."
Observing the day-to-day work of a dentist opened her eyes to the importance and rigor of the work she plans to commit to in her future.
"[As a patient,] I'd never seen what goes into preparing before a patient comes or what happens behind the scenes because you only see a dentist come in and talk to you for 10 minutes," Trinity said. "But that's not even a portion of what they do in their day. I know now that as a future dentist, [I] have to make time for myself."
Realizing that her dream job can be physically and mentally draining pushed Trinity to change her daily routine at once so that she could make time to practice self-care. She developed routines for herself to make the most of her free moments, taking time each weekend to take a long bath and apply a hair mask. When she finds time, she turns to baking as an outlet.
"When I was a child, I baked with my mom making pancakes and cupcakes, and on a Sunday morning we'd get up and make pancakes," she said. "I've always found it an escape from reality. There's always a new challenge in baking, trying to make the perfect merging of ingredients."
When Trinity unwinds by washing her hair or baking, close friend Sophie Zhang-Murphy (12) knows that she will also be listening to her favorite musical artist, for whom her admiration is a large part of her personality.
"[She is] a very big Taylor Swift fan," Sophie said. "You can tell by how she listens to her music every day, by the clothes she wears: she only wears T-shirts or hoodies from the merch."
Trinity's love for Swift, like her love of teeth, has stayed with her from a young age. She first saw the artist perform while in kindergarten, and since then, she has seen Swift on her Speak Now, 1989 and Reputation tours. Trinity draws guidance for her everyday life from seeing Swift perform, and in particular from lyrics from the song "Daylight."
"'You['ve got to] step into the daylight and let it go' is a line that I really like because I didn't realize how much I've been holding in me until hearing it," she said. "Even when I saw Taylor first, when I was young, I remember knowing she was the kind of person I wanted to be in the future. How she can bring smiles to everyone — in some way, I want to be able to do that as a dentist."
Trinity's values also emphasize the importance of service, which she enforces through giving back to her community. While volunteering at her city's youth center and conversing with the teens there, she learned about their lack of access to regular checkups or insurance for their dental needs.
"I realized the oral health disparity is normally overlooked by people because it's not seen as something that you need until there's an issue within the mouth," Trinity said. "It's especially concerning for minorities, who may lack insurance. Something I hope to pursue in the future as a dentist is help those who don't have access to oral health care get that access."
Her positive mindset remains her strongest asset even in situations that stretch her comfort zone, such as when she took the Japanese 5 course with upper school Japanese teacher Noriyo Ikeda.
"She was the only student in my class, so she didn't have any peers, but she always showed up cheerful," Ikeda said. "She's very hardworking in checking in with homework assignments and following instructions, she's very polite and she's a very, very sweet student. I don't teach her this year, but I'm always happy to see her next door."
Trinity's determination when approaching any topic and depth of understanding strike those her around her, including close friend Keya Mann (12).
"I've never seen anyone who likes something so much, be it dentistry [or] be it Taylor Swift," Keya said. "I don't think I have any friend that's as driven about something as Trinity is. I can't think of anybody else who would talk about something like that for so long. When we talk, it doesn't matter how long I've known her, I always come out knowing something new."
Trinity reflects that leaving a concrete impact on her surroundings does not appeal to her; rather, in keeping with her resolution to "step into the daylight" with every action, she hopes to spread a sense of security and comfort to those who need it most.
"I want to have made a good impact on the people I care about," Trinity said. "I want to leave them more with a feeling than an actual physical object. I want them to have that feeling to remember what I did to make them feel good about themselves."
About the Contributor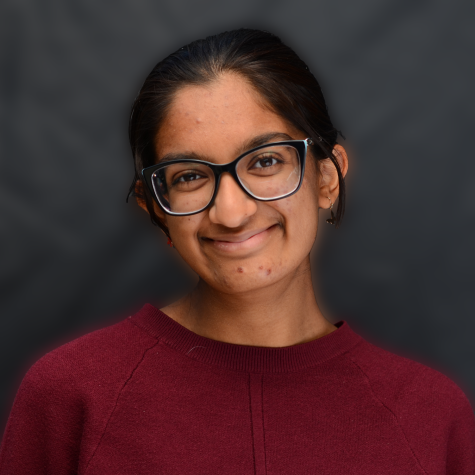 Trisha Iyer, Reporter
Trisha Iyer (10) is a reporter for Harker Aquila, and this is her second year on staff. In the articles she writes this year, she hopes to hone her photography...