Humans of Harker: Spinning with positivity
Alice Feng cultivates perseverance through skating and science
In a video of her routine for the U.S. Figure Skating Central Pacific Regional Championship in October of 2018, Alice Feng (12), dressed in a sky blue costume adorned with silver embroidery, glides backward on the ice, sweeping her right leg up and sliding into a single axel jump, spinning once in the air before landing gracefully. A brilliant smile lights up her face as she regains balance and jumps again off the ice.
Alice's elegance and control on the ice result from years of early morning figure skating practices in addition to rigorous off-ice training. Her journey through figure skating began at the age of 6 with a trip to an ice rink in Sacramento with a friend. Enthralled by the sensation of being on the ice, she signed up for group lessons, quickly falling in love with the sport.
"With skating, there's a really big learning curve, which is quite unique for a sport," Alice said. "I had a lot of trouble standing up the first few times that I skated, but eventually, it became muscle memory. That's where a lot of the exhilaration comes from skating, because it's a really unique feeling that I haven't been able to find [anywhere else]."
For Alice, practices consisted of ten minutes of warming up, followed by practicing new moves by herself and training with a coach. In skating, Alice finds the most joy in the process of learning new spins and jumps.
"Figure skating has given me a more perseverant mindset because when you're skating, even if you have quote unquote mastered a jump, you're still falling a lot," Alice said. "It takes a lot of perseverance and mental and physical energy to get up after every fall and keep on [skating]."
Upper school mathematics teacher Bradley Stoll, who taught Alice in her freshman and junior years, noticed her attitude reflected in her resilience both in and out of the classroom.
"She's had to take a lot of criticism from her coaches, [which] toughened her up at a young age," Stoll said. "When things don't go as well as she might have planned, she knows how to handle it, which has made it easy to help her improve."
Alice carries the same perseverance to the various science research projects she has conducted, from building a spinning windmill out of magnets, copper wire and tinker toys for her third grade science fair to growing "mushroom bricks" made of agricultural waste products for the California Science and Engineering Fair in eighth grade with close friend Arely Sun (12). Arely recounts attending the fair with Alice to showcase their project, where they won first place in their category.
"During that time, we were there for two or three hours, and we were joking a lot in between poster sessions," Arely said. "I remember being really excited with her, and when we got an award, we were both really happy. [Alice is] a really driven person, so she was really organized. She had a lot of thoughts, and she was a great person to work with."
Amid the various fields of science Alice has delved into, she currently takes an interest in bioinformatics, a field of science that applies computational techniques to analyze biological data, due to its capacity for exploration and impact. Last summer, she interned with the MD Anderson Cancer Research Center, where she applied machine learning in studying the relationship between RNA gene expression levels and protein abundance. Alice hopes that her research will further the field of cancer research by allowing doctors to better understand the development of cancer and work toward a cure.
"I really like how open-ended [bioinformatics] is because it is a fairly new topic [and] there's so much that you can explore that hasn't been done already," Alice said. "I also really like the more hands-on aspect of being able to pipette the drugs into the cell samples and the petri dish or look at all of the cells and watch them actually grow. It also feels really great knowing that my findings [and] the work I'm doing does have an impact on a lot of people."
Alice's love for science translates into her passion for service, which she engages in primarily as the co-president of Opportunity X, a non-profit organization that guides underprivileged students through science experiments and research projects. When Alice attended the local Synopsys Science Fair, she noticed that the students did not reflect the racial and cultural diversity of the Bay Area, prompting her to search for ways to encourage underrepresented students to discover their own love for science.
"I really wanted to help more students develop an interest in science the same way that I had or at least have the opportunity to see science was for them and have the ability to make that choice for themselves," Alice said.
Yet, launching the program was no easy task. With the goal of starting a new club at a local middle school, Alice emailed and visited numerous schools, only to receive no replies or simply to be turned away. Finally, Alice met with the principal of River Glen Middle School, who agreed to establish an Opportunity X club at the school after she presented detailed fundraising and experiment plans.
Recruiting interested students to the club posed yet another challenge, but through creating promotional videos and flyers, Alice grew the club's weekly attendance from three students to 30. Each week, Alice organized experiments like extracting strawberry DNA and turning milk into ice cream, and she appreciates the eagerness and engagement of students.
"Seeing those students really enthusiastic and excited for every week's experiment makes me very motivated to go to River Glen or another middle school science club," Alice said.
Through Opportunity X, Alice both inspired younger students to pursue their own science projects and took inspiration from the students themselves.
"The curiosity that the students have and [that] they're able to think really, really big ideas that they're also able to accomplish with their experiments [is] really inspirational for my own science projects as well, to always keep in mind to 'dream big, think big' when approaching any question," Alice said.
Just as she enjoys mentoring students through Opportunity X, Alice exhibits her compassion and thoughtfulness within her own community. Close friend Ysabel Chen (12) values Alice's energy and geniality. Ysabel recalls an incident a few years ago when she was feeling upset, and Alice comforted her with a hug. The next day, Alice surprised her by gifting her with a stuffed animal.
"She's the type of person who you want to hang around when you're having any sort of day from a bad day to a good day [because] if you're having a good day, she's going to make you laugh, and if you're having a bad day, she's going to hug you," Ysabel said.
Ultimately, through overcoming any challenge with positivity and an open mind, Alice achieves success with all she does.
"[My motto is] shoot for the moon, and even if you miss, you'll land among the stars," Alice said. "There's unexpected benefits in everything that you do. Whether it's skating or science research or life in general, [when] maybe I'm not so successful, I would like to remember that there's always still hope and if I keep trying, I'll be able to get to a better place."
About the Contributor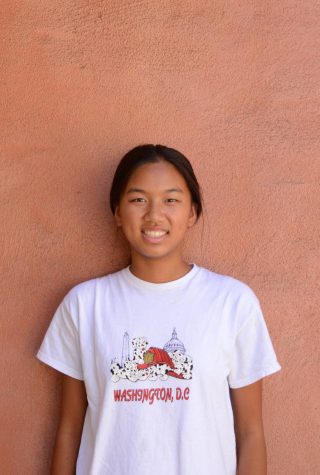 Olivia Xu, Reporter
Olivia Xu (10) is a reporter for Harker Aquila, and this is her second year on staff. Through journalism, she enjoys learning about and telling people's...