Humans of Harker: Positively performing
Gabriella Gary finds solace in reading and singing
With her finger gliding across the shelf, Gabriella Gary (12) pauses as she reaches for a turquoise-colored book with bright pink lettering dancing across the cover. Settling herself into a comfortable position, she flips to the first page. The library's muted fluorescent lights cast a soft glow on her features, and a smile slowly spreads across her face as she begins to read. This moment, this location, this activity, is what Gabriella cherishes the most.
A self-proclaimed introvert, Gabriella prefers hobbies that are more private, such as painting, playing the guitar and ukulele and especially, reading.
"I do a lot of reading in my spare time," Gabriella said. "I've always read, ever since I was younger. That's probably why I have really bad eyesight because I used to read in the dark so much. I like being alone, [so] it's my little safe place in my room that I can enjoy."
Due to her affinity toward quiet and more solitary activities, Gabriella initially found it challenging to participate in extracurriculars that required her to present herself in front of many people. Yet through her love and passion for performing arts, Gabriella conquered her fears by trying out for selective singing groups like middle school show choir Harmonics and acting roles in middle school musicals, eventually becoming a member of both ensembles.
"I didn't think I was going to ever audition for any of the separate groups like Harmonics," Gabriella said. "I've always had trouble stepping out of my comfort zone, and that's why a lot of my hobbies are done by myself. But my friends convinced me to sign up for the musical [this year]. I was like, 'Why not? It's my senior year.'"
When she is performing, Gabriella describes the feeling of being on stage as both nerve-wracking and exhilarating in the sense that she can shrug off her shy persona and present herself in a different light through her singing.
"The initial period of when I'm standing and waiting for the music to begin [is when] I'm incredibly nervous," Gabriella said. "But during the song, it's liberating in a sense. I become a different person. A lot more of my personality shines through when I'm on stage that a lot of people may not see."
Those who know Gabriella well enough to learn about her hidden gifts treasure them deeply, like Emma Gurleroglu (12), a close friend of Gabriella's since kindergarten. Emma expressed joy in watching Gabriella's revealing her identity and talents more and more throughout the years.
"She used to be very shy and didn't like to let other people hear her sing," Emma said. "I remember once when we were in middle school, we were on FaceTime and she was singing, but she thought she was on mute. She was like, 'Did you hear that?' And I said, 'Yeah, I heard.' She was so embarrassed but she is a very good singer so I wasn't complaining at all. Seeing that part of her grow and flourish [has] been very special to me."
Besides performing arts, Gabriella also steps out of her comfort zone in academics. Despite being a more arts-inclined person who finds STEM classes, such as chemistry, challenging, Gabriella stuck with the class. By the end of her sophomore year, Gabriella found chemistry to be one of her favorite subjects. Upper school chemistry teacher Andrew Irvine praised Gabriella for her progress throughout the year, the fruition of her diligence, organization and tremendous work ethic.
"Sometimes, working with hot objects like fire and heated objects and chemicals can be intimidating," Irvine said. "With Gabriella, her personality is quite structured and cautious, which is important with chemistry. But there's a balance between being cautious and also being willing to take risks. Over the course of the year, she became more comfortable with [taking] risks. I really enjoyed seeing her develop confidence. I can tell she's got a really strong executive function."
Part of Gabriella's success in overcoming challenges comes from her always-present, radiant positivity despite difficult circumstances, a defining quality of hers that does not go unnoticed. Close friend Reja Raghib (12), who has also known Gabriella since kindergarten, appreciated her ability to always find a silver lining in any situation.
"She's very kind and caring and sweet," Reja said. "She always sees the best in things and people."
Above all, Gabriella strives to be known as someone who always maintains an optimistic outlook on any situation and acts as a support system and source of motivation for everyone in her community.
"I hope I'm remembered for having a positive impact on people," Gabriella said. "I always try to have a really positive mindset, especially around all my peers. I really, really hope I instill some sort of confidence in my friends or people around me."
About the Contributor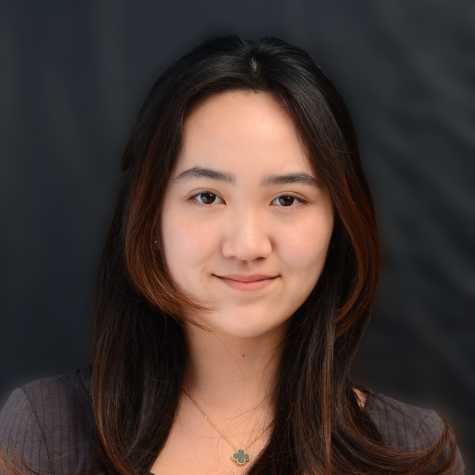 Alena Suleiman, Reporter
Alena Suleiman (10) is a reporter for Harker Aquila, and this is her second year on staff. She especially loves feature writing and hopes to write in-depth...