Humans of Harker: Heart, happiness and a helping hand
Syna Gogte finds joy through the energy of others
The friend you can count on to respond to your texts within minutes when you need help on your math homework. The one people immediately turn to when they've had a hard day and need comfort. Someone who will go with you to the mall the night before the homecoming dance because you don't have a dress, even though she already has hers. That's Syna Gogte (12).
"Syna's the type of person who always asks you, 'What's going on with you?'" said Anjali Yamasani (12), who has been friends with Syna since fifth grade. "She doesn't just talk about herself all the time. She actually wants to know if you were sick, 'How are you now? Or how did your test go, because you were stressed about it?'"
Though those who run into Syna in the hallway would describe her as warm and approachable, it took her multiple years to grow into someone more outgoing. Syna attributes her increase in confidence to taking risks in pursuing new activities, such as DECA. Although she now mentors underclassmen also interested in DECA, she faced several challenges when first joining the club.
"I wasn't really sure how [DECA] was going to go, because in freshman year, I was shy and wasn't really good at public speaking," Syna said. "I didn't want to do it, but my parents told me to try it. I tried it and it was really fun … constantly doing it made me realize I was scared for nothing."
Those who met Syna in her freshman year noticed her gradual growth throughout her time at the upper school. Though she has always been eager to help those around her, becoming more comfortable with reaching out to others has allowed her to bring a unique light and energy into her every interaction.
"She's more confident than ever," said Mark Janda, upper school history teacher and Syna's adviser. "She's more sure of herself and her place in the world … she was reserved her freshman year. Nobody would describe Syna as reserved now. She is out there — goofy, fun, light hearted."
Coming out of her shell caused a ripple effect in other parts of Syna's life, such as dance. As a member of Harker Dance Company (HDC), Harker's dance ensemble for female identifying students, not only did Syna begin to form stronger bonds with her teammates, but she also brought her self-assurance to the stage.
"I love performing," Syna said. "Before a performance, I make sure to breathe, and I like to run through the dance in my head. Normally, my [performances] are with others, so we talk to each other to boost our morale. [On stage], the cheering of the crowd is nice, and having an audience makes it so much more fun. People cheer for you and some people will even scream your name. You can feed off of the audience's energy."
When Syna was in elementary school, watching Harker dance teams perform at the annual Big Assembly Day inspired her to start dancing, but the path that led to her becoming a member of HDC included many obstacles. While most dancers take lessons from a young age, Syna started dancing later than most of her peers. As a result, she needed to spend additional hours developing skills such as flexibility to catch up with her peers, on top of having to meet the already demanding nature of the artform.
"I remember watching the junior varsity and varsity dance teams in fifth grade and thinking they were cool, but I never thought I could be one of those dancers," Syna said. "A lot of dancers start when they're super young, but I started in fifth grade. I did about 10 hours of dance a week. Balancing 10 hours of dance, homework and school was hard … but it worked. Now I am on the team."
By envisioning herself on the dance team and taking additional classes to improve her skills, Syna turned an aspiration into reality through hard work and dedication. Her friends view her ability to set a goal and then accomplish it as one of her outstanding qualities.
"When she puts her mind to something, she'll do it no matter what," Kavita Murthy (12), who has known Syna since first grade, said. "She's super dedicated … whatever she goes for, whether she gets it or not, she'll continue to work for it. That's something super admirable."
Despite all that Syna has to balance, the relationships that she forms with others remain at the core of who she is. She takes every opportunity to make someone else's day better without expecting anything in return. Syna's uncomplicated philosophy on life, where the ultimate goal lies in building up those around her, sets her apart.
"I like to laugh, and I like to make other people laugh because then they're happy," Syna said. When I'm with my friends, I feed off their energy and it makes me happier. Surrounding yourself with good people is very important … If you have people around you who are also happy and don't put you down, life becomes a lot easier."
About the Contributor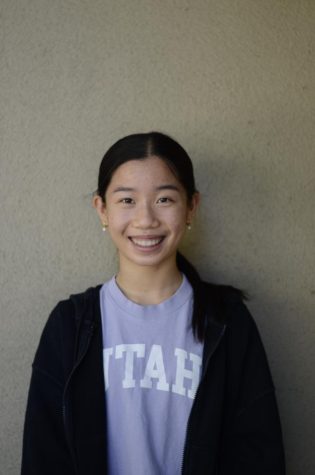 Ella Yee, Reporter
Ella Yee (10) is a reporter for Harker Aquila, and this is her second year on staff. This year, she hopes to bring attention to changes, events, and points...