Humans of Harker: A sports sensation
Fueled by personal experience, Ashley Barth strengthens her community through soccer
Sunlight streams through the trees on a Sunday afternoon at Los Gatos Creek Trail. Grabbing her soccer ball, Ashley Barth (12) juggles her ball at the entrance of her favorite running trail. The faint sound of the ball tapping her shoe overlaps with the delicate water flow of the stream.
From track and field to volleyball, Ashley has played sports her whole life. She attributes her love of sports to her parents, who introduced her to sports at a young age.
"My parents were athletes growing up, so when I was little, I did rec[reational] soccer, and we did different activities as a family," Ashley said. "My parents are quite active as well, so they would go running and push my siblings and me in a stroller."
Ashley primarily played basketball and soccer in middle school, but in high school, she needed to choose between the two as the sports' seasons conflicted.
"As I grew older and had to make decisions about what to do, soccer was the decision that I kept making, and I'm still here," Ashley said. "I have played soccer since I was really little, and that's brought me a lot of things. [It has] brought me a community and some of my best friends not only in our grade, and it's brought me Kicks Against Cancer. Had I played basketball, there's no way I would have taken on that project."
Ashley first volunteered with Kicks Against Cancer, a fundraiser which works with Camp Okizu, a camp for youth cancer patients, due to a personal connection. Right before her third birthday, Ashley was diagnosed with acute lymphocytic leukemia. She became cancer free a few years later, but she started attending Camp Okizu with her family when undergoing treatment. She then returned as a camper every year.
"In that time of my life [when I had cancer], I couldn't play sports," Ashley said. "My family still played sports and I still went to sports games. When I was physically able to [play sports], I was even more motivated to keep going and to keep pushing to become better."
When Ashley started playing soccer at the upper school, logistical issues made it unclear whether Kicks Against Cancer could work with Camp Okizu. Determined to continue the collaboration, Ashley took the project under her wing.
"[Kicks Against Cancer has] become the project that I'm going to put all my effort and all my energy into, because it's a community I care about," Ashley said. "I'm passionate about community service in general, but because I know how influential [Camp Okizu's] community can be, I want to make sure that the community can help other people as well."
Upper school athletics director Dan Molin worked with Ashley on the Kicks Against Cancer fundraiser. He noted her organizational skills in terms of leading the project.
"It takes somebody that has good leadership skills and good organizational skills, and Ashley is by far among the best ever that's run this program," Molin said. "When there's a task at hand, she checks it off her list and she's done. She knows what everything is supposed to look like and she follows through."
Close friend Riyaa Randhawa (12) commented on her first impression of Ashley, mentioning Ashley's planning skills.
"My first impression of [Ashley] was pretty accurate in that she is one of the most loving, sincere and intelligent people you will ever meet," Riyaa said. "Ashley's strengths are her unparalleled planning skills. If you know her well, you know that she has multiple Google Calendars for her day, and she also can make a trip or a hangout into the best thing ever."
For Ashley, the community makes playing sports worth it, not only connecting her with some of her closest friends but also motivating her to continue playing.
"Sports teams really do become a family," Ashley said. "They become a community that you can rely on, because they see you at your best when you're winning and they see you at your worst when you're losing, and there's never judgement in those moments."
Soccer teammate and friend Sarah Leafstrand (12) noted her support of Ashley's dedication to Kicks Against Cancer.
"The entire time, I was so proud of her because she put so much effort into planning [Kicks Against Cancer], and then the night of, it all came together really perfectly," Sarah said. "We either tied or we won the [soccer] game, and I remember running to her and giving her a big hug because I was so proud of her and the work she had put into it."
Just as Ashley tried new sports throughout her life, she also discovered a passion for art in high school after taking a photography class in her sophomore year. Instead of shying away from challenges in art, Ashley embraced them.
"One of the biggest challenges [with photography] is that there is no right or wrong," Ashley said. "You have to figure out what inspires you, and find the best way to express that because there isn't a clean answer. It's a gray area; it can be hit or miss. Because of that, I have a lot of open space to figure out what I like and what inspires me. It can offer a different perspective that my other interests can't necessarily offer me."
Whether it's art, sports or another activity, Ashley puts in the effort. Her hard work ultimately led her to finding her passions.
"I've always believed that hard work is the key to success. That sounds very cliche, but things don't necessarily come naturally to me," Ashley said. "I've had to put in a lot of work to become good at something, but I'm willing to put in that work because over the past 18 years of my life, I've started to figure out what I'm passionate about."
About the Contributor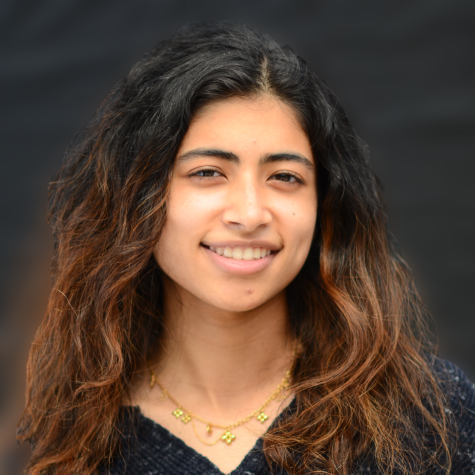 Anika Mani, TALON Co-Editor-in-Chief
Anika Mani (12) is the co-editor-in-chief of the TALON Yearbook, and this is her third year on staff. She enjoys traveling the world, trying out new restaurants...