Humans of Harker: Queen of the court
Cindy Su carries a drive for basketball, friendships and self-growth
Cindy Su (12) chuckles as she recalls an after school basketball practice session. A mess of stools and mismatched cushions build a makeshift fort, and laughter bounces off of the concrete walls of the Zhang Gymnasium as the girls varsity basketball team sprawls out across the chairs in the girls' locker room. Reflecting upon these seemingly minor but meaningful moments, Cindy cherishes the joyfulness and refreshment she has shared with her teammates.
Co-captain of the varsity basketball team last year, Cindy first stepped on the court in sixth grade. She tried every sport offered in middle school, but basketball stuck out to her the most because of its strong team culture. As a result, Cindy decided to continue playing the sport throughout her high school career. Now, as a leader, she has an even better understanding of the supportive environment.
"I like to play a role on the team and to know that someone is taking that leadership spot to help the freshmen out and be the more experienced player on the team," Cindy said.
Since she sees her teammates for hours a week during the season, Cindy has developed better personal relationships with them. These bonds allow for the team to communicate with each other without having to talk, which is especially useful during a game.
"You're really able to support them while also learning more about them," Cindy said. "There's a level of communication that you don't really get to just by talking, [including the] nonverbal communication in a basketball game."
Being a co-captain last year, Cindy learned to be firm yet encouraging with her teammates. If they need motivation, whether in basketball or in academics, she aims to step in and remind them to do better, taking on the role of a mentor. At the same time, she also hopes that the younger players feel comfortable around her and are able to develop friendships with the upperclassmen.
"I like to try to put pressure on them, if they need it," Cindy said. "I'll be the first person to be like, 'Come on now, stop messing around.'"
In addition to advancing her mentorship skills, Cindy gained more confidence both on and off the court. She found herself to be more outspoken in social atmospheres and braver during her basketball games, when previously, she consistently felt unsure with her capabilities.
"As a captain and an upperclassman, you have to be more assertive," Cindy said. "You have to trust yourself before the team will trust you. I've learned to believe in myself and not be so hard on myself when I mess up. There [are] also other things that could be encouraging my teammates and having a better perspective of myself, and how I interact with people."
Cindy implements a rare drive into basketball, in her friendships and in herself. Despite the significant time and energy commitments that come with playing a sport, she has returned to the game every year and strived to become a captain early on. Upper school basketball coach Daniza Rodriguez, who has known Cindy since she was a freshman, notices her dedication to basketball in her generosity with teammates.
"We set goals every single year, and she hasn't missed any goals," Rodriguez said. "She works hard not only to set her goals and the team goals, but also to help those other teammates."
This determination to reach goals and support others stays consistent even in the face of obstacles. Co-captain Alexa Lowe (12) appreciates Cindy's ability to stay motivated even in discouraging situations.
"She's really driven," Alexa said. "If she wants to do something, she will never give up. The term 'never give up' really applies to her. In basketball games, if we're losing, she's always the one who's playing a hundred percent to the end, no matter the score. She always has that determination to do better and to really not give up until the last second."
These same traits of perseverance carry over to Cindy's approach toward her friendships. Priya Rohra (12), a close friend since sixth grade, recalls how Cindy patiently studied with and explained concepts to her when she struggled in classes. In those moments, Cindy chose to dedicate her own time to help a friend, highlighting her drive to assist other people.
"She cares a lot about people," Priya said. "She tries to make everyone feel better and lifts everyone up around her. She's genuinely caring and wants to see everyone around her succeed."
This self-discipline stems not from outside pressure but from her own motivation to do her best. Since Cindy did not grow up with strict parents, she learned to develop a strong work ethic on her own. Now, she considers those skills an integral part of her high school experience.
"Dedication is really just self motivation and not making excuses," Cindy said. "If you don't like how something is going, you have to be the one who puts in the effort to change it. Whether that's academics or sports, try to not blame others or find other reasons for why you're not doing something when you could be focusing your time on trying to improve it yourself."
Cindy always makes sure that her dedication does not go to waste; she tries to put the most effort into activities she genuinely cares about. While reflecting on her earlier years in high school, she emphasizes the lesson of valuing her personal goals over trying to impress other people.
"I've had to make sure I'm working hard [and] get it done, but also, along those lines, I'm making sure I'm actually interested in something [instead of] doing it just to do it," Cindy said. "I'll try to do things I'm interested in, whether that's certain courses or extracurriculars."
Rodriguez sees Cindy as an inspiration to the community around her and especially to people who are shyer or less outspoken. She believes Cindy can achieve anything in the future, with her dedication constantly propelling her to improve and succeed.
"There is nothing that's stopping her," Rodriguez said. "She's going to find the support wherever she needs it. She is very driven in everything she does."
About the Contributor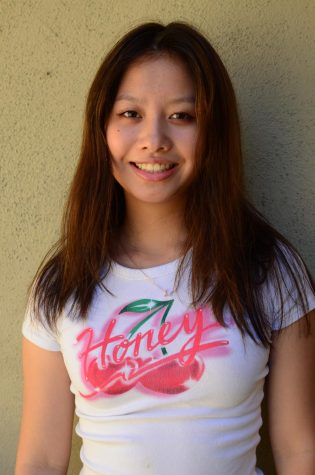 Sabrina Zhu, STEM Editor
Sabrina Zhu (11) is the STEM editor of Harker Aquila and The Winged Post, and this is her third year on staff. She hopes to increase coverage on STEM events...