Humans of Harker: Back on the field, "one day at a time"
Pranav Varmaraja returns to football and its team spirit after missing two seasons
One of an athlete's worst nightmares is suffering an injury that prevents them from playing. Another of an athlete's worst nightmares is missing an entire season due to unforeseen circumstances. Both happened to Pranav Varmaraja (12) during his high school years: first, after tearing two ligaments in his ankle; and second, because of the COVID-19 pandemic.
Being forced to sit out two seasons may be enough to demoralize many football players, but not Pranav. His injury in sophomore year and the pandemic in junior year forced him to miss much of the high school experience of being on the football team, but after witnessing the companionship and support of the team in his freshman year, he knew he wanted to continue to play.
"It's such a great feeling because … earlier, I never had a team like [the football team]," Pranav said. "And every year it's been like that, even though people are graduating and people are coming in, what's never lost is that sense of competitiveness but also fostering a team atmosphere."
This competitive yet collaborative atmosphere gives Pranav joy and a feeling of accomplishment after being able to reach a goal surrounded by other people, though he also values individual accomplishments. The fact that a team of people can successfully work together as a well-oiled machine amazes Pranav.
"It's very enriching to me," Pranav said. "I feel a really positive feeling after I've achieved something that's part of a team. That is also valuable to me, doing things on my own and doing things individually, but when multiple people come together and move egos aside and work cohesively as a unit, that's really impressive to me. I love to be part of it."
That aspect of teamwork also appears in Pranav's participation in the robotics program. After close friend and football teammate Adheet Ganesh (12) encouraged Pranav to sign up during his freshman year, Pranav has been part of the mechanics team and has traveled to different robotics competitions, such as the regional competition at UC Davis and the national competition in Houston, Texas his freshman year. He applies his love for programming and mathematics when working with robots and gains real-world, hands-on experience.
Inspired by and learning from his older brother Abhay Varmaraja ('17), Pranav revels in the study of software engineering. During the quarantines of the coronavirus pandemic, Pranav focused much of his time on learning as much as he could about software engineering. In hopes of pursuing a career in the field, he feels that he can tackle important problems and benefit the world with the skills he learns from it.
"For me, [software engineering] is the easiest way to solve a real world problem," Pranav said. "Obviously there are problems that need to be solved that you can't solve with software, but for me it's the most accessible way to have a large impact on whatever you want, whatever you're interested in. You can make something more efficient, save someone some money or help someone out."
Even though others may struggle with balancing interests and personal life, Pranav is able to juggle the two with ease. Close friend Priya Rohra (12) admires his ability to pursue many talents.
"He can do so many things at once," Priya said. "He's able to tackle so many different things and be successful in everything he does, like football at the same time as robotics, at the same time as other courses."
Upper school mathematics teacher Dr. Victor Adler comments on Pranav's appreciation for mathematics. Dr. Adler recalls a time when Pranav voluntarily presented his findings to his class in junior year, showing his interest and grit.
"He actively pursues learning," Dr. Adler said. "And, of course, that's what we want at Harker, and it's something I enjoyed. I get a chance to learn something from the students as well."
Aside from studying and schoolwork, Pranav aims to be a good friend and help as many people as possible. He performs small acts of kindness and checks in with his friends, since he never knows what one may be going through.
"He's a really good friend," Adheet said. "If I'm really going through something he would reach out to me or talk to me about that stuff. He's always considerate, and it's good to have him."
The compassion Pranav shows others also helped him overcome his injury. When Pranav was struggling with his injury his sophomore year, Pranav's close friends and coaches provided him with support and allowed him to keep persevering.
One important lesson that Pranav learned during his injury was to follow the motto, "Go one day at a time." While injured, Pranav would tell himself to keep making it until the next day, and he reminded himself of the importance of focusing on the present and taking little steps instead of worrying too much about the future.
"Rather than thinking about hypotheticals and things that are going to happen, think about what's there on your plate right in front of you and handle that," Pranav said. "Don't bother thinking crazy things are going to happen and who knows how long, [but] handle the things you [have] got to do right now, and everything's going to be fine."
About the Contributor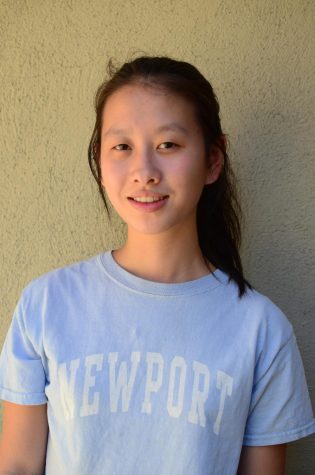 Sally Zhu, A&E and Lifestyle Editor
Sally Zhu (11) is the arts & entertainment and lifestyle editor of Harker Aquila and The Winged Post, and this is her third year on staff. This year,...