Humans of Harker: From a spark to a blaze
Aditya Tadimeti pursues environmental research with a spontaneous start
In the viral video clip depicting the detrimental effects of single-use plastic straws on marine wildlife, a marine biologist pulls out a twisted plastic straw from the nostril of a sea turtle. For Aditya Tadimeti ('21), this eight-minute long video that played at a school assembly during his sophomore year was the unassuming catalyst that led him to take his first step on his journey of environmental advocacy.
"[The assembly] was the spark that got me interested in environmental work," Aditya said. "Looking back, it seems isolated and unrelated, but it's one of those things where something happened to lead to another, and that happened to lead to another thing."
Shortly after the assembly, Aditya decided to join the upper school Green Team with a focus on tackling plastic pollution. His work in the club inspired him to reach out to a few environmental professors, along with various STEM professors, in the middle of his sophomore year. Out of the many professors he reached out to, one whose work centered around predicting the size of wildfires responded, and Aditya began his internship the following summer.
"At the beginning, it was a pretty rocky start because I had very limited knowledge. Almost most of summer was figuring out and familiarizing myself with the whole process of building statistical computer science models," Aditya said. "I very literally started from scratch, [but] … working on one research project over the past two years allowed me to experiment on my own."
Despite his initial challenges with research, Aditya has thrived in both his scientific and humanities research regarding wildfires. By studying wildfires through various lenses, including a unique socioeconomic perspective, Aditya hopes that his work in predicting the size of wildfires may contribute to the implementation of a wide scale wildfire forecasting system in the future.
His scientific research on the socioeconomic aspect of wildfires led him to stumble upon the history of indigenous tribes and wildfire control. This new information furthered his interest in wildfires on a humanities level.
"Through this environmental path that I've been doing, you're combining the science research aspect, the socioeconomic aspect, the historical aspect, the political aspect all into one," Aditya said. "Doing this humanities research is cool because I'm researching the history behind some of the situations that I'm trying to tackle today. But humanities research is very different from scientific research where there's not necessarily a clear answer."
Aditya's intellectual curiosity is reflected in his daily work ethic. Upper school biology teacher Jeff Sutton, who has guided Aditya through his research journey since sophomore year, appreciates Aditya's inquisitive and persistent nature.
"He's a self-starter. He was genuinely interested in learning about research. He would always help clean up, get there early and leave late," Sutton said. "One of the big things he taught me was to be okay with letting students make mistakes. He helped me see how students have huge potential and it's okay to let them go down the wrong path for a while and figure it out. That's a great way to learn, [through] trial and error."
Close friend Shray Alag ('21), who has known Aditya since seventh grade, appreciates and shares his genuine passion for research.
"He is very creative and very fun to hang out with, but at the same time, he really wants his life to have a bigger purpose," Shray said. "Both of us have this angle, especially him, of taking our knowledge and taking our curiosity and trying to apply it in a more serious manner and more impactful way. That's something that I value."
For Aditya, environmental research has been an avenue of not only intellectual growth but personal growth as well. Instead of succumbing to peer pressure, Aditya has been able to weave his small, impromptu interests together into one continuous, gratifying journey.
"Entering high school, I used to be very intimidated by what a lot of middle schoolers and freshmen were looking at to what high school holds for you," Aditya said. "I had no idea what I really wanted to do, I was scared, [and] there was so much pressure but I'm proud of the fact that I was able to find my own way that was this unique niche area and that I was able to do it without the extreme pressure of any outside influence."
Now, as both a Regeneron and Mitra scholar, Aditya reflects on his high school career in environmental research, emphasizing the importance of living in the moment.
"With my journey, I never had this end goal of doing environmental research — it all happened through the spontaneous, different things I was focused on in the present. But they led to something much bigger, this intertwined, weird, unique environmental journey," Aditya said.
About the Contributors
Anna Vazhaeparambil, Editor-in-Chief
Anna Vazhaeparambil (12) is the co-editor-in-chief of Harker Aquila. This is her fourth year on staff, and she hopes to grow as a reporter and photographer....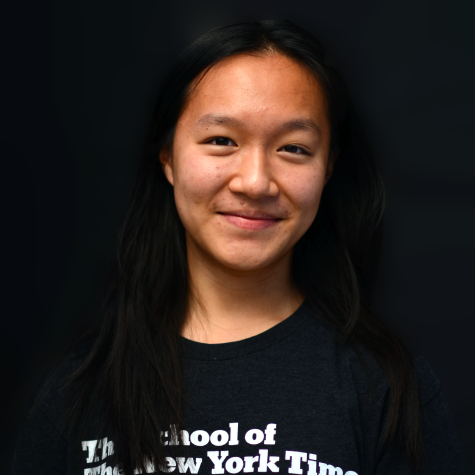 Erica Cai, HoH Co-Editor-in-Chief


Erica Cai (12) is the co-editor-in-chief of Humans of Harker, and this is her fourth year on staff. Her goals in journalism this year are to celebrate...