Humans of Harker: One story at a time
Saloni Shah employs diversity in perspective to solve the world's problems
190 people. 190 stories. 190 unique life experiences. 190 rollercoasters through the exuberant, tumultuous, irreplaceable journey of high school enshrined in a plethora of smiling faces and passionate quotes that is Humans of Harker. Saloni Shah (12) knows them all.
Growing from a reporter writing her first profile to the Editor-in-Chief spearheading the publication of almost 200 profiles across multiple platforms, Saloni has nurtured the journalism program's signature feature project, Humans of Harker (HoH), to new heights over the past four years.
"[Humans of Harker] has taught me to embrace everyone for who they are and to tell the stories of the people who may not have a platform to tell it for themselves because everyone's story deserves to be heard and everyone deserves to have a voice," Saloni said. "It's something really special and something that I'm really proud that I've devoted a lot of my high school to—it means a lot to me."
Yet, at the beginning of her journalism career, Saloni never expected to be leading such a project. Coming from a middle school background of math and science competitions, she originally joined journalism to dabble in her creative writing interest, finding her niche as a health and wellness columnist in sophomore year. When she was asked to help with HoH as assistant editor in the second semester of sophomore year, Saloni accepted, not expecting to be launched into an Editor-in-Chief position in her junior year. Since then, HoH has not only taught her valuable communication and organizational skills but has also greatly expanded her worldview.
"I had always seen myself doing something with STEM because coming into high school, I was a really big STEM kid and I thought that was all I would do. Boy, did that change," Saloni said, laughing. "Humans of Harker was the first step of saying, 'I don't have to be a pure STEM kid.' There's a whole lot to explore, especially with the amazing students in our community."
Telling the stories of every senior is no easy task. Besides its sheer bandwidth, HoH also occasionally leads to disagreements around the portrayal of someone's story. Through grappling with these experiences, Saloni has learned to balance her journalistic virtues with the needs of others.
"It's been a challenge learning how to not only keep our journalistic integrity and to stick up for our writers, but also to keep our community happy because the whole point of this is to show our students' life stories and bring joy to the community," Saloni said. "It's made me a lot better at dealing with challenges and especially at dealing with people. As long as you stay calm and you have a welcoming mindset, there's so much that you can accomplish."
Overcoming such challenges, Saloni has been able to transform HoH into a permanent staple of the Harker community. Her focus on bringing people together extends to her personal life as well.
"I have never met someone who is more committed to exploring so many different things and doing it so well while also being so committed to the people that she loves. I admire how much effort she puts into maintaining her relationships," close friend and fellow journalist Arushi Saxena (12) said. "When you talk [to her], you know that she cares about what you have to say, and that's what makes all her relationships so special."
This compassion is evident in Saloni's leadership style, one that centers around people and positivity.
"I wanted to be a leader who put my people first, so being Humans of Harker Editor-in-Chief has been about fostering more of a community and turning it into something that people love to do and something that our community is looking forward to as well," Saloni said. "It's been a journey not only for myself but also for our staff and for our community. And I wouldn't change a thing about it."
Despite expanding into humanities in high school, Saloni maintains her ultimate passion for science, from co-founding the nonprofit Girls Programming League to support more girls entering computer science to researching risk genes in Alzheimer's disease, for which she was named a 2021 Regeneron Science Talent Search Scholar.
"[As a researcher,] you're at the edge of discovery—it's so amazing to be at that point, to be able to come up with something novel and contrary," Saloni said. "I really revel in the thrilling intellectual journey, whether it's those 'Aha!' moments or interdisciplinary conversations. It's a rollercoaster of failure and success, but it's something that's so energizing."
Close friend Rhythm Garg, who has known Saloni for two years since they met at the Stanford University Mathematics Camp, appreciates Saloni's unconditional dedication to math and research and explains how that motivates others.
"Saloni is really curious about the world around her, and she's super eager to ask questions … she gets constantly excited about knowledge and new ideas and their potential for social impact," Rhythm said. "Above all, she has this incredibly infectious personality, and her enthusiasm translates to and inspires those around her."
Computer science department chair and CIF adviser Dr. Eric Nelson admires Saloni's work ethic as an "exceptional student" in his neural networks class.
"Saloni puts in a hundred percent … She takes what she knows and works to the best of her ability. If she doesn't know it, she still does the same thing. She'll look and go 'nope, not quite where it needs to be,' and then she'll ratchet it up and keep going until she hits it or the semester is over," Dr. Nelson said. "She always ends up in the top areas because that's where she wants to go. [I can see the] self improvement of 'I want to do better'—she's playing for her personal expectations of everything she does, and I get the joy of the outcomes because I get to see her best work."
Whether it be STEM or humanities, Saloni lives by the Latin saying, "primum non nocere," or "first, do no harm," allowing her nuanced knowledge from both fields to inform her viewpoint.
This fusion of STEM and humanities is best exemplified in Saloni's work in the Critical Issues Forum (CIF), where she presents at annual summits with Japanese and Russian students to discuss nuclear nonproliferation.
"We come from different backgrounds, but it's important to understand and embrace those backgrounds in order to have conversations, in order to build friendships and relationships that can help change the world," Saloni said.
These meaningful conversations are something that close friend Helen Zhu (12), who has known Saloni since seventh grade, values greatly. Helen, who describes her relationship dynamic with Saloni as "an old married couple," reflects on a conversation they had two summers ago after not seeing each other for months.
"That moment stood out to me because it embodied so much of what our relationship is like because that wasn't a stand alone moment or event. It is a feeling and an occurrence that happens more than once a day. Whether it's a pivotal conversation or memory or something that happens very regularly, I know [my time with Saloni is] something that I cherish a lot," Helen said.
Dr. Nelson further appreciates Saloni's eagerness to cause positive change.
"If there's one word that says, 'I'm here to try and make the world a better place,' that would be the word [to describe Saloni]. She's got the energy and the positive attitude to do it," Dr. Nelson said. "I don't get a lot of students who, every time I see them, they see the bright side of whatever the dark elements are … that's just her inherent personality, which is to find the bright meadows in the dark forests."
From HoH to CIF, Saloni paves the way for an improved future for herself and her community one story at a time.
"Having diversity in perspective is so important. The person who I've become from blending STEM and the humanities is someone with a broad perspective on life. When you combine the two, you can approach STEM problems with a creativity that you get from writing or from talking to people from various backgrounds," Saloni said. "These challenges have been here for centuries, but maybe a new perspective is all you need."
About the Contributors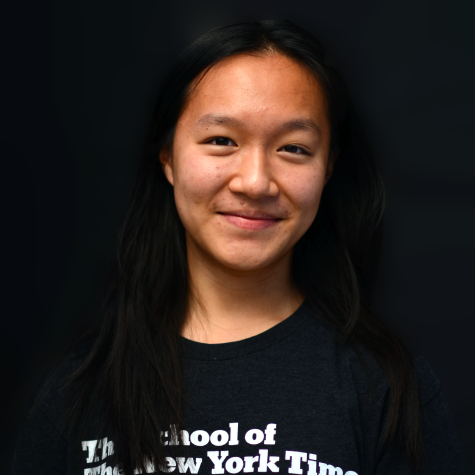 Erica Cai, HoH Co-Editor-in-Chief


Erica Cai (12) is the co-editor-in-chief of Humans of Harker, and this is her fourth year on staff. Her goals in journalism this year are to celebrate...