Humans of Harker: The art of aplomb
Michelle Si brings out the charm in limits
Michelle Si (12) used to belong to the world of ballet — and there was a time where that world seemed limitless.
After joining a ballet studio at the age of 5, she soon found herself taking center stage as leader of the birds in "The Carnival of Animals," selected for the coveted role of the naughty oyster in "Alice and Wonderland," and, in just a few years, playing the starring role in a studio-wide production of "The Nutcracker." It was a world of leads and spotlights, of applause and adulation.
"I started off being very much the star. I was the lead in everything — ballet definitely made me confident when I was little," Michelle said. "But then that completely flipped on its head."
Near the end of middle school, Michelle began to discover her upper bounds in flexibility. She started on a regimen of stretching for hours before every class to keep up; even then, every 90 minutes of barre in the studio turned into an opportunity for embarrassment, a reminder that her legs simply weren't engineered to go above 90 degrees. As the joys of practice and performance gave way to self-doubt and frustration, Michelle considered quitting altogether.
"Everyone does go through a period of wondering why you're doing it, because you put in a lot, and … it doesn't really have tangible results," Michelle said. "[But] I made a decision to continue and not give it up — and a large part of ballet is also learning, both physically and metaphorically, how to hold yourself."
With the support of her instructor, Michelle acknowledged her limits and began finding ways to work with them. Instead of aiming for virtuosic technique or mind-bending flexibility, she shifted her focus to the artistry and intent behind every movement, learning a valuable lesson on acceptance in the process.
"There's a Chinese saying: 'Outside of people there are people, and outside of the sky there are more skies.' Understanding that there's always not [only] someone bigger or better but more and more and more…is very important," Michelle said. "You have to accept your place in the world. You accept your limits, and you do what you can with them."
The setbacks and challenges have now distilled Michelle's personal priorities in ballet. Longtime friend and fellow dancer Elaine Xiao (12) notes the aplomb with which Michelle holds herself, admiring the poise and polish that Michelle's internal confidence brings to her dancing.
"She's always so graceful and elegant. Everything seems effortless, and it's something I've always looked up to in her dancing," Elaine said. "[I've loved] seeing how much she can turn hardships into her own personal style, her personal pride."
Beyond ballet, Michelle's appreciation for working with limits found an academic home in economics, which Michelle considers the study of how to make the most of what you're given. Among the subject's various branches, she was immediately drawn to behavioral economics, a field that rejects perfect rationality and examines the instances where things don't follow the expected patterns — when instead, they misbehave.
"I picked up 'Misbehaving' by Richard Thaler, and it normalized making mistakes. It described all these human errors we make, like valuing sunk costs or refusing to give up what we already own," Michelle said. "You find a lot of yourself in it, and when I talk to people about it too, it's a very instant form of connection."
Upper school history and social science teacher Damon Halback, who has taught Michelle in courses ranging from AP Economics to Modern International Topics, sees her ability to interpret and apply rigorous ideas on a personal level as one of Michelle's key strengths, especially in looking toward her future pursuits in behavioral economics.
"She makes what could be dry material interpersonal and meaningful for her decisions," Halback said. "She'll find a way to understand [economics] at a very technical level, but to employ it at a very humanitarian level."
And from exploring the everyday effects of economics through Equilibrium, the magazine she co-founded at the upper school with Arushi Saxena (12), to researching the viability of vocational studies at the San Jose Mayor's Office, Michelle started honing in on the humanity inherent in all of her endeavors. Halback especially appreciates her mindset of working toward lofty goals without forgetting the magic of interaction and intuition.
"I would describe Michelle as a happy worrier. She's someone who achieves at a really impressive level but always finds humor and engagement and collaboration in her process of achieving," Halback said. "That combination of levity and achievement, as a lot of people understand, is really difficult."
Even outside the classroom, Michelle's approach to learning and living has rippled across her social circles, enlivening her friendships through the stories she shares and moments she makes.
"She's a fantastic storyteller … and she's always making connections across everything she learns," close friend Arusha Patil (12) said. "It makes every moment have a little bit more meaning, and I think that's the way she views life."
No matter the task, Michelle finds ways to add a personal touch. On some days, it means transforming her econometrics project into an investigation on equity or unearthing the human stories encoded in bits and graphs. On others, she'll choreograph new renditions of traditional dances, reimagined to emphasize expression and vitality, or spice up her European History presentation with an impassioned speech delivered entirely in German.
These are the flourishes for which Michelle strives, and as her friends and mentors would quickly tell you, that is perhaps her true artistry. It's the creativity that Halback considers "utterly charming"; the confidence Elaine deems "unapologetic [and] hilarious"; the charisma Arusha finds "magnetic and fun."
Now, when Michelle returns to the dance floor, it's on her own terms. Ballet is no longer a world to which she belongs: it's a world she creates for herself, confident in her limits, content in her style. As she redefines her presence on the stage, she remembers the feelings that matter to her.
"Most dancers say that the stage is when and where they know that everything they've been doing is worth it. If you think about it in minutes then it doesn't seem worth it, but I feel like the stage experience in general—rehearsing there, creating a story, and everything about that—that's a very unquantifiable thing. That's why I continue. That's why all those artists continue. I think it's because the feeling of art is, in an economic sense, greater than everything else—it's almost infinite," Michelle said.
About the Contributors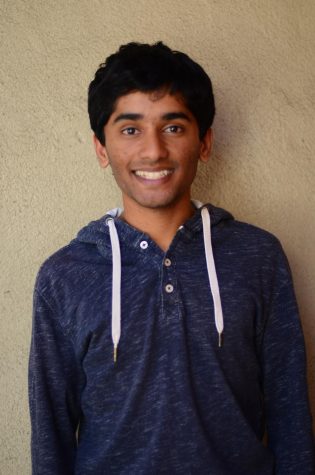 Arya Maheshwari, Winged Post Editor-in-Chief
Arya Maheshwari (12) is the co-editor-in-chief of the Winged Post. This is his fourth year on staff, and he's looking forward to developing his writing...