Humans of Harker: Hurdling over horizons
Hannah Grannis overcomes her challenges and help her friends and family with theirs
Amid the jerseyed middle school children dribbling soccer balls across the field stands Hannah Grannis (12). Calmly and patiently, she directs the young aspiring soccer players with the knowledge she has gained from her extensive career as a captain in club soccer. Hannah, recalling her experiences being the assistant coach of middle school athletics for nearly four years, holds dear the memory of being able to guide and nurture the next generation of soccer players. 
When she was young, Hannah played club soccer and volleyball and—in a way—her life revolved around her passion for sports. She was also the captain of her soccer team and served as its backbone. However, in her freshman year, Hannah was forced to give up soccer, volleyball and other extracurriculars due to contracting a rare hip disorder. Although devastating, Hannah continued to persevere, and with the support of friends, family and coaches, the incident and the resulting surgery has shaped her into the person she is today.
"I was an athlete growing up … [but] the surgery took me out of all of that so that led me on the path to becoming a coach, which has definitely changed me for the better," Hannah said. "It's taught me a lot about resilience and positivity and [how] there's multiple parts to me that are meaningful and that being an athlete wasn't the only thing that I was good at. At the end of the day, sports are sports, but it teaches you so much more beyond just competitions and the sport itself."
Though Hannah's innate resilience and positive nature played a large role in her recovery and growth after her hip surgery, she couldn't have done it without the support of those around her. Her parents have also expressed immense pride in the way that Hannah dealt with this trial.
"I'm really proud of her [for] taking what could have been a pretty devastating setback to most people, [which] I know it still hurts a little bit, and channeling it into doing good for others," Hannah's father Will Grannis said. "I don't think Hannah always appreciates how much others value her opinion, and it is because she is so thoughtful and is so sincere and does care an awful lot about the people around her."
Throughout it all, Hannah has maintained a positive outlook and reminded herself to take a breath when she feels overwhelmed.
"I knew from a very young age that there was much more than my own little personal bubble, and it really helps me put things in perspective when things get stressful or when things seem like the end of the world, I know that it's not," Hannah said.
As Hannah has coached young children in the lower and middle school sports programs, she's learned many valuable lessons. Although going from a player to a coach is a drastic shift, Hannah relates that there are actually more similarities between the two than she previously believed. 
"She's found it to be a natural way for her to be around something she loves, just in a different capacity," Hannah's mother Tricia Grannis said about Hannah's transition from playing to coaching.
Though Hannah's own journey as a player has concluded and she misses the physicality and competitiveness of actually playing the sport, she's set out on a new journey to nurture and encourage children, something that has been truly fulfilling for both herself and the children she's taught. 
"[Coaching] taught me so much about myself as a person, but I'm helping kids develop not only as players but as people, which I think is very important," Hannah said. "To help facilitate that change has been something that is very meaningful to me. And to see kids come into the room and grow more confident and supportive [of] each other is really, really cool; that's why I think it's really worth it."
Not only did Hannah discover a new passion, coaching, her other passions for social rights and mental health advocacy and psychology was also fueled by her newfound experiences and insights. Constantly moving due to her parents' jobs in the military, Hannah fostered an open mind, which lay the foundation for her social rights advocacy. When witnessing prejudice in some of the regions she lived in, one of them being rural Virginia, Hannah did not hesitate to stand up for movements, such as the Black Lives Matter (BLM) and the LGBTQ+ movement. 
"I'm very confrontational. It was very much like 'you shouldn't say that' and breaking down the stereotypes that the people around me had grown up around," Hannah said. "They're definitely a product of their environment because it's hard to think differently if you don't get to see different perspectives and understand the benefit of having a diverse community. So, I don't blame them at all, but I definitely checked them when it was necessary."
Influenced by the culmination of her own personal experiences as well as the values instilled in her by her parents and surroundings, Hannah understands the difficulty of struggling with personal problems. Because of these experiences, Hannah is particularly interested in how different environments shape people. 
 "It's okay to struggle mentally, and it can be just as damaging as physical injuries," Hannah said. "I'm really interested in how people think differently and how different environments produce different people, or even how the same environments can produce such different people, and how different communities interact with each other." 
In the future, Hannah aspires to become a psychologist in order to help others through difficult times and mitigate the stigma surrounding mental health issues. Overall, the lessons and little things Hannah has picked up along her journey through life have shaped her into the aware, kind and resilient person she is today. 
"All that I can really hope for is that I leave a positive footprint on this world and being remembered as someone kind, who people can depend upon," Hannah said. 
About the Contributor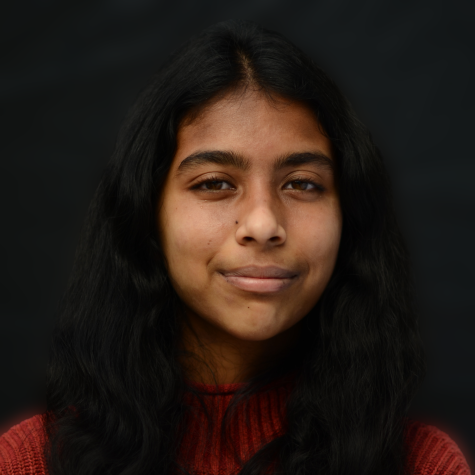 Kinnera Mulam, Reporter
Kinnera Mulam (10) is a reporter for Harker Aquila, and this is her second year on staff. This year, she hopes to write more about new projects and developments...