Humans of Harker: Searching for the melody
Helen Zhu tells stories through neurodiversity advocacy and journalism
Helen Zhu (12) remembers sitting in the auditorium watching the oldest students at her choir perform a song by the name of "Prayer of the Children." At 6 years old, she was in awe of the way the group sounded and was inspired by the older students. Now, as a senior herself, she has performed the same song and interacted with the younger students at her choir.
What started as casual attendance at Crystal Children's Choir when she was younger became much more as the years passed. From her rehearsals lengthening from an hour and a half as a child to three hours as a senior, the community became really important to her.
In addition to her normal rehearsals, she has also played a role in the choir as a teaching assistant for the past three years and a camp leader for middle and high school students beginning in her sophomore year.
"For the past 12 years, I've been going to choir on Sunday afternoons, [and it's] become a second family to me," Helen said. "Because I grew up in choir since I was a first grader not really knowing what I was doing, I also wanted, as a high schooler, to give back to that community."
Helen recalls looking up to the older students and hopes that she can also serve as an inspiration for the younger students.
"It's really fulfilling to me in that way, being able to give back," she said. "As the oldest of the oldest now as a senior in the choir, I understand the importance of our legacy to start and also continue to ignite that spark, whether it's in a first grader who just started, or a high schooler who's reaching their end to form a unified community, and to ultimately inspire the next generation, both on or off the stage in choir."
While her friends dropped out of the choir one by one to pursue other paths, she decided to see it through and progress through all the years of the choir, hoping to achieve what the older students had done for her. Now, as a teaching assistant, she fondly remembers her own experience as a younger member of the choir.
"I was really able to relate to the elementary school students, remembering when I was their age, running around the blacktop or the parking lot, not having a care in the world," Helen said. "I also wanted to be there for them like a sister figure in any way I could for those that are also looking for that."
Besides her role as a teaching assistant at her choir, Helen's volunteer work at Friends of Children with Special Needs (FCSN), where she teaches singing to children with special needs, ties together her interests in singing and neurodiversity.
Neuroscience had always interested Helen, and a summer program she attended the summer after her freshman year at the University of Massachusetts, Amherst, introduced her to the world of research.
"It opened my mind to a new world in which discovery was the main goal, whether that proves your hypothesis or not, whether you get results that are favorable or not," she said. "Either way, you're discovering something, and that's a success in and of itself, even if it's not a thing that you expected it to be. Discovery of the unknown is something that spoke to me."
The following summer, she reached out to a professor who worked with autism and became involved with live neuroscience research with autism as well as neurodiversity advocacy, which is something that her professor ran. She found that some of her experiences researching neurodiversity ran parallel to the work she did in journalism.
"One of the most impactful moments for me was [when] I was able to interview several neurodiverse individuals for newsletter articles that I wrote, and each person shared such unique and inspiring stories, and I was able to learn so much from them," she said. "But at the same time each of them also shared with me that they felt defective in their own words, even though they had their own set of amazing accomplishments and successes."
These interviews and the knowledge she gained from speaking to many people brought her to action and to help with the cause.
"The question I asked myself then was, 'How can I help spread awareness about neurodiversity?'" Helen said. "I started a new neurodiversity committee at Harker and worked with various groups with the goal of expanding the reach of the movement. To me, a diverse community embraces the array of perspectives that each individual brings, and that's something that I valued dearly and strive to contribute to as well."
In addition to interviews incorporated in feature profiles, Helen has also worked with podcasts as a different medium of storytelling. In the second semester of her sophomore year, she started a podcast called "Inside the Dash."
"My goal with the podcast is to be able to create five minutes of peace and calm, amidst busy schedules, in which I'm able to share stories with the community and hopefully perpetuate positivity and some sort of wellness," she said. "I know school is hard for everyone, especially during high school and [with the] busyness of everything, but that's something that I do hope to be able to provide for those people who do listen to the podcast."
Through her work and activities, her dedication and bond to the people she interviews has not gone unnoticed by the people she works with.
"One of her strengths now is listening," head of upper school Butch Keller said. "Instead of having these questions and you answer them and she checks them off, she'll come in with a question and you answer it and it generates five more questions. The only way that happens is if you're really listening to what the person is saying and trying to read into what it really means."
Her attention to detail and listening is not restricted only to journalistic work and professional interviews, but also to every interaction she has, whether with a classmate or a close friend.
"In our relationship she is very cognizant of [the smaller things]," friend Arushi Saxena (12) said. "We'll talk about something, and she'll remember it and check back on it over the course of the next few days or week, and she's always a shoulder to lean on."
Despite the time she dedicates to her work with journalism, research and choir, she doesn't let it detract from her relationships with her friends.
"There's so much that Helen does: she's always so busy, she's always doing something, but she's someone who will always make time for a friend," close friend Saloni Shah (12) said. "She's extremely talented and smart … but she's also super humble and a great person to be around."
In everything she does, Helen values the experience of it all. Whether the things she does are documented such as journalism pieces and neurodiversity research, or more casual such as interactions with friends and strangers, each moment is as important as the next in her view.
"Ultimately, I want to be able to venture into new things and gain a breadth of experiences and perspectives, be able to document and fully appreciate every moment, every memory, every connection, and then pass on that same journey and hopefully make an impact somewhere along the way," she said.
About the Contributors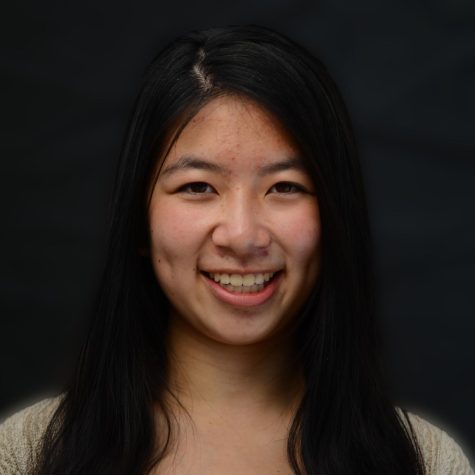 Irene Yuan, Aquila Co-Managing Editor


Irene Yuan (12) is the co-managing editor of Harker Aquila with a focus on multimedia and social media. This is her fourth year on staff, and she hopes...
Saloni Shah, Humans of Harker Editor-in-Chief


Saloni Shah (12) is the editor-in-chief of Humans of Harker. This is her fourth year on staff. She loves to spend time with the rest of the staff and...