Humans of Harker: A true craftswoman
Maria Teplova brings her wisdom into life and art
A broad canvas, bordered with shiny black tape, sprawls across a mint green wall. On it, a tangle of gray pencil lines delineates the outlines of several robots, and streaks of brown acrylic paint begin to fill the gaps between them. Dark brown hair pulled behind a navy blue bandana, Maria Teplova (12), stoops down to squeeze more paint onto her paper plate before continuing to add more strokes to the canvas.
Maria's current project, a Renaissance-style painting set in a mechanical universe, stands as one example of her science-fiction-inspired art and her penchant for horror movies, such as "Alien" and "Event Horizon." Some of her favorite pieces from her portfolio include a depiction of a skeleton sprawled on a couch in the dark, illuminated by the yellow glow of a television, and the image of a single red car in front of a gas station labeled "nowhere."
Although she describes herself as generally content, Maria finds herself drawn to darker themes as they evoke strong feelings such as fear without putting the viewer in danger.
"I'm a pretty happy person, but I'm really attracted to more dreary and frightening situations, so a lot of my paintings and other work are about making something creepy or uncomfortable but in subtle ways," she said. "It's exciting because there's no real harm or bad things going on, but you can feel a more intense emotion in a safe space, and then it's over as soon as you're done looking at something."
Maria first started art classes when she was 6 or 7 years old at a small studio in San Francisco where she learned most of her technique through still life and figure drawing. When she began taking art in high school, her teachers encouraged her to explore its more conceptual aspect, something she had never done before.
"[In art], there's the more technical aspect, like what makes a good composition, figuring out a color palette and how to pose certain people or objects, and then drawing them well. And then there's also the more abstract part, which is 'how can I convey a certain idea?'" she said. "It feels like putting together a puzzle and figuring out all those different aspects. And it's a challenge every time you start something new, but slowly piecing it all together is really satisfying."
Close friend Geneva Devlin (12) notes Maria's ongoing enthusiasm for creating art, even for more serious projects.
"She's told me that, even when it's for an assignment or a commission, it's still fun for her to do," Geneva said. "[It's] just amazing to have something that she wants to devote her life to."
Maria appreciates the wide scope of art, which ranges from aesthetic reasons, such as decoration, to expressing communal values because of its significance to the world as a whole.
"Art is really important because it can celebrate the thoughts of an individual or an entire community, and it can express any kind of emotion, from joy to addressing major issues going on. Or it can just be for fun—something decorative to make the world a prettier place," she said. "Every piece of art makes the world a better place and a more connected place."
Art teacher Trish Ludovici first met Maria in her junior year and immediately noticed her talent, craftsmanship and creativity. Maria is taking Ludovici's sculpture and AP 3D Art classes this year and has continued to contribute to the artist environment.
"She is a wonderful student in the sense that she's always ready to participate in other people's critiques. She champions other students' work as well, and she gives constructive criticism as well as constructive feedback on their work," Ludovici said. "These are all things that you want from a fellow artist–you want somebody to be there to talk to you about your work after you talk to them about their work."
In addition to her valuable artistic advice in the classroom, Maria brings her insight to her friends. Geneva echoes Ludovici's appreciation for Maria's abilities in offering help in more daily situations.
"I know I can trust her–even if she doesn't have experience in that area, she tries to think it through, and she helps me keep my cool and help me find the best solution," she said.
Maria describes herself as "pretty pessimistic" but notes that this unconventional perspective doesn't make life more upsetting. On the contrary, her realistic approach prepares her for different circumstances and highlights the happy little surprises in life.
"I'm prepared to handle situations much better, and whenever something doesn't go my way, I'm not heartbroken or anything–I've prepared for it," she said. "I think that you find a lot more happiness in small things that happen every day because you're always kind of surprised whenever something good happens … Nothing bad is super troubling, but every good thing that happens is significant."
Her frame of mind has also spread to her friends, who appreciate this ability to cope with difficult situations. Close friend Selin Aras (12) remarks how Maria has impacted her with a wise outlook on life and appreciates her individuality.
"She has a very strong sense of self, and even though other people might be doing something else, she thinks [of] what she knows and what she knows about herself," she said. "Going back to how she's super wise, I've learned a lot on how to be a more reflective person and understand that you can't control everything."
About the Contributor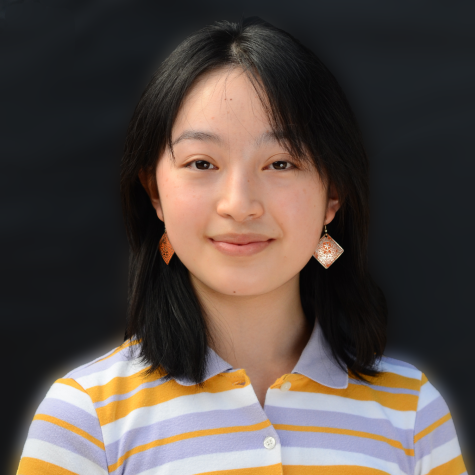 Arely Sun, Aquila Co-Managing Editor


Arely Sun (12) is the co-managing editor of Harker Aquila with focus on longform writing. This is her fourth year on staff, and she hopes to work with...