Humans of Harker: From candle light to flame
Kelcie Fan uses her extracurriculars and sociability to help others
Outgoing. Warm. Kind. Patient. Loyal. Leader. When describing Kelcie Fan (12), these are some common responses, and for good reason—her likability, caring nature and ability to bond with others are prevalent in the numerous activities she takes part in.
Dabbling in various extracurriculars is not unusual among Harker students, but for Kelcie, her many and diverse activities are indispensable. Whether it's teaching young girls to code or working with a team to solve global issues, Kelcie's activities have become outlets for her passion of working with others.
Kelcie describes herself as collaborative, actively trying to work well with others in whatever she does. In Future Problem Solvers (FPS), this trait manifests as an effort to try and discern an underlying problem and agreeing on a solution to solve a global problem. 
It even comes up in tennis, which she has been playing since sixth grade, when she joined Harker. Kelcie enjoys how encouraging and close the team is with each other.  
"Even though we play individually, it's obviously a team sport overall," Kelcie said. "Even though you have individual matches, we always support each other."
She recalls a time where she admits their team were the "underdogs" and ended up defeating the other team, who had been so confident of their victory, they had not even bothered to warm up. That day, their team moved into the semifinals of the Central Coast Section (CCS) playoffs, an unprecedented occurrence in Harker history. She attributes this accomplishment to the strong bonds between her team members.
"We ended up beating them in the quarterfinals and then got into semis because of how much more hard work [we put in] and how much more supportive we were as a team," Kelcie said.
The power of teamwork and collaboration is not the only thing the sport has taught her, however. A lesson she's learned from her six years of playing tennis is to learn from but not dwell on past mistakes, and to not let them keep her from her goals.
"If you hit a bad shot, don't let that get in the way of your next point, because you always play each point point by point. You forget the mistake you made. Learn from that, and do only what you can control," Kelcie said. "Apply that in tennis and don't let that ruin your match."
Kelcie's ability to work well in groups like her tennis team and her extroverted, good-natured disposition is perhaps why she is easily able to empathize with others. Friend and former fellow advisee Elaine Zhai (12), who has known Kelcie since they both joined Harker in middle school, noted that Kelcie becomes friends with most everyone she meets.
"She has a way of making everyone around her feel valued and feel special in that sense," Elaine said. "That's something about her that makes it so easy for her to connect with new people and make new friends."
That she cherishes any opportunity to help others, whether it may be a small matter regarding school or helping improve society as a whole, is apparent. She started Girls Who Code clubs at two schools to help try to bridge the gender gap in the STEM field, a cause she is passionate about. She enjoyed teaching coding in these clubs, so she spoke to one of the schools and took on the position of instructor of an Introduction to Coding class, teaching young girls in third to sixth grade.
"Seeing their young faces light up when they debug an error in their code makes it worthwhile because you can see their excitement and their fascination with coding," Kelcie said.
Her mission to have a positive impact on others' lives didn't end there. A year ago, along with four of her friends in Spanish National Honor Society (SNHS), she founded a nonprofit organization called Luna y Sol Bracelets. The organization sells friendship bracelets and uses all of its proceeds to donate to Iglesia Embajadores de Jesús (Church Ambassadors of Jesus), a church sanctuary in Tijuana, Mexico that helps migrant refugees.
Not only does Kelcie endeavor to aid larger communities and causes outside of school, she never refuses a friend's request for help of any kind, no matter how occupied she may be in her own work.
"She's always very willing to help people. It doesn't really matter how busy she is," close friend Emma Dionne (12) said. "If I have any sort of questions related to school or anything like that, she really makes sure that I understand it and helps me out."
Although most who know her would describe her personality as bubbly and outgoing, when she steps into the classroom, it's a different story. Upper school English department chair Dr. Pauline Paskali, who taught Kelcie last year, admires her thoughtfulness and her ability to listen and perceive.
"[Kelcie's] tendency to observe the scene around her first before she responds enables her to listen and to think through the various connections that she might make to what someone else is saying," Dr. Paskali said. "It leads to her ability to offer even deeper insights than one might do if one is just quickly reacting."
Relating to Dr. Paskali's comment on Kelcie's unique learning abilities, Kelcie's motto is one that is very straightforward and encourages people to not let regrets take over someone's life. 
"Don't dwell on your regrets – you should obviously learn from the mistakes that you've made in the past, but don't let that inhibit you," Kelcie said. "Don't let it constrain you and confine you."
Along with her motto, Kelcie conquers her fear and gains confidence by new interactions with friends and by presenting speeches. Many of her peers and her teachers can see her amazing growth and development with her confidence throughout the school year. 
"When I first came into Harker, I was definitely a little bit more introverted and scared of going and actually doing things," Kelcie said. "But … I've definitely gained the confidence to speak in front of other people."
About the Contributors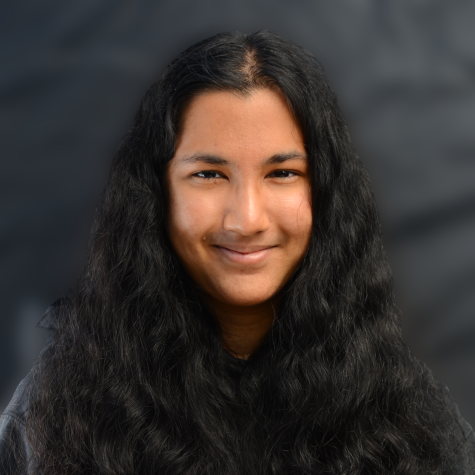 Anika Maji, Reporter
Anika Maji (10) is a reporter for Harker Aquila, and this is her second year on staff. This year, she hopes to hone her interviewing and photography skills...
Nicholas Wei, HoH Managing Editor
Nicholas Wei (11) is the managing editor of Humans of Harker. During his third year on staff, Nicholas looks forward to bonding and working with the cubs...