Humans of Harker: The value of music
Katerina Fenner shares her passion for music with her peers
A young Katerina Fenner (12) enters the stage, greeted by a round of applause. Sitting down in front of the grand piano in the middle of the stage, she begins to play Haydn's "Sonata in D Major," carefully watching the keys. Sitting on a stage in front of many, with almost blinding lights shining down on them, a typical person might have sweaty palms and goosebumps. But not Katerina. Whether she's performing for the Harker dance show or playing a piece on the piano, Katerina's confidence is always present on stage.
"A lot of people do have stage fright. But for me, I don't really focus on the audience. It's like they're in the moment with my team or with the people in my dance," Katerina said. 
Music has had a major impact on Katerina's life. From teaching young students the piano to graduating from the National Guild, a national organization for community arts education, Katerina has used music to shape and express herself to others and to give back to her community.
"I really love to … work with younger students to help them understand music … especially now, [it's] been about giving back to the community for me," Katerina said. "I now teach students who can't afford music lessons, but I teach them music theory and stuff for free because music shouldn't be something that should be taken away from you just because you can't afford it." 
For Katerina, one of the most rewarding parts about playing music has been the ability to meet and connect with new people using music. She pointed out that as a musician she often tends to approach a new piece of music in the same way, but by talking to and meeting new performers from all over the world, she is able to get inspiration and new ideas. When she was backstage at Carnegie Hall, she met Mikhail Peisil, a Russian cello player, whose advice helped her transform her music and drove her to play it in a new way.
"As musicians, we see a piece of music and we always have the same way of approaching it," Katerina said. "I remember I met this one guy from Russia … instead of just learning the notes, he would sit there and he would research the artists, research the time period and almost get into character before playing the piece … and I actually took his advice, and then the music that I started playing was completely different."
Katerina's love of music began very early and shaped her childhood. Her grandmother is a piano teacher, and she owns a music school that Katerina attends. Piano connected Katerina to her grandmother, a close bond she's had for as long as she can remember. Some of Katerina's first friends were people she met through piano. 
"I was always around piano, [and] I would sit in on [my grandmother's] classes as a little two [or]  3-year-old when she was babysitting me," Katerina said. "I automatically fell in love with it."
Alex Baeckler (12), who has been close friends with Katerina since middle school, reminisced about her memories with Katerina during their freshman Study of Music class, such as rolling down the sloped part of the RPAC, a moment that was even caught on video. Alex described how much she's seen Katerina grow through music and how strong her passion is.
"Her music has always astounded me … the way she talks about it, it's with such passion. You can really feel how much she connects with it," Alex said. "Her music has let her go back to something that she can focus on and something that she knows she has control over, and I think that's helped build her confidence."
Katerina expresses herself not only through piano, drawing and, recently, the trumpet, but also through four years of Harker's annual dance production. Her experience with performing in front of crowds and bonding with her team have become some of her best memories.
"I went to a Russian preschool, and there was a dance show. That was my first ever dance show. I was like, 'I might as well try it' … it was another way to express music through your body," Katerina said. "I fell in love with it at the age of 5, and I've been dancing ever since then."
Unlike piano and dance, writing and art are the creative outlets which Katerina tends to keep more private. During her sophomore year, her poetry was selected to be published in San Jose's "Litter-ature" project, which aims to showcase young writer's poems on environmental awareness. Publicly sharing her writing for the first time was one of her biggest accomplishments, and it allowed people to see her in a different light.
"It was a very big step to show that side of myself, but I was definitely proud of myself for stepping out of my comfort zone," Katerina said. "I'm definitely a lot more expressive and willing to show another side of myself."
Katerina has also always been a person who others can rely on and is always able to help out her friends. She connects with her peers and friends in different ways and is always an active listener.  
"[Katerina is] a people person, but she's not overdone in your face about it … she will sit back, and she listens very, very well, but then she can engage with you," upper school history and social science teacher Julie Wheeler said. "She's thoughtful, and she will think and connect; that's a really great trait." 
No matter how much stress she is under or how big of a workload she has, Katerina always makes time to be there for her friends by offering her support and lending a listening ear. 
"She's a very caring and supportive person. She would listen to you for however long you need," close friend Julia Yusupov (12) said. "She's very academically driven but she always has time for her friends."
A combination of support from her friends, family and faculty, as well as her interests and hobbies, have shaped Katerina into who she is now — a passionate, determined individual with an unconditional love of music. 
"Don't lose the parts of yourself that make you, you. You don't have to let go of the things you love to be successful in the future. If anything, that's what makes you special when you move on later in your life," Katerina said.
About the Contributor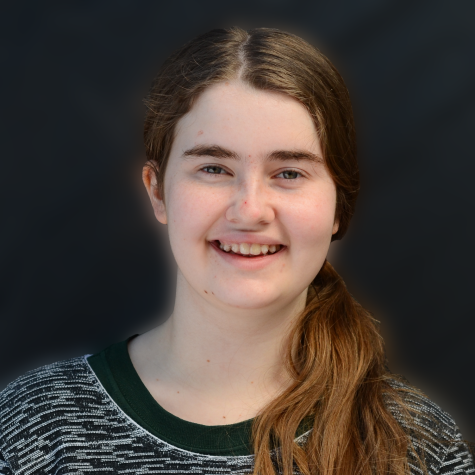 Claire Bauschlicher, Reporter
Claire Bauschlicher (11) is a reporter for Harker Aquila, and this is her third year on staff. This year, Claire's goal is to become better at shooting...